Crude oil prices have dropped 16.6% in the last two months as investors worry about rising U.S. supply. Since June 3, the Baker Hughes Inc. (NYSE: BHI) U.S. rig count has increased by 49 to 374. That's the highest level since March 18.
But Money Morning Global Energy Strategist Dr. Kent Moors says rising supply will be offset by long-term demand increases. And this massive demand increase will mostly come from one Asian country, but it's not the one everybody thinks…
"Asia currently accounts for a full third of worldwide demand, and when this is brought up, all eyes turn to China," Moors – an oil industry advisor for over four decades – said on July 20. "China's time as the driving 'dynamo' behind oil demand is over."
Investors: Chaos and Terror Can't Crash Markets, but I Know What Will
Before we reveal the other Asian country poised to boost oil demand, here's what's moving oil prices today…
One Reason Why Crude Oil Prices Are Down Today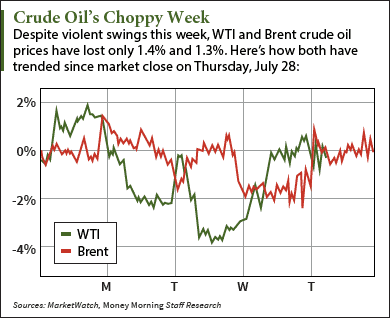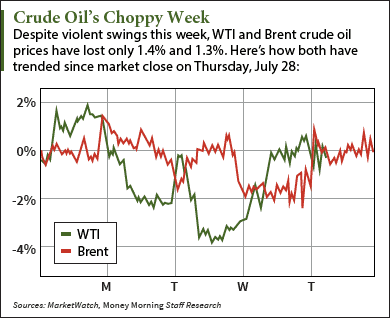 At 10:10 a.m., West Texas Intermediate (WTI) crude oil prices were down 0.7% and trading at $40.56 a barrel. The U.S. benchmark is down 1.4% and even entered correction territory on Tuesday before rebounding 3.3% yesterday.
Brent crude oil prices were even more volatile this morning. Futures for the global benchmark fell 1% to $42.65. That erases some of yesterday's 3.1% gain.
A big reason why oil prices are falling today is lowered analyst expectations. A new Wall Street Journal survey of 13 banks shows WTI and Brent crude oil prices will average $55 and $56 a barrel in 2017, respectively. Both are down $1 from the same survey conducted back in June. Many banks cited increasing drilling activity from big oil producers as a reason for their revised forecasts.
The expected boost in demand over the long term will offset any potential uptick in output. The International Energy Agency (IEA) projects Q4 demand to come in at 96.9 million barrels a day. That's up 2.3% from the 2015 average and 3.5% from Q1 2015. Not to mention the agency forecasts demand will hit 98.1 million by Q4 2017.
Editor's Note: This will be the largest event in the history of the energy market, but we still don't know much about it. Here's what we know so far…
When investors hear these forecasts, they typically look at China as the main source of demand. That makes sense considering it's long been the world's largest oil importer and second-largest economy.
But Moors says another country is about to join China as the globally recognized source of energy demand.
Here's the Asian nation that's seeing some of the fastest-growing energy demand in the world right now, and how this country will impact crude oil prices…
This Country's Demand Will Be a Long-Term Boon for Crude Oil Prices
China and India will be the sources of the most explosive long-term oil demand.
You see, India's oil demand is growing at a record pace. The country's oil ministry reported India used about 369 million barrels of petroleum products in the second quarter alone. That 7.8% year-over-year increase marks the country's highest spike in demand since 2007. It was also the first time India's consumption surpassed the daily average of 4 million barrels.
And the momentum is poised to continue for decades. The IEA expects India to become the world's largest oil-consuming nation and fastest-growing consumer through 2040. It's even expected to oust Japan and become the world's third-largest oil consumer before the end of 2016.
Between India's massive demand growth and China's already strong consumption, Asia will become an even bigger oil market player.
"The combined demand increase for these two countries alone is estimated to account for almost 50% of the entire global demand growth by 2035," Moors explained. "So the next time some TV talking head opines about the sluggishness of Chinese economic prospects, remember this: There's more to Asia's developmental dynamo than just China… and it's poised to take over."
Stay tuned to Money Morning as we closely follow investment opportunities that tie into India's growing demand.
Next Up: Here Are Five Ways to Keep Your Money When Markets Are Choppy
Follow us on Twitter: Money Morning
Related Articles: