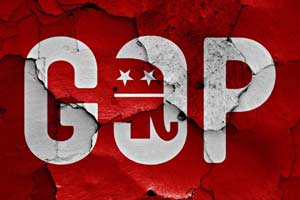 At a rally on Monday in Columbus, Ohio, GOP nominee Donald Trump told the crowd, "I'm afraid the election's gonna be rigged, I have to be honest."
Trump reiterated his concern that same night on FOX News to Sean Hannity. "I'm telling you, Nov. 8, we'd better be careful because that election is going to be rigged," he said.
Now, most people might assume Trump was referring to troublemakers in liberal camps – his obvious adversaries.
Don't Miss: How Hillary Clinton could use the Pence VP pick against Trump…
However, it seems that establishment Republicans could be more of a threat to Trump than the Dems. They're the ones rigging the 2016 presidential election right before our eyes…
You see, some of the biggest names in the Republican establishment have taken unprecedented steps recently to publicly disavow their own party's nominee to keep him out of the White House come November.
These sudden "changes of heart" constitute election rigging in the form of "division of opposite support" – or actively trying to coerce the voting public's opinion in what should be a balanced democratic state between two parties.
And that's precisely what these GOP establishment politicians are doing.
It's working, too.
Since big-name Republicans started publicly disowning Trump roughly a week ago, the reality TV star's poll numbers have dropped significantly. He went from a national average percentage lead of +1.1 (45.7%) over Clinton (44.6%) on July 27 to 42% as of today. Clinton currently has 47.8%, according to Real Clear Politics.
Now have a look at what these sly establishment GOPers are saying to change voters' minds…
Establishment Republicans Disavow Donald Trump
On Wednesday, Rep. Adam Kinzinger of Illinois told CNN he didn't see any way he could back Trump at this point.
"I'm an American before I'm a Republican," he told CNN's Wolf Blitzer on "The Situation Room." "I'm saying for me personally, how can I support that? Because he's crossed so many red lines that a commander in chief or a candidate for commander in chief should never cross."
Former Republican National Committee Chair Marc Racicot also announced on Wednesday that he would not support or vote for Trump.
"I don't know what I'm going to do but I do know that I'm not going to be casting a ballot for the presently existing Republican nominee," Racicot said during his appearance on Bloomberg's "With All Due Respect."
With All Due Respect, Bloomberg Politics, Aug. 3, 2016
While both Kinzinger and Racicot told media outlets they would not vote for Trump, some establishment Republicans have gone so far as to disavow their candidate while declaring fealty to Democratic presidential nominee Hillary Clinton…
[LIST] Here Are the Establishment Republicans Voting for Clinton
Robert Kagan, co-founder of the neo-conservative Project for the New American Century and lead player in Bush's efforts to invade Iraq 13 years ago, actually spoke at a Hillary for America fundraiser on July 25.
"I would say all Republican foreign policy professionals are anti-Trump," Kagan said at the event. "I would say that a majority of people in my circle will vote for Hillary."
Then, on Tuesday, Richard Hanna, a Republican congressman from New York who is retiring after this term, announced via an op-ed on Syracuse.com that he will be voting for Clinton as well.
Hanna wrote that Trump is "deeply flawed in endless ways" and "unrepentant in all things" before declaring: "While I disagree with her on many issues, I will vote for Mrs. Clinton."
Here's the list of defecting establishment Republicans now pledging "they're with her":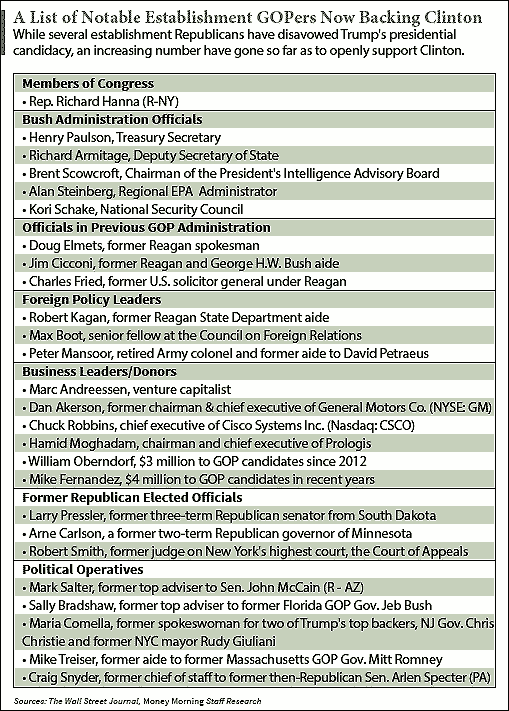 Tell us what you think about these members of the Republican establishment abandoning their own political party on Twitter @moneymorning or on Facebook.
Up Next: Who's better for the stock market – Clinton or Trump? Well, right now there is currently only one candidate actually reaching out and making a lasting impression on the American middle class…
Related Articles: