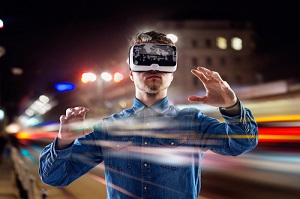 The virtual reality (VR) market is on track to absolutely soar by 2020. According to market firm Tractice, industry-wide content, head-mount displays, and accessories will reach $21.8 billion in sales by 2020.
That means some of the best stocks to buy now for long-term gains are in the VR and augmented reality (AR) sector.
Today we are going to show Money Morning subscribers the three best virtual reality stocks to invest in. But first, we want to make sure our readers know more about the exciting capabilities of VR/AR technology. The applications for VR already apply to numerous industries...
Trending: Can Weed Stocks Make You Rich?
For example, Stanford's football program is an early adopter by implementing VR technology into its practices and training programs.
On ESPN's "College Gameday" on Oct. 3, 2015, Stanford showed how VR helped the quarterback read defenses and analyze plays. Instead of just watching game tape or reading a binder, the quarterback can look and react to real-time plays just like he would on the field.
The coaches can also review the quarterback's movements while using VR, to critique his performance.
Outside of the football field, VR technology is also being used to improve teen driver safety.
Toyota Motor Corp. (NYSE ADR: TM), as part of its TeenDrive365 campaign to educate parents and teens about distracted driving, uses VR headsets in its program. Toyota officials say that being in a realistic environment helps make learning faster, more effective, and more efficient.
There are even more uses of VR/AR technology that are still being studied. The potential applications include:
Jury members using VR headsets in court cases to look at real-life crime scenes.
Astronauts simulating walking on the surfaces of other planets.
Patients and doctors meeting face-to-face from the comfort of their homes and offices.
By 2018, research site Statista projects there will be 171 million virtual reality users worldwide. That's an increase of 1,646% from the 6.7 million from 2015, and Money Morning Chief Investment Strategist Keith Fitz-Gerald says part of beating the market means knowing where the big money will flow.
It's starting to flow into virtual reality stocks, making these the best stocks to buy now to get long-term gains.
The Best Stocks to Buy Now in Virtual Reality for Long-Term Gains
Best Stocks to Buy Now in Virtual Reality No. 3: Facebook Inc. (Nasdaq: FB)
In 2014, Facebook Inc. (Nasdaq: FB) purchased Oculus VR for $2 billion. Oculus VR makes the Oculus Rift headset. When Rift went on pre-order in January, it was sold out within 14 minutes.
Analysts at financial services firm R.W. Baird project that Oculus will sell between 500,000 to 1 million headsets in 2016. At $599 per headset, that's between $299 million to $599 million in revenue Oculus Rift could generate just in 2016.
But it's the content provided through VR/AR that is most valuable to Facebook...
Selling ad space in virtual reality is new territory. But there are already examples of how Zuckerberg can monetize a VR experience.
In 2014, Coca-Cola Co. (NYSE: KO) sponsored an event at the World Cup. Users could visit the locker rooms and play on the soccer field.
Zuckerberg also plans on connecting Facebook friends together in virtual reality.
According to Wired, Zuckerberg envisions Facebook will eventually have a pair of lightweight eye glasses that allow users to shift between the virtual world and real world.
Zuckerberg could charge advertisers to sponsor these types of events.
FB stock has already rewarded investors over the last three years, compared to the S&P 500. And because of Facebook's strong business model, Money Morning Director of Tech & Venture Capital Michael A. Robinson believes FB stock will trade for $250 per share by 2020. From today's opening price of $125, that's a potential profit of 100%.
Best Stocks to Buy Now in Virtual Reality No. 2: Microsoft Corp. (Nasdaq: MSFT)
It's true that Microsoft Corp. (Nasdaq: MSFT) just had a great quarter in Q4 2016. The software giant posted earnings per share (EPS) of $0.69 on $22.64 billion in revenue, beating expectations of $0.58 on $22.64 billion.
But it's the potential massive revenue from Microsoft's foothold in the VR/AR market that should have investors most excited.
It's currently not available to the public, but Microsoft's HoloLens will be one of the most powerful VR/AR headsets when it's released.
Trending: Five Moves to Calm Your Nerves (and Keep Your Money) in Choppy Markets
In fact, Robinson says HoloLens is so powerful that it can project 3D images of the surface of Mars. It has more computing power than a laptop, operates without wires, and has a headset that responds to your gestures, gaze, and voice.
"Though HoloLens is not yet for sale to the public, it's getting a lot of attention within tech circles - and it looks likely to be VR/AR's true breakout product," Robinson said.
Aside from Microsoft dominating the VR gaming world with its headset, it can also integrate video app Skype into the technology. According to The Wall Street Journal, HoloLens users calling someone with Skype can project images of what they see to the person they are talking to.
Uses could be real estate agents taking people through virtual tours of houses, or HoloLens users sharing real-time, 3D images of their vacation.
In the last three years, MSFT stock has climbed more than 95%. In the same time, the S&P 500 is up just 34%. And there is still room for profit.
FactSet analysts have a one-year price target of $59.34 for MSFT stock. From today's opening price of $57.65, that's a potential profit of 2.93% just this year.
And over the long term, MSFT can add even more profit to your portfolio because of its dividend. It has a yield of 2.48%, and according to the book "Triumph of the Optimists: 101 Years of Global Investment Returns," a portfolio in the 20th century with dividends reinvested returned roughly 85 times more wealth than a similar portfolio that relied just on capital gains.
Best Stocks to Buy Now in Virtual Reality No. 1: Alphabet Inc. (Nasdaq: GOOGL)
Alphabet Inc. (Nasdaq: GOOGL) will not make money from its headset, Google Cardboard. Google Cardboard is a headset you have to hold with your hands that's literally made of cardboard.
It costs $15.
But where Alphabet will make money is through software. In fact, Zuckerberg may want to borrow a few lessons from Alphabet for Oculus Rift....
Right now, gamers can purchase games to play through their VR headsets, but that's where the transaction ends. According to Re/code, though, Alphabet is looking to change that.
Re/code reported on March 7 that Alphabet has teamed up with developers to enable in-app purchases on its VR headset.
There are no projections for in-app purchases right now through virtual reality. But in 2015, WSJ reported in-game purchases on mobile devices totaled $23.4 billion. The demand for in-game purchases on mobile is an indication it could carry over to VR.
And there is no shortage of app demand for Cardboard right now...
Alphabet stated in January that over 25 million apps have been downloaded for Cardboard since the summer of 2014.
Robinson calls Alphabet a "profit powerhouse." Over the last three years, GOOGL has more than doubled the performance of the S&P 500.
And investing in GOOGL stock now could provide a nice return in the future. FactSet has a one-year price target of $934.51 for GOOGL stock, which is a potential profit of 16.79%.
The Bottom Line: VR head-mounted displays, content, and accessories are projected to reach $21.8 billion in sales by 2020. Facebook, Microsoft, and Alphabet are the three leaders in the VR market right now, and revenue from VR/AR sales will only make each company more profitable.
Next Up: Five Moves to Calm Your Nerves (and Keep Your Money) in Choppy Markets
Follow us on Twitter @moneymorning and like us on Facebook.