The gold price has seen plenty of volatility this past week. But on a day-to-day basis, that volatility has been mostly to the upside.
From a macro perspective, we've seen ongoing supportive developments for gold prices.
Central banks continue to be accommodative, and negative rates are increasing in both intensity and range. We've now reached a point where a quarter of the world's sovereign debt provides a negative yield.
And yet central banks keep buying bonds and pushing interest rates ever lower. If I had to point to a single bullish factor for the price of gold, negative interest rates would be it.
Profit from Gold Now: Most investors don't know how to actually invest in gold. That's why we just released our 2016 guide to gold investing – free of charge. Read here…
Of course, there are also geopolitical instabilities and security threats. The approaching U.S. presidential election – one of the most contested and divisive ever – is adding fuel to gold's fire.
And from a technical perspective, both gold prices and gold stocks are looking quite strong.
We'll delve into these factors and my 2016 gold price target. In fact, I see the metal returning another 11% by the end of the year.
First, here's a recap of gold's volatile performance this past week…
Why the Gold Price Moved Lower This Week
After posting a 1.4% gain last week, the price of gold kicked off this week with strength. On Monday, Aug. 1, prices opened lower but inched back up to close at $1,352 for a 0.1% gain.
Then Tuesday saw another advance. The price of gold pusher higher in early morning trading and gained 0.8% to settle at $1,363.
Here's how the U.S. Dollar Index (DXY) has trended this week, which explains the recent gains in gold prices…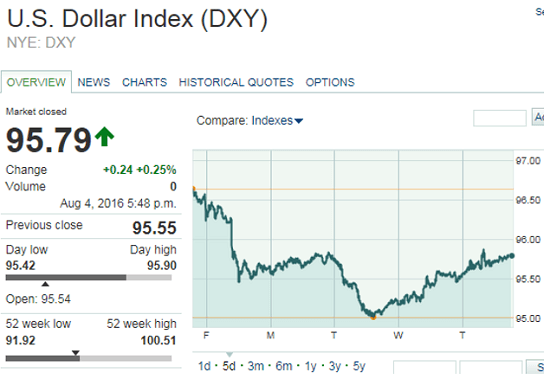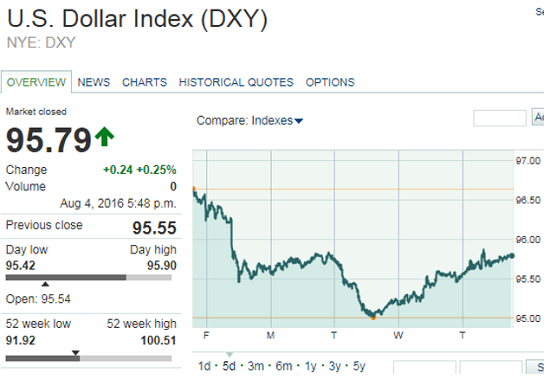 On Wednesday, Aug. 3, gold price weakness returned as the dollar regained the 95.50 level after bottoming near 95 on Tuesday. Gold lost 0.7% to close at $1,352.
Gold prices rose on Thursday after the Bank of England decided to cut rates for the first time since 2009. The bank lowered rates from 0.5% to 0.25%. Gold responded by rising to $1,364 at the open. By the end of the session, the price of gold had gained 1.1% to close at $1,367.
Editor's Note: Voters who don't like Trump and Clinton are seeking a third candidate. Most people don't realize it, but they already have one…
The gold price today (Friday, Aug. 5) is down 1.5% to $1,346. The metal is on track for a weekly loss of 0.8%.
Despite this week's volatility, there are many fundamental factors that point to a much higher gold price this year.
Here are some of those factors – as well as our specific 2016 gold price target…
Here's Where the Gold Price Is Headed in 2016
It's no surprise that safe havens like gold surged after the Brexit vote. But any British citizen who owned gold before the referendum made a wise decision.
Here's how gold priced in British pounds has looked over the past 60 days…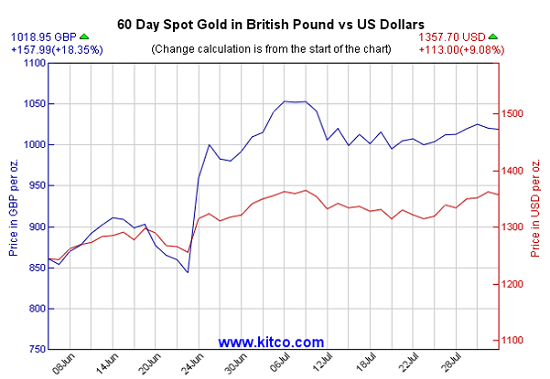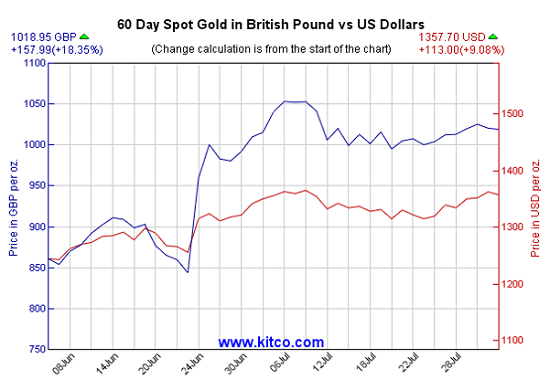 You can clearly see a dramatic jump from GBP 850 to GBP 1,000 within just two trading days.  And even after that, gold priced in pounds continued to rise, peaking at GBP 1,050 a couple of weeks later.
This chart shows how gold can be a quality hedge in times of geopolitical turmoil. It clearly did its job.
Technically speaking, gold prices and gold stocks have also been trending higher…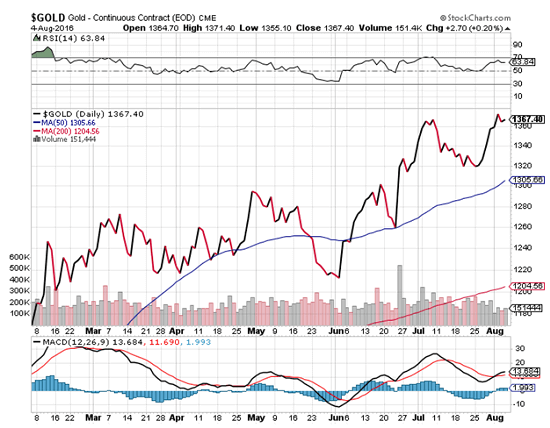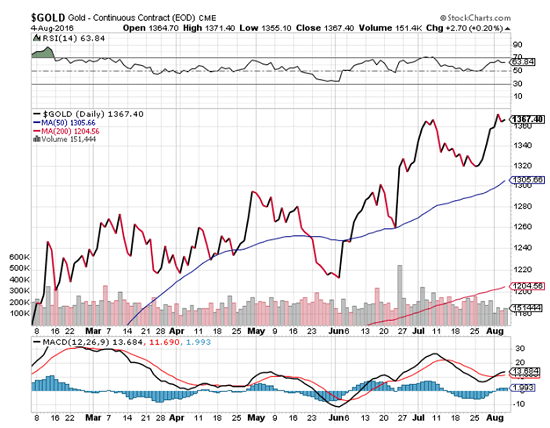 The gold price has traded between $1,320 and $1,370 since late June. It remains solidly above its 50-day moving average.
Gold stocks have surpassed gold prices, even setting a new high recently…
The Gold Bugs Index (HUI) – which tracks 15 gold mining stocks – continues to move higher and closed at its highest level since April 2013 yesterday (Thursday, Aug. 4). The index has also held well above its 50-day moving average.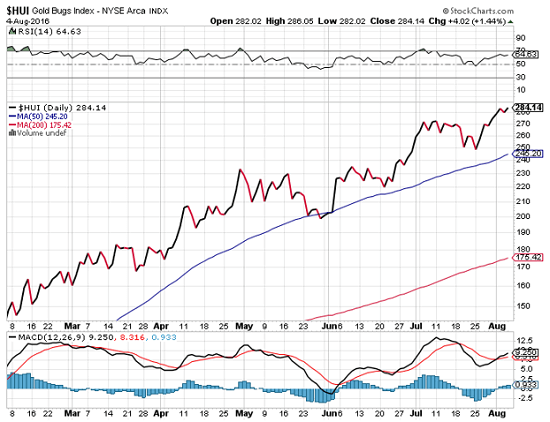 My concerns in the short term are how Commitment of Traders reports show hedgers in a bearish stance for the gold price. Gold stocks also look overbought as the Gold Miners Bullish Percent Index (BPGDM) continues to hover around 93.
Still, these contrary indicators lessen gradually over time rather than suddenly by means of a strong sell-off. In other words, gold prices and gold stocks could actually remain strong and then still head higher.
The near-term picture is difficult to predict, but I do think we could easily see gold make a run for $1,500 by the end of 2016.
Stay tuned to Money Morning as we follow the movement in gold prices this year.
Next Up: Our Newest Gold Price Prediction Shows 271% Returns by 2020
Follow Money Morning on Twitter.
Join the conversation. Click here to jump to comments…
About the Author
Peter Krauth is the Resource Specialist for Money Map Press and has contributed some of the most popular and highly regarded investing articles on Money Morning. Peter is headquartered in resource-rich Canada, but he travels around the world to dig up the very best profit opportunity, whether it's in gold, silver, oil, coal, or even potash.