Since the start of 2016, silver prices have seen a huge rally.
Silver is the best-performing precious metal, returning 47% so far this year. That outpaces gold prices, which are up about 26% over the same period.
Since the gold/silver ratio was in silver's favor going back about five months, I told you the ratio would see a correction that would let the silver price outpace the gold price. We saw that happen over the last two weeks.
But the price of silver may have gotten a little ahead of itself relative to gold. I highlighted that idea for you two weeks ago, and silver has seen violent swings since then.
The position held by silver hedgers has also increased over that period. That suggests a more meaningful correction could be in the cards.
Editor's Note: The economy during Bill Clinton's presidency is remembered as booming. But that couldn't be further from the truth. Here's why it's a dangerous myth...
But there's one event in September that will determine if silver prices are poised to rebound from the recent slump.
Let's delve into the technical silver price action last week. Then we can look at the near-term factors that could determine what silver does next...
Why Silver Prices Fell Last Week
The silver price kicked off last week with a slight gain. On Monday, Aug. 1, it opened at $20.47 before trading slightly lower throughout the day. Prices closed at $20.39 for a 0.2% gain.
Then Tuesday saw even more gains thanks to weakness in the U.S. dollar. The greenback dropped from around 95.80 late Monday to 95 by mid-day Tuesday. That pushed the price of silver 1.5% higher to settle at $20.70.
Sign up for SMS so you never miss special events, exclusive offers, and weekly bonus trades.
But the U.S. Dollar Index (DXY) kept rising the rest of the week, providing a headwind for silver prices...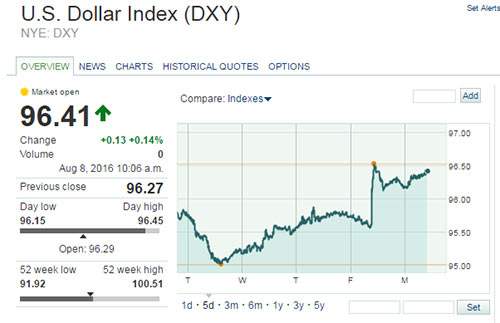 On Wednesday, Aug. 3, silver opened lower at $20.54 and succumbed to selling pressure throughout the day. Prices eventually closed at $20.38 for a 1.5% loss.
That trend continued on Thursday as the silver price fell lower and the dollar moved higher. The metal fell 0.3% to close at $20.31.
Friday brought another wave of selling after the release of the July jobs report. The Bureau of Labor Statistics reported 255,000 jobs were created last month. That knocked silver prices down 2.4% on the day to $19.82. After Friday's loss, the price of silver posted a weekly decline of 2.6%.
Don't Miss This: Oil prices are set to rally from this Asian country's long-term demand. This nation's demand will see its highest annual spike in 10 years. No, it's not China...
The silver price today (Monday, Aug. 8) is seeing a slight rebound. As of 10:20 a.m., silver prices are up 0.2% to $19.86.
Although it's been volatile recently, the silver price won't stay low for long. And there's one event in September that will determine silver's rally the rest of the year...
This Important Event Will Dictate Where Silver Prices Head in 2016
The event that will be a big influence on the price of silver is the September FOMC meeting.
Of course, mainstream news outlets think the strong jobs report boosts the odds of an interest rate hike in September. I don't think the Fed is likely to "rock the boat" that close to the upcoming election. My view is there won't be a rate hike, which means the silver price sell-off won't likely be sustained.
Two weeks ago, I told you to watch for a slight retracement in the gold/silver ratio.  Here's what I said...
In April, the ratio dropped dramatically from 81 to 72, and did so again between late June and early July, going from 74 to 64. The entire gap, from 84 to 64, may also prove to be too much too soon. It would not surprise me to see this ratio move back around 71 before it resumes its downward trend.
It's too early to tell, but the ratio's jump from the mid-July level of 64 to its current level near 68 could mean the start of that correction. In other words, silver's been getting a bit cheaper again relative to gold. We may see that continue a while longer before the ratio starts to fall once more.
On a technical basis, silver's been trading in a range generally between $19.50 and $20.50...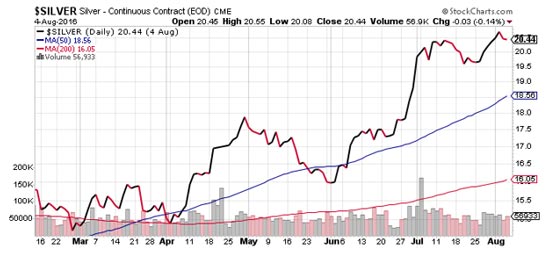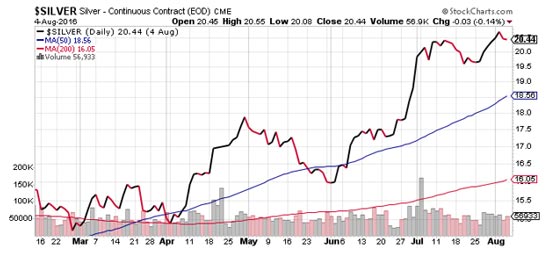 If silver closes below the bottom of that range, it could drop further to its 50-day moving average around $18.50 or $18. If silver prices move even lower, it'll be a good time to buy more silver.
As for the longer term, we still see the silver price hitting $22 by the end of 2016.
Stay tuned to Money Morning as we follow silver prices throughout the rest of the year.
Next Up: This Chart Shows How Negative Interest Rates Affect More Than You Think
Follow Money Morning on Twitter.