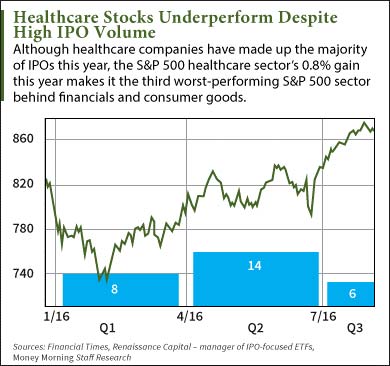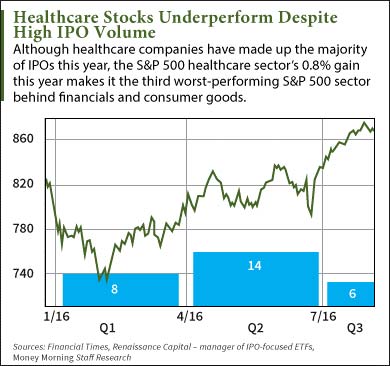 Four companies are listed on this week's upcoming IPO calendar. According to Renaissance Capital, which manages IPO-focused ETFs, the four new IPOs this week are set to raise $270 million in proceeds.
Three of this week's deals are from the healthcare sector, which has been the most active IPO sector of 2016. There have been 28 healthcare IPOs this year. That's more than triple the nine deals from the second most active information technology sector.
Leading this week's upcoming IPOs is Medpace Holdings Inc. (Nasdaq: MEDP)…
Medpace is a contract research organization (CRO) that works with small- and medium-sized biotech companies. CROs are independent firms that help companies develop their drugs once they identify the active molecule used for treatment. In other words, they are contractors that speed up the typically long development phases of a new drug.
The Sweetest IPO of 2016: Hostess, the iconic baker of snacks like Twinkies and Ding Dongs, filed to go public last month. Here are 10 must-know facts about the Hostess IPO…
With revenue growing at a yearly rate of 22% since 2012, Medpace is a strong player in the $23 billion CRO sector. Other recent CRO IPOs have posted big gains this year. PRA Health Sciences Inc. (Nasdaq: PRAH) and INC Research Holdings Inc. (Nasdaq: INCR) went public in 2014 and are up 25% and 28% in the last six months.
The Medpace IPO is set to raise $151 million by selling 7 million shares at a price range of $20 to $23. The company commands an $863 million valuation and will start trading on Thursday, Aug. 11.
Here are the rest of this week's upcoming IPOs, including one firm in the $14.4 trillion Internet of Things (IoT) market…
Three More Companies on the Upcoming IPO Calendar (Aug. 8 – Aug. 12)
Protagonist Therapeutics Inc. (Nasdaq: PTGX) is a pharmaceutical firm developing oral treatments for various bowel diseases. It mainly focuses on Crohn's disease and ulcerative colitis, both of which affect the digestive tract. One of Protagonist's lead drug candidates is set to enter phase 2b trials in the fourth quarter of 2016. However, the drug would compete against AbbVie Inc.'s (NYSE: ABBV) Humira, which Statista reports raked in $14 billion last year.
The Protagonist Therapeutics IPO will raise $70 million by offering 5.84 million shares for $11 to $13 each. The firm is valued at $189 million and will debut on Thursday, Aug. 11.
Motif Bio Plc. (Nasdaq: MTFB) develops an antibiotic used to treat bacterial infections. Motif's main drug candidate, Iclaprim, is about to complete phase 3 trials and will be used to treat resistant strains of pneumonia. Shares of MTFB stock already trade in London and are up 45% so far in 2016.
The Motif Bio IPO is set for a $35 million deal by offering 2.8 million shares for $12.42 each. It commands a valuation of $110 million. Although no official IPO date is set following its delay from last week, the company should debut sometime this week.
Airgain Inc. (Nasdaq: AIRG) supplies antennas for electronic devices. It makes antennas that can be installed in Wi-Fi routers, smartphones, and set-top boxes. The tech company has a strong position in the growing Internet of Things market, which could hit $14.4 trillion in sales by 2022. From March 2015 to March 2016, Airgain earned $31 million in sales.
The Airgain IPO will generate $14 million by selling 1.5 million shares at a $9 to $10 price range. It's valued at $78 million and has not announced an IPO date. Renaissance Capital reported the company should start trading sometime this week.
Next Up: Airbnb Just Got $850 Million Closer to Its IPO – Here's Why
Alex McGuire covers IPOs for Money Morning. Follow him on Twitter for constant updates on the 2016 IPO market.