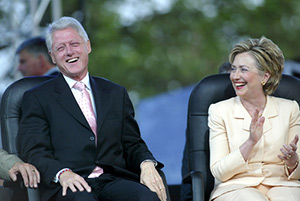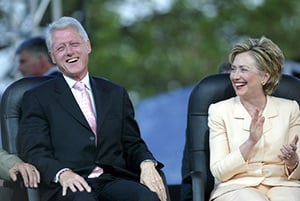 On Aug. 1, Victor Thorn, a prolific writer and Clinton researcher, was found dead on top of a mountain near his home.
The cause of his death was apparent suicide from a gunshot wound.
Thorn's passing was the latest in an extensive string of deaths associated with the Clintons. While Thorn never personally knew them, he wrote three books and countless articles meticulously detailing the alleged scandals and controversies surrounding the couple.
Don't Miss: Hillary Clinton is profiting off GOP calls for her incarceration - here's how...
His last book was just released on Feb. 1, 2016, and is called "Crowning Clinton: Why Hillary Shouldn't Be in the White House." Thorn also published some 17 other books over his life and was a decade-long writer for the alternative newspaper, American Free Press.
Thorn's family said they don't suspect foul play. But conspiracy theorists are already questioning the motives behind Thorn's death -- especially considering its timing and significance. They see Hillary Clinton's fight for the Oval Office and the passing of Thorn, who was extremely critical of the Clintons, as more than a coincidence...
And to add even more to the mystery, one of Thorn's books was called "Hillary (and Bill): The Murder Volume." Conspiracy theorists say that it would be one of the saddest ironies if Thorn were to be added to his own list of alleged Clinton body counts.
Thorn is now linked with over 40 people associated with the Clintons who have met an unusual demise.
Here are some of the most notable of these deaths...
Timeline: A List of Deaths Associated with the Clintons
Why There Are So Many Deaths Associated with the Clintons
It is unprecedented in American politics for anyone with the Clintons' pedigree to have so much death surrounding them. Nothing has ever stuck to the Clintons, though. And many of the deaths of people they closely knew were investigated extensively.
For example, the suicide of Vince Foster in 1993 (see list above) was investigated by the U.S. Park Police, the Department of Justice, the FBI, the United States Congress, and several other officials.
A final report of Foster's death totaled 137 pages, according to the Hathi Trust Digital Library.
So, it appears the only "official" answer to the Clintons' misfortune is an uncanny coincidence. But many conspiracy theorists, right wing pundits, and Thorn himself allege that there's something more pernicious at play...
A police investigation is still underway for Thorn's death, but in all odds, investigators will find nothing of note.
And the mystery continues...
Do you think there's something fishy behind Thorn's death? Let us know on Facebook and Twitter.
Up Next: The Internet of Things revolution will create a $6 trillion market - and these five stocks are the best way to grab a piece of those gains for yourself.