Good news is good news again – for now.
The Labor Department's announcement that July unemployment held steady at 4.9% while adding a better than expected 225,000 jobs was enough to snap the four-day pullback and get traders in the mood to buy.
Those numbers don't necessarily reflect the street reality of the economy, but of course they were enough to get the S&P 500 to yet another new all-time high, even if the Nasdaq Composite, Dow Jones Industrials, and the Russell 2000 didn't quite make it.
This is a near-term bullish development, especially when you consider that, before this recent upward trend, we've gone 14 months between all-time highs.
But… when you see the chart I'm about to show you, you'll agree it's not quite time to pop the champagne corks.
Long Term, Even the Highs Are Trapped in a Range
From the post-Great Recession lows in March 2009 through the middle of 2014, the market had been on a tear, one of the longest bull markets in history.
This upward movement defied the infamous "Flash Crash" pullback in May 2010, along with the U.S. credit downgrade and the sovereign debt crisis in Greece and the "southern tier" of the European Union in 2011. The markets rarely stopped for breath.
So that's what you see here: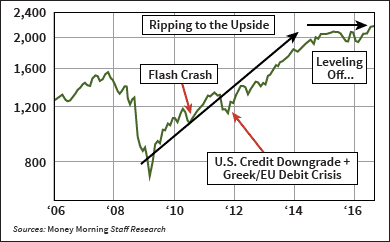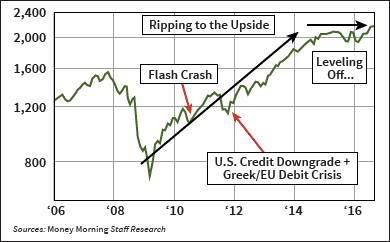 Now, here's where it gets strange… Until you remember that the Fed has essentially declared war on normal market functions.
Since July 2014, the market has just sprinted to the upside so much that it has "wandered" higher, without any real purpose or discernable conviction.
Let's take a look: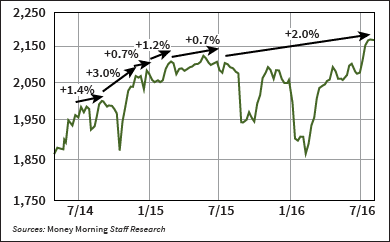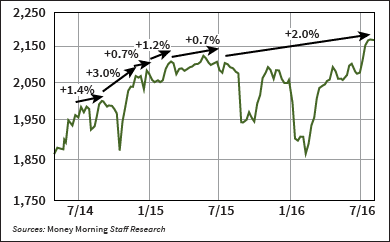 You can see it plainly: Since July 2014, the S&P 500 has made six new all-time highs.
Here's the thing… None of them exceeded the previous one by more than 3%. The S&P 500 is still largely "trapped" at the top of the chart.
That's a problem, and a rather troubling one, at that.
Here's My Near- and Long-Term Take on This Market
That pattern is indicative of a market that is simply scratching and clawing for each and every new piece of gained ground.
And that new ground is looking a tad uncertain, if not exactly unstable. Lackluster growth is the worldwide order of the day.
U.S. GDP growth for the first half of the year is an extremely tepid 1%. And aside from the favorable recent jobs report, which likely isn't what it seems, there's just nothing in the U.S. economic outlook that suggests we'll get the kind of growth we'd like to see, growth that would serve to "re-couple" the market to the wider economy.
The world economic outlook is even less inspiring; there's nothing that makes me think we'll race up another 5% or even 10% from here.
Now, last week I said I'd be surprised if the uptrend was over with, and that strength typically leads to strength in the markets. After all, this pattern is setting up like the classic Edwards and Magee continuation flag, where short-term prices move in a flag-shaped, tight range that often leads to a push higher.
But it's central bank "support" that continues to push the market incrementally higher, with fewer and fewer good economic data points to support the move fundamentally.
So I still think we'll get that push upward, but a couple of percentage points more is probably all this wandering market can muster.
That's because I think, before we go much higher, and given all the "wandering" we've endured, the next downward elevator the market catches will deliver a ride as deep and violent as the post-Brexit vote plunge we saw in late June.
Get ready. This is the perfect time to load up on gold and silver, especially with the recent price pullback we've seen. In my Stealth Profits Trader service, for instance, we're putting on an inverse, "ultra short" Treasury trade and another inverse high-yield trade, too.
I'm watching this market like a hawk; I won't turn my back on it for a second.
I'm especially on the lookout for a special kind of pattern "trigger" that can bring in huge gains when the market moves lower. My Stealth Profits Trader readers can log in here to see my instructions for this coming downside payday.
Like I said, I think the markets' move lower will be explosive, so I'm keeping lots of dry powder ready for the second I spot this thing.
Public Law 94-29 Is Like "New and Improved Social Security": Most Social Security payments are paltry – barely enough to live on. That's what makes Public Law 94-29 so potentially powerful. It opens the door to an investing strategy that gives you a chance to earn $4,000 per month or more. Did Congress finally do something right? Details here.
Follow Money Morning on Facebook and Twitter.
Join the conversation. Click here to jump to comments…
About the Author
D.R. Barton, Jr., Technical Trading Specialist for Money Map Press, is a world-renowned authority on technical trading with 25 years of experience. He spent the first part of his career as a chemical engineer with DuPont. During this time, he researched and developed the trading secrets that led to his first successful research service. Thanks to the wealth he was able to create for himself and his followers, D.R. retired early to pursue his passion for investing and showing fellow investors how to build toward financial freedom.