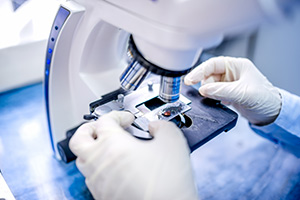 There is a groundbreaking new technology that's revolutionizing the biotech industry and leading to the creation of a new field worth $25 billion.
For investors, we've found one of the best biotech stocks to buy today that's at the center of this emerging industry. Before we get to this stock to buy, here's a look at the $25 billion "bioelectronics" industry...
When people think about the word "technology," most think of smartphones or computers. But over the last several decades, technology has also changed the way medicine is practiced.
The merging of technology, medicine, and molecular biology has spurred a revolutionary new future in a field called bioelectronic medicine.
Editor's Note: The Internet of Things will revolutionize the way we live. And five companies will be at the center of this $6 trillion revolution...
At its core, bioelectronic medicine is the electrical signal used by the nervous system to communicate information. Virtually every cell in our body is directly or indirectly controlled by these neural signals.
Bioelectronic medicine technologies can record, stimulate, and block neural signaling. This is revolutionary because it will change the way diseases and injuries are treated. Some of the most common ailments that will be targeted by these therapies are rheumatoid arthritis, Crohn's disease, diabetes, paralysis, and even bleeding.
The approach promises to be much more effective than traditional drugs. It's also safer and more cost effective. Best of all for patients, these therapies do not come with significant side effects.
That's why we're targeting this particular subsector when looking for the best biotech stocks to buy today.
Here's how treatment for a child with asthma will change using bioelectronics.
With bioelectronics, doctors could wrap tiny devices around nerves in the lungs. Employing those devices, doctors could then alter electric signals in order to ease tension in the lungs.
According to market researcher Global Market Insights, the bioelectronics market will be worth more than $25 billion by 2023.
Urgent: Our Newest Gold Price Prediction Shows 271% Returns by 2020
And Money Morning Director of Tech & Venture Capital Michael A. Robinson has found the best way to tap this exciting new field. Not only is this one of the best biotech stocks to buy in bioelectronics, but it's also tapping into another $200 billion industry...
One of the Best Biotech Stocks to Buy Now Before Shares Soar
Researchers from the company Robinson is sharing are confident bioelectronic medicine will be used to treat numerous long-term diseases, like diabetes and arthritis.
And the company is now collaborating with Alphabet Inc. (Nasdaq: GOOGL) to build a fresh $715 million bioelectronics firm.
"This pact with Alphabet puts it in line to continue this strong growth, as it helps you get invested in bioelectronics - a sector that Global Market Insights says is growing at more than 10% a year, 10 times faster than the U.S. economy as a whole," Robinson explains.
The company that has Robinson so excited is global drug leader GlaxoSmithKline Plc. (NYSE ADR: GSK).
Based in the United Kingdom, Glaxo discovers, develops, manufactures, and markets pharmaceutical products, including vaccines, over-the-counter medicines, and health-related consumer products worldwide. The company also offers pharmaceutical products in therapeutic areas and provides a vast array of consumer healthcare products in wellness.
Now, Glaxo has a seven-year pact with Alphabet to create what Robinson calls a new "baby biotech," Galvani Bioelectronics. Under the pact, GSK will control 55% of the firm, with the rest going to Alphabet's research subsidiary Verily Life Science.
Galvani will link GSK's knowledge of drug discovery and development with Verily's expertise in miniaturizing low-power electronics. Verily will provide data analytics and software needed for clinical applications.
Glaxo said the early work will focus on developing and producing the tiny electronic devices needed to test bioelectronic medicine.
But that's not the only reason Glaxo is one of the best biotech stocks to buy now.
Glaxo is also a leading player in immunotherapy...
A $200 billion field, immunotherapy aims to replace traditional disease-fighting drugs with treatments that supercharge the body's own immune system.
Allied Market Research reports this sector has been growing at a 7.1% annual rate since 2014. RNR Research projects that immuno-oncology therapies will make up 60% of the cancer market, or roughly $90 billion just five years from now.
Glaxo positioned itself to be a major player in immunotherapy with its partnership with Adaptimmune Therapeutics Plc. (Nasdaq ADR: ADAP).
A small-cap biotech, Adaptimmune's immunotherapy work is focused on T-cell receptors. These are the basis for the body's immune system - its first line of defense against foreign disease agents.
GSK is using its muscle and large R&D budget to back Adaptimmune in at least nine studies of the smaller firm's technology.
"Taken together, Glaxo's earlier announcement in immunotherapy and now its work in bioelectronics show the company is committed to staying at the front lines of science," Robinson said. "That bodes very well for Glaxo's long-term growth - and your shares."
At $44.37, GSX shares are up 11.54% year to date. Plus, GSK pays a dividend yield of 4.91%. Right now, it is one of the best biotech stocks you can buy.
Editor's Note: Voters who don't like Trump and Clinton are seeking a third candidate. Most people don't realize it, but they already have one...
Follow us on Twitter @moneymorning and like us on Facebook.