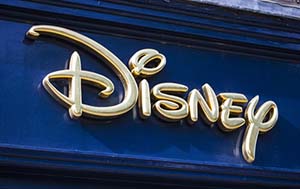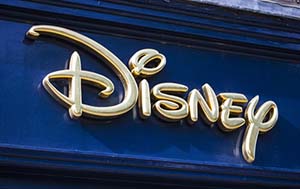 Walt Disney Co. (NYSE: DIS) reports its third-quarter earnings after the bell on Tuesday, Aug. 9. This earnings report is particularly important for the company, as Disney stock has fallen 8% year to date, ahead of the report.
Money Morning has the perfect way to play Disney stock after its earnings announcement. But before we get to our strategy, let's look at what analysts expect from Disney's earnings report today.
The Most Important Figures to Watch in the Disney Earnings
Investors will be looking for especially impressive cable segment and revenue numbers from Disney this quarter.
In particular, analysts will be paying close attention to the quarterly performance of ESPN, which makes up the bulk of Disney's cable segment revenue. The sports network's declining subscriber base has been dogging Disney stock for over a year.
In its last ratings report on July 31, Nielsen said ESPN and ESPN2 lost a combined 8% of their subscribers in July. And in the past two months, Nielsen also showed Disney losing an average of 3% of its total cable subscribers each month. Keep in mind: Although these losses are depressing, Disney could offset them this quarter with gains from new Internet cable packages.
Analysts expect Disney's cable networks, which make up 44% of its total revenue, to post $2.1 billion in sales this quarter, according to FactSet. And despite the bleak figures from Nielsen, the estimate is a modest uptick of $55 million from Q3 2015.
For total sales, analysts project around $14.1 billion in sales for the quarter. That's an increase of $1.04 billion from Q3 2015, according to FactSet. Analysts also expect Disney to post an EPS of $1.61 per share, up $0.16 per share from the same quarter last year.
Don't Miss: Stocks that pay dividends deliver triple the returns of nonpayers. And these "dividend kings" have boosted payouts 50 years in a row...
Now that we've looked at Disney's earnings expectations, here's Money Morning's recommendation for Disney stock going forward.
These are the biggest factors that will move Disney stock in 2016 and beyond…
Is Disney Stock a Buy After Q3 Earnings?
Money Morning is bullish about Disney stock, but we believe it's best reserved for long-term investors.
That's because Disney has a significant hurdle to climb before it can shake short-term investor uncertainty.
ESPN has been a major drag on Disney stock, and falling subscriber totals isn't the only reason why. Last quarter, advertising at EPSN declined 13%. ESPN's woes, however, are only a symptom of a much larger problem for Disney: declining interest in cable television (so-called cord-cutting).
People are switching to online streaming platforms. These are often simpler – and cheaper – than cable TV. Since Disney generates most of its profit from its cable segment, it needs to prioritize online streaming packages. We may get a few hints about this from Disney CEO Bob Iger today. Many expect Disney to push strongly into the online streaming sphere in the coming months, making deals to host its content with successful platforms like Netflix and Apple's Apple TV.
Despite Disney's cable segment problems, the entertainment company still has a ton going for it in the long term.
And these big developments make Disney stock a perfect buy right now…
This Will Drive Disney Stock in the Long Term
One major bright spot for Disney right now its studio segment. The segment's revenue jumped 22% to $2.06 billion last quarter after the success of "Star Wars: The Force Awakens" and "Zootopia."
The Star Wars franchise will continue to be a long-term revenue booster for Disney. The next installation in the Star Was universe, "Star Wars: Rogue One," will be released on Dec. 12.
And don't forget Disney's strong track-record with its animated movies, which also typically boast big box-office numbers. Most recently, "Finding Dory" was Pixar's biggest opening movie in history. It made $135 million in its opening weekend and has grossed $422.5 million in the United States as of July, according to ScreenCrush.
Disney also has an exciting development in its parks and resort segment. Its $5.5 billion Shanghai resort, which opened on June 16, is the largest yet for Disney. Expect to hear some early revenue figures from this resort in today's earnings report.
The investment bank FBR & Co. projects the Shanghai resort will be profitable in the near term. Over time, the firm says the resort will be able to generate revenue up to $2 billion annually. The bulk of this revenue will come from China's rapidly growing middle class and the nearly 330 million people that live close to the resort.
Don't Miss: The Internet of Things revolution will create a $6 trillion market – and these five stocks are the best way to grab a piece of those gains for yourself.
Lastly – it may take some time – but Disney will eventually make its cable division more Internet-friendly. Yes, we're expecting Disney to turn its biggest weaknesses into a major, long-term strength.
That's because cord-cutting will actually end up benefiting Disney…
The reason is simple: Streaming platforms, like Netflix, want the best content available. And with Disney's hit networks like ESPN and A&E being so popular, the company has powerful leverage to negotiate profitable contract deals.
Based on these long-term catalysts alone, Disney stock is an attractive investment to buy and hold for the next few years. And at $95 per share, Disney stock is offering a great entry point for interested investors.
The stock is currently down about 20% from its 52-week high of $120 per share. It hit that high back in November 2015, when it announced record EPS at the time of $4.90.
Based on the consensus of 35 analyst ratings, Disney stock has a price target of $111.29 per share by the end of the year. That's about 16% higher from its current price.
The Bottom Line: Disney stock is a buy, but only for long-term investors who are willing to hold it for the next few years. Disney's long-term catalysts, like its hit movies and new Shanghai resort, make us bullish about the stock's future. Eventually, we expect Disney to also turn its cable division around. That's because we see major opportunity for Disney networks in the rapidly growing online streaming sector.
Up Next: The real reason Congress gets nothing done isn't partisan gridlock. It's that the primary duty of our elected representatives is no longer making laws – it's this…
Follow us on Twitter @moneymorning and like us on Facebook.