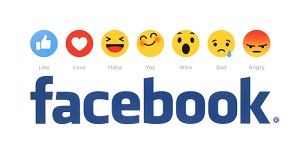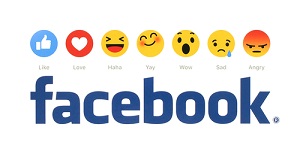 Under the impressive leadership of CEO Mark Zuckerberg, the Facebook stock price has climbed 229% since its 2012 IPO. But we're looking at the future when considering if FB stock is a solid investment.
And we discovered a billion-dollar trend that will fuel FB stock price growth over the next two years. Because of this trend and Zuckerberg's leadership, Money Morning projects the Facebook Inc. (Nasdaq: FB) stock price will trade for $250 per share by 2020. That's a gain of 99% from today's opening price of $125.34.
Trending: Can Pot Stocks Make You Rich?
Today, we are going to show our subscribers this billion-dollar trend. But first, we wanted to make sure our Money Morning readers know why the Facebook stock price has soared 7% in the last month.
The biggest reason for the FB stock climb this month is Facebook's last earnings report.
Analysts expected Facebook to report earnings per share (EPS) of $0.82 on $6.02 billion in revenue. Facebook crushed those estimates with EPS of $0.97 on $6.44 billion.
EPS increased by 94% from Q2 2015 and revenue increased by 59%.
Facebook also beat expectations for monthly active users (MAUs) and daily active users (DAUs). Analysts expected 1.69 billion MAUs and 1.11 billion DAUs. Facebook reported 1.71 billion and 1.13 billion, respectively.
And outside of Facebook, user growth for its other services was equally impressive.
In 2012, Facebook purchased picture app Instagram for $1 billion in cash and stock. It had just 30 million total users at the time of the purchase. Today, Instagram has over 500 million MAUs.
Facebook also reported its standalone app, Messenger, has over 1 billion users.
While all of those numbers have given the Facebook stock price a 7% bump this month, we found one trend that will cause FB shares to soar. In fact, we see it climbing 99% by 2020 because of this billion-dollar trend.
And the following chart shows you everything you need to know…
The Facebook Price Will Trade for $250 by 2020 Because of This Trend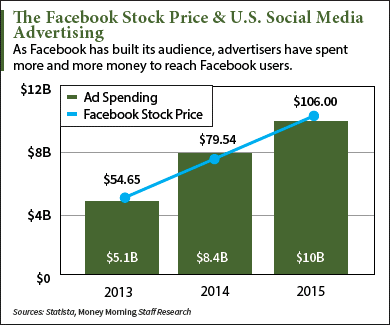 From 2013-2015, social media ad spending in the United States has increased from $5.1 billion to $10 billion per year, according to research site Statista. That's a 96% increase.
Over the last 12 months, U.S. advertisers have accounted for 47.5% of Facebook's $22.8 billion in revenue.
But it's future ad spending that will continue to increase Facebook's revenue…
From 2016 to 2018, Statista projects social media ad spending in the United States will increase by another 28%.
Traditionally, advertisers relied on formats like television, radio, and newspapers for marketing. But advertising on these platforms isn't as powerful as it once was:
As of December 2015, 24% of Americans either no longer subscribe to cable or never subscribed, according to the Pew Research Center.
The number of Americans who don't own a radio went from 4% in 2008 to 21% in 2016, according to RainNews.com.
From 2005 to 2015, weekday circulation of newspapers fell by 17%, according to the Pew Research Center.
Television, radio, and newspaper user bases have declined, limiting the impact of ads on those platforms.
But Facebook's user growth is thriving, and users are spending massive amounts of time on Facebook. As of Q1, Facebook users spent an average of 50 minutes a day on the platform.
That's plenty of time for advertisers to have their ads seen.
COO Sheryl Sandberg stated in the Q2 2016 earnings call that the company has worked hard to make advertising for businesses as easy as possible.
Plenty of analysts see Facebook stock climbing because of Facebook's large and engaged audience. FactSet has a price target of $153.14 for FB stock. That's a potential profit of 22.17% from today's opening price of $125.34.
But Money Morning Director of Tech & Venture Capital Michael A. Robinson has an even bolder prediction…
By 2020, he projects the FB stock price will trade for $250 per share. That's a potential profit of 99%.
The Bottom Line: Increases in social media advertising spending is directly connected with the Facebook stock price climbing. Social media ad spending is expected to grow another 28% from 2016 to 2018 to $15 billion. And because eMarketer estimates Facebook will account for 67.9% of all social media advertising dollars across the world, Facebook will receive the majority of that money. That will increase Facebook's revenue, sending the Facebook stock price to $250 per share by 2020.
Don't Miss: The Internet of Things revolution will create a $6 trillion market – and these five stocks are the best way to grab a piece of those gains for yourself.
Follow us on Twitter @moneymorning and like us on Facebook.