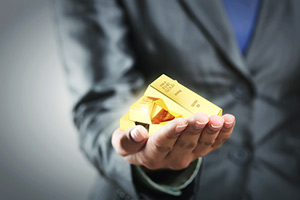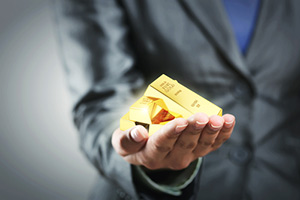 With the metal up 27% this year, our new gold price prediction shows another double-digit return by the end of 2016.
In fact, our Money Morning experts think gold will continue to be one of the best-performing assets of the year.
Before we get into our new gold price outlook, here's why the metal has rallied this year...
Our Gold Price Prediction Shows the Rally Continuing in 2016
As of 3:40 p.m., the gold price today (Tuesday, Aug. 9) is up another 0.4% to $1,346.40. That gives it a gain of 2% so far this quarter.
Gold prices have seen some incredible quarterly returns in 2016. In Q2, the price of gold's 6.9% increase outpaced the S&P 500's 1.9% rise. During the first quarter, gold rocketed 16.1% to post its best quarterly gain in 30 years.
Editor's Note: One of our favorite stocks to buy has seen returns of more than 79%. But we just found a report that suggests this gold stock could more than double your money...
Investors piled into the precious metal as the stock market got off to a rocky start. During the first two weeks of the year, the Dow Jones Industrial Average, S&P 500, and Nasdaq all fell more than 8%. The sell-off was caused by growth concerns in China, soft corporate earnings, and plunging oil prices.
Since then, the use of negative interest rates and lack of confidence in global central banks sent investors into gold.
But one of the biggest reasons for the gold price rally has been negative bond yields. Despite growing concerns about another rate hike in the United States, global yields keep falling into negative territory. According to TD Bank, negative yields will continue to make precious metals attractive.
The fallout from the Brexit vote has also fueled the gold price. The UK's decision to leave the EU will hit global trade and financial sectors the hardest. As these repercussions unfold, investors will keep flocking to gold as a hedge against market volatility.
But there are three more factors that will keep pushing gold prices higher in 2016. According to Money Morning Resource Specialist Peter Krauth, these factors are why he revised his 2016 gold price prediction.
Here's why prices will see a double-digit return by the end of the year...
Our Newest Gold Price Prediction for 2016
While near-term prices are tough to predict, Krauth sees gold prices hitting $1,500 by the end of the year. That's up 11.4% from today's price of $1,346.40.
The first reason why the gold price will hit that mark is rising coin sales.
According to Thomson Reuters, Q2 2016 sales of the American Buffalo gold coin rose 72% year over year. Sales are expected to surpass last year's total of 220,500.
The second reason is inflows of cash into gold exchange-traded funds (ETFs).
This year's top 10 non-leveraged ETFs by returns are all either gold or silver funds. According to ETF Database, all 10 are up at least 100% so far in 2016.
At the end of Q2, investors had poured $12.2 billion into the SPDR Gold Shares (NYSE Arca: GLD). That marked the highest inflows into the world's largest gold fund since 2008. It also marked the highest inflows since the fund was created in 2004, according to Bloomberg data.
The third bullish factor for our gold price prediction is the Fed's hesitance to raise interest rates.
Although gold prices have traded in a narrow range due to rate hike chatter, odds of a 2016 rate hike are still low. Even if the Fed lifts rates for the second time in a decade, it will remain accommodative and rates will remain at rock-bottom levels.
Krauth says the price of gold may see some short-term drawbacks. One reason why it might see some weakness is rising bearish positions on the metal. Gold stocks also look overbought with the Gold Miners Bullish Percent Index (BPGDM) hovering around 93.
Still, Krauth notes these contrary indicators lessen gradually over time. In other words, gold prices are poised for long-term gains in 2016 and beyond.
Next Up: Buy This Gold Stock Today for Gains of 47%
Like Money Morning on Facebook.
Related Articles: