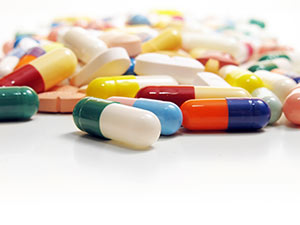 The Valeant stock price rose more than 25% earlier this week after the company released its Q2 earnings report.
But don't be fooled by the rise in Valeant Pharmaceuticals International Inc. (NYSE: VRX) stock this week. Shares of VRX stock are back down 9.6% to $24.70 a share today (Thursday, Aug. 11).
And Money Morning Global Credit Strategist Michael Lewitt sees the stock going much lower in 2016.
Before we get into our stance on Valeant stock, here's why the Valeant earnings report pushed shares higher this week…
What You Need to Know About Valeant Earnings and the Valeant Stock Price
The surge in VRX stock was sparked by Tuesday's earnings, which came with some positive guidance.
Valeant posted adjusted earnings per share (EPS) of $1.40 on revenue of $2.42 billion. Both missed analyst expectations of $1.47 per share and $2.46 billion. But the company beat on GAAP EPS with a loss of $0.88. That was better than the $0.92 EPS loss expected.
Don't Miss This: A $25 billion subsector is quickly forming within the biotech sector. And one stock in this exploding field is up nearly 12% this year. Here's why it's going higher…
But it was the company's positive outlook that rallied the stock…
Valeant reaffirmed its guidance for the rest of the year. The company said it expects revenue of $9.9 billion to $10.1 billion and adjusted full-year earnings of $6.60 to $7 a share. Those estimates sent the Valeant stock price up 25% on the day to $28.16 a share.
While investors breathed a sigh of relief following Tuesday's results, their woes returned today…
Around 1:30 p.m., the VRX stock price was down 9.6% to $24.70 after a new report from The Wall Street Journal. The report revealed Valeant is being investigated for possibly defrauding insurers by masking ties to pharmacy Philidor Rx, which boosted sales of its drugs. The U.S. attorney's office is pursuing a theory showing the two firms defrauded insurers by concealing their relationship.
The investigation could become Valeant's most serious probe yet. It could lead to criminal charges against Valeant as a firm and against former Philidor executives.
Prosecutors will see if now-defunct Philidor lied to insurers about its Valeant ties. Philidor helped patients get insurance coverage for higher-priced Valeant drugs instead of cheaper alternatives. It offered rebates and other compensation to customers who opted for Valeant's products.
The issue comes from if Philidor acted as a neutral pharmacy instead of on Valeant's behalf.
The government will also look into the extent of their relationship, including Valeant's role in Philidor's growth. Back in October, Valeant said most of Philidor's volume was tied to Valeant's own products.
Editor's Note: The best investments to own are ones based on certainty. While you may think there's no such thing, we found one set to profit from a $500 billion ultimatum…
Wells Fargo & Co. (NYSE: WFC) told clients today it's not possible to know how this investigation will turn out. But given Valeant's high debt load ($30 billion in long-term debt), any commercial or financial penalties will have a big impact on the stock.
For the last year, Lewitt – who's run several highly ranked hedge funds over a 30-year career – has repeatedly warned investors to avoid Valeant stock.
Here's why we maintain that stance – and why Valeant will go bankrupt…
Why the Valeant Stock Price Will Eventually Fall to $0
In October 2015, Lewitt said Valeant represents everything wrong with the modern corporation. That's because it's only cared about profits rather than business ethics.
[mmpazkzone name="in-story" network="9794" site="307044" id="137008" type="4"]
Valeant became one of the world's fastest-growing pharma companies by taking advantage of every legal and tax loophole out there.
"Its predatory way of doing business has made management and several hedge funds rich but severely damaged everyone else with whom the firm has come into contact with," Lewitt noted.
The company's sharp plunge was a well-deserved punishment. From July 2015 to March 2016, the Valeant stock price crashed 89.5% to $26.98 a share. That represented a loss of more than $80 billion in market cap.
Lewitt still says Valeant will eventually go bankrupt…
Legal fees are slowly chipping away at profit, which is quickly declining. Revenue from its once-thriving dermatology segment fell 22% in Q2. Generic competition for high-priced heart drugs Nitropress and Isuprel looms. Not to mention Valeant may be forced to sell some key assets to stay afloat.
We don't see Valeant stock improving as it deals with sky-high debt, mounting legal fees, and falling product sales.
Next Up: This Biotech Stock Could Return 52% in Just 12 Months
Follow us on Twitter @moneymorning 
Related Articles: