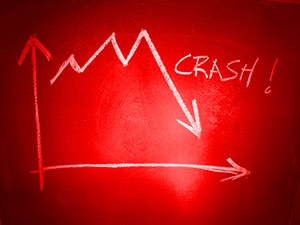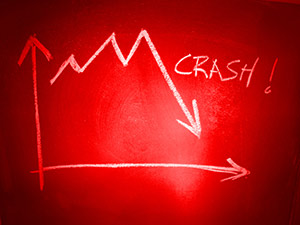 Central banks across the world have helped boost the markets to record highs.
But their unprecedented stimulus efforts can't continue forever…
And when they stop, many believe there'll be a stock market crash that rivals the 2008-2009 financial crisis.
For years, Money Morning Capital Wave Strategist Shah Gilani has criticized central banks for their dangerous, money-eroding policies, like negative interest rates. But Gilani, who was one of the few to predict the stock market crash in 2008, knows better than to let central bank fears push him to the sidelines.
Even in this crazy, Fed-fueled market, he knows we can still profit.
In fact, when the next stock market crash comes, Gilani has a savvy investment play that can bring windfall profits.
We'll take a look his recommendation in just a moment. But before we do, let's look more closely at why the markets are at all-time highs right now…
Why the Markets Are Soaring to Record Highs
On Thursday, the Dow Jones Industrial Average, the S&P 500, and the Nasdaq all closed at record highs for the first time since 1999. This would be an encouraging development, except for a simple fact…
Gilani says the markets are flying high despite poor readings from one of the most important economic fundamentals: gross domestic product (GDP).
Take a look at the graph below (make sure to click to enlarge). It shows how the S&P 500 has been climbing over the past month despite the U.S. economy growing just 1.2% in the second quarter. In the first quarter, GDP only grew 0.8%.
GDP is no longer the powerful market mover that it used to be. Instead, it's been replaced by the U.S. Federal Reserve.
We've seen how even just the tiny, 0.25% rate hike back in December can send markets plunging. After the hike, the Dow dropped 10% in the first six weeks of 2016. Conversely, when the Fed remains dovish, markets always respond positively. That's exactly what's happening this year, as the Fed pushes off another rate hike until 2017.
Another thing to notice in our graph: The 10-year U.S. Treasury yield has fallen to 1.5% – only 0.1% from a historic low in July. Disillusioned bond traders are seeking greater returns in stocks – another reason for the markets' climb.
Lastly, under low interest rates, corporations have continued to borrow and inflate their stocks with share buybacks.
Stock buybacks are up 15.1% this year compared to the same point last year, according to FactSet.
Remember – the Fed can't keep rates low forever. And once it raises them, corporate borrowing and spending will tighten. The stock buybacks will stop. Corporate debt – already at a 10-year high – will become even harder to pay off.
And higher rates could lead to a 2016 stock market crash…
Don't Miss: The Internet of Things revolution will create a $6 trillion market – and these five stocks are the best way to grab a piece of those gains for yourself.
"When financial assets get so pumped up on the tune being played by central banks," Gilani said, "it's all going to give way at some point."
Once the markets do give way, Gilani is prepared. He's identified a profit play that gains when stocks fall.
For instance, during the 2008 stock market crash and the January to mid-February correction earlier this year, this investment boasted double-digit returns.
Let's take a look at this investment play now before the next stock market crash…
This Investment Will Create Windfall Profits During the Next Stock Market Crash
Gilani recommends taking a position in the ProShares Short S&P 500 ETF (NYSE Arca: SH) right before the next stock market crash. This reverse exchange-traded fund (ETF) is designed to profit from a decline in the daily performance of the S&P 500.
For instance, if you had invested in SH right before the stock market crash in 2008, you would've seen gains over 40% from September 2008 to November 2008.
More recently, during the Fed-incited sell-off between January and mid-February, the ETF produced gains of over 15%.
As you can tell, this ETF isn't designed to be held for a long time. Its annual returns are pretty low. But you can see how holding it for just a few months in 2008 brought investors big returns. Despite the potential for big returns, however, it's important this ETF only represents a small portion of your portfolio. It's not always easy to time a collapse in stock prices.
"We're going to make a killing when those idiots (and believe me, I have a good, long list of who they are) get caught out when the music stops," Gilani said. "Investors will realize they've burned through trillions of dollars in cash and loaded their balance sheets with debt."
SH is currently trading at $38 as of Friday intraday – off $57 from its 52-week high.
Up Next: In Five Words: Why the Markets Continue to Go Up
Like us on  Facebook or follow us on Twitter.