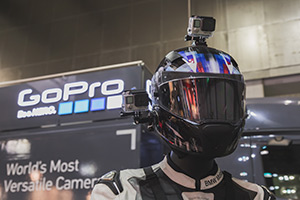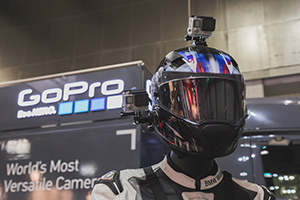 The GoPro stock price today (Tuesday) soared another 1.8% to $16.00 following an 11% surge Monday. Shares of GoPro Inc. (Nasdaq: GPRO) now sit at a seven-month high, and we're still not buying.
Before we give our outlook on how to play the soaring GoPro stock price today, here's what is behind this week's GPRO stock rally…
The GoPro stock price is rising in anticipation of several new product launches expected to debut soon.
Trending Now: The Internet of Things will revolutionize the way we live. And five companies will be at the center of this $6 trillion revolution…
During the company's Q2 2016 earnings call on July 27, GoPro said it plans to launch a number of products in time for the holidays.
The company expects to launch the Hero 5 camera in October. It's a more powerful and slimmer version of its Hero 4 sport camera. One of the biggest upgrades is a more advanced processor. The company said the Hero 5 will be its "most connected and convenient" camera to date.
Hero 5 sales during the holiday season will have a huge impact on the GoPro stock price in 2016.
The company is also expected to launch the Karma, GoPro's drone. Few details about the Karma have been made available, and we still don't know the price. But rumors are the drone will not come with a camera. You will simply clip on your existing Hero 3, Hero 4, or Hero 5. That should bring the price down.
But in order to successfully compete, GoPro will have to price the Karma competitively. The company is already late to the game. Chief rival DJI already has a low-cost drone, called the Phantom 3 Standard. It comes with a stabilized camera and retails for $629.00.
GoPro will need several more winning products in order to sustain this GoPro stock price rally…
The company reported an earnings-per-share (EPS) loss of $0.52 in Q2. GPRO earned $0.35 per share in the same quarter a year earlier. Revenue came in at $220.80 million, down 47.7% year over year. Analysts anticipate GoPro will post an EPS loss of $1.09 for the current fiscal year.
Despite today's rally, the GoPro stock price is still down 73% in the last 12 months.
So is this a good time to buy while the GoPro stock price is low? Or is this just a short-term blip for the stock? Here's our full recommendation on how to play GoPro stock in 2016…
GoPro Stock Price Today Rallies – Here's Our Strategy
GoPro was one of the biggest and most highly anticipated IPOs of 2014, and it priced shares at $24.
The GoPro stock price surged 31% on June 25, 2014, its first day trading as a public company. In less than a month, the GoPro stock price was up 100% from its IPO price. In a little more than three months, the stock had quadrupled.
Urgent: Our Newest Gold Price Prediction Shows 271% Returns by 2020
In October 2014, the GoPro stock price hit an all-time high of $98.47. Money Morning Chief Investment Strategist Keith Fitz-Gerald advised investors that all the hype did not justify the stock's price. He maintained the move was not rational and shares were in a bubble about to burst.
Fitz-Gerald was spot on. By August 2015, the stock fell to $60. Currently, shares change hands at $15.89.
"GoPro makes some really cool products, and they've got a rabid fan base of people who film themselves and others doing some truly outrageous things," Fitz-Gerald said in early 2016. "But that doesn't mean they've got sustained profit potential. The company has engaged in deep, deep discounting this holiday season, and that's going to eat into margins."
Dougherty Markets has a "Neutral" rating on GoPro stock. The firm is sitting on the sidelines until it has a better idea of how differentiated GoPro's new products are.
Right now, the GoPro stock price rally is being fueled by hopes for yet unseen products. We have no idea how they will sell, and the company's growth figures are slowing drastically.
GoPro cameras have found a niche market among professional athletes and extreme sports enthusiasts. But it's a limited market. Many consumers do not have a regular need for GoPro cameras or drones.
Right now, we find no need to own GoPro stock. It is best to avoid the volatile GoPro stock price in 2016.
Up Next: Get Ready for Florida's Solar Showdown
Follow us on Twitter @moneymorning and like us on Facebook.
Related Articles: