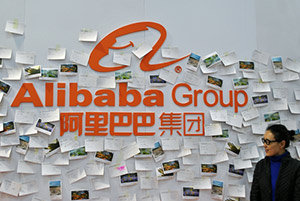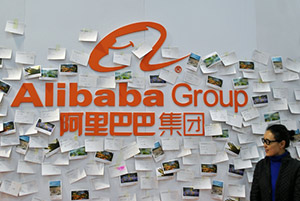 The Alibaba stock price has jumped 19.1% year to date, but that's just the start for BABA shares. In fact, our newest Alibaba stock price prediction shows shares quadrupling from here.
Before we share our latest BABA stock prediction, here's why the Alibaba stock price is outperforming the markets lately…
Alibaba Group Holdings Inc. (NYSE: BABA) shares have been climbing since reporting strong Q2 2016 results on Aug. 11.
The Alibaba stock price hit a 52-week high of $92.76 after posting much better than expected Q2 results. Earnings per share of $0.74 easily beat the expected $0.63. Revenue rose 59% to $4.84 billion. Gross merchandise volume (GMV), the amount of money spent over its platforms, climbed 24.4%.
Mobile revenue in China surged 119.3% to 17.51 billion yuan ($2.6 billion). Monthly mobile active users soared 39%. The company achieved a major milestone during the quarter when it recorded higher monetization of mobile users than non-mobile users for the first time.
In the week following earnings, the Alibaba stock price continued to climb, setting a new 52-week high of $98.86.
And earnings aren't the only reason the Alibaba stock price is soaring. The company's global expansion plans have been another major catalyst…
Urgent: This penny stock could double its current price – and also save a dying industry. Click here to learn more…
In April, Alibaba purchased Singapore-based online retailer Lazada Group for about $1 billion to boost its presence in Southeast Asia. Last year, the company launched a Netflix-like streaming business.
Alibaba has also been venturing into cloud computing and driverless vehicles.
Paid users to Alibaba's cloud business increased to 577,000 in Q2 from 263,000 last year. Revenue in that segment jumped 156%.
And we're not the only ones with huge Alibaba stock price predictions. The average 12-month price target among analysts is now $107.89. That would be a gain of 12.2% from today's opening price.
But we think those Alibaba stock price predictions are much too conservative. Money Morning Executive Editor Bill Patalon is looking far past the next 12 months, and he sees BABA soaring…
"I don't care what the stock does over the next six months, year, or even 18 months," Patalon said. "I'm gunning for much bigger gains."
Here's why he sees the stock quadrupling from here…
Why the Alibaba Stock Price Will Return Massive Long-Term Gains
Patalon has been telling readers since before the Alibaba IPO date that Alibaba will be the world's first $1 trillion company (in terms of market value). At today's market cap of $238 billion, that means the stock will more than quadruple in price.
And that's just the start for the Alibaba stock price…
Many have called Alibaba the world's "next Amazon" or the "next eBay."
Patalon said the Amazon.com Inc. (Nasdaq: AMZN) analogy is a good one. But he has a better way to look at Alibaba. According to Patalon, Alibaba is on track to become the world's next Wal-Mart Stores Inc. (NYSE: WMT).
Here's his explanation…
Wal-Mart, the world's largest retailer, became a publicly traded company in 1970. At the time, it offered 300,000 shares at $16.50.
Trending Now: Buy This Biotech Stock Before It Skyrockets 115%
Since then, Wal-Mart has completed 11 2-for-1 stock splits. Its "split adjusted" IPO price is $0.008057 (about eight-tenths of $0.01) per share.
That means that if you bought 100 shares at the IPO for $1,650 and held them through today, you'd now own 204,800 Wal-Mart shares. With shares currently trading near $73.00, your original $1,650 outlay would now be worth some $15 million. That a blistering 910,205% gain.
That kind of gain is what Patalon calls legacy profits – "the kind of money that will make your family name immortal – and that will have your great-great-grandkids celebrating your birthday, your anniversary, and your favorite color."
Because of the parallels between Wal-Mart and Alibaba, Patalon reckons Alibaba has the potential to be a long-term profit opportunity on a similar scale.
Patalon explains that investors today view Wal-Mart as a stodgy, modestly growing blue chip. And they look at Alibaba as a pure play on e-commerce – one heavily focused on China.
But that is an overgeneralized comparison.
Patalon refers to a piece in The New Yorker in the fall of 2014, shortly after the Alibaba IPO. The magazine compared Alibaba to Wal-Mart.
"Because its business is web-based, Alibaba is often described, in shorthand, as the Amazon or eBay of China, but that's not quite right," the article wrote. "When Amazon and eBay were founded, in the mid-90s, the middle class in the U.S. was already well-formed, with plenty of other retailers, including Wal-Mart, catering to it; all Amazon and eBay did was to bring commerce to the Internet. But Alibaba emerged in China at the same time that its middle class was starting to grow rapidly – in that sense, it's more like Wal-Mart, whose rise coincided with the rise of the middle class in the U.S."
Patalon explains that The New Yorker compared the two retailing goliaths from a societal point of view.
At Money Morning, "we view the parallels through the eyes of a prospective investor."
Investors who purchased Alibaba shares at or after the IPO, and have held on to them, are viewing this from the same vantage point we are.
"China's middle class is emerging today – just as America's was during the late 1960s," Patalon adds. "What's more, Beijing is pushing this transformation – wanting to shift China's economy from one that lives and dies with exports into one fueled by domestic consumer spending."
Patalon said Alibaba will be the big beneficiary – akin to how Wal-Mart was here in America.
"Even our most conservative predictions for Alibaba involve fast earnings growth," Patalon said. "And that means the trip to $1 trillion should be measured in years, not decades. From its current market value of $257.37 billion, in fact, you're looking at less than a fourfold surge in value. So buy some Alibaba stock now, tuck it away."
At $96.85, the Alibaba price is up 28.79% over the last year.
Editor's Note: You can bank profits on gold prices no matter where they move. All you need to do is check out our new guide on gold investing…
Follow us on Twitter @moneymorning and like us on Facebook.