Olympic men's swimming has ended. And unless Michael Phelps changes his mind again, Aug. 13 was the last time you'll see him compete.
As the most decorated Olympian of all time, Phelps was already the richest swimmer in the world before the Rio games. His net worth is estimated to be around $55 million, with 98% of his earnings coming from endorsements alone.
So companies need to strike now to get his name and face on as many of their products as possible… before it's too late.
But three stocks in particular have already taken the lead. And thanks to Phelps' 28 medals, they stand to bring in billions more in profits.
The first one may surprise you…
Three Stocks to Watch Right Now and One Way to Play Them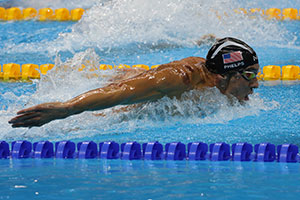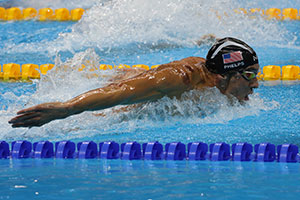 Back to Michael Phelps.
Personally, I just love the Olympics! Every four years, I find myself watching sporting events I didn't even know existed, like dressage. If you had to look that up, don't worry, you are not alone…
Don't Miss: How to Make a (Stress-Free) Killing with Options
The adage "absence makes the heart grow fonder" is definitely true for us Olympic fans because we don't often get to see nearly all of the world's sports games at one time, in one location. We get to see the new rising stars and the legendary veterans, like Michael Phelps.
But even though I'm a huge fan who respects what each athlete contributes for his and her country, I'm still an options trader. And what I love even more than the Olympics is the world of finance.
So instinctively, I've been looking for opportunities to make money off the back of the Rio games. And that opportunity lies in the companies that stand to make the most in endorsements.
As you know, many companies use these athletes to endorse their products. The goal is to strengthen their sales, improve both their credibility and marketability, and their brand awareness. Basically, it all boils down to bringing in the money. The more they make, the happier all parties are.
And the better the athlete performs – and wins – the more these companies make as people wear more, use more, and eat more of their products. These endorsement deals can be pretty astronomical in the eyes of us regular Joes, but to them, it's simply the cost of doing business.
Phelps has been, by and large, the perfect athlete, with records far too numerous to list. And companies want that reputation of being the best by being associated with the best.
Now as much as we may not want to admit it, Phelps is human. And he's made mistakes that have cost him endorsements. In fact, Kellogg Co. (NYSE: K) dropped him for six months back in 2009. But to give you an idea of just how much an athlete like Phelps can do for a company (and how much the world loves him), Kellogg took a huge hit in profits for making that decision. Vanno, which tracks company reputations, revealed that Kellogg's ranking fell from 9th to 83rd after cutting ties with Phelps, according to thedatalounge.com.
Since then, he's continued to win big. Back in 2014, it was reported that he was making $10 million a year in endorsements alone. So you can only image what's in store for him now.
And these three companies stand to make the most. I've shown you charts for each stock since the start of the year, but the boxed out areas reflect the start of the Olympics (Aug. 5) through today…
1. The Proctor & Gamble Co. (NYSE: PG)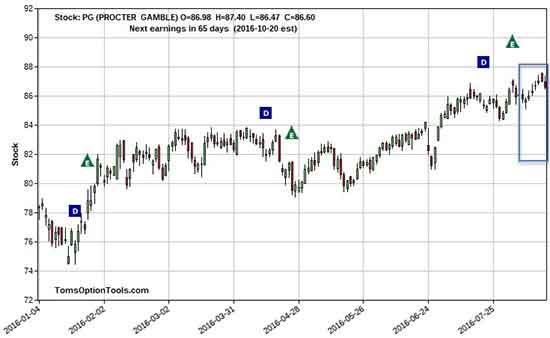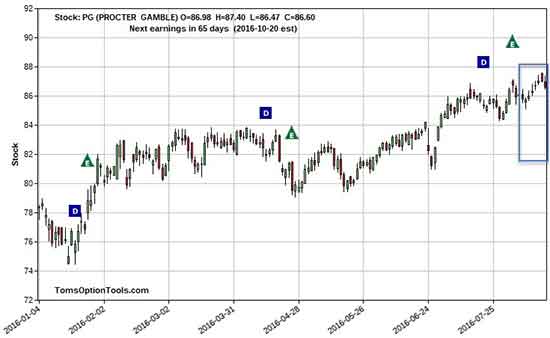 2. Visa Inc. (NYSE: V)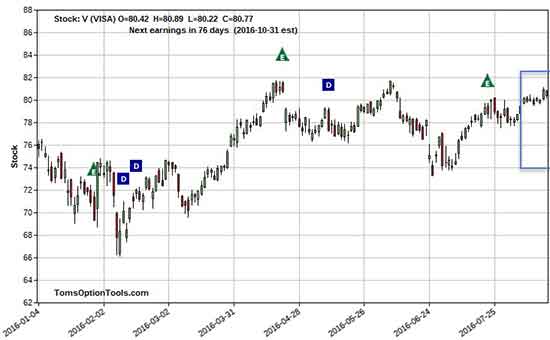 3. Under Armour Inc. (NYSE: UA)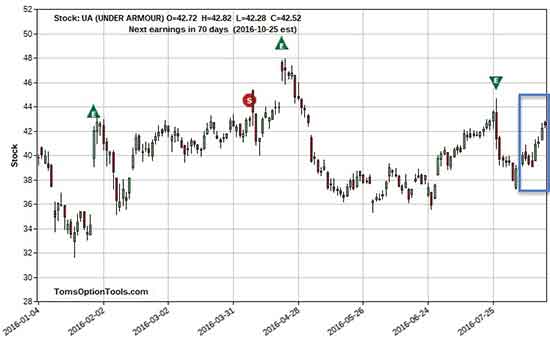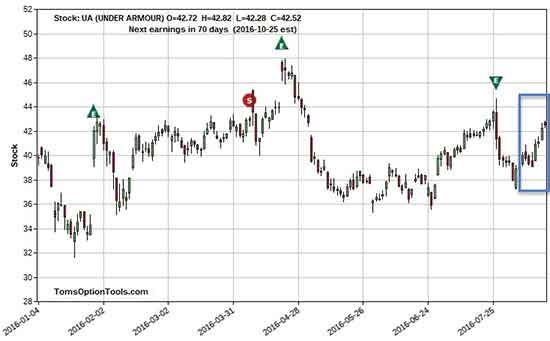 All three of these stocks to watch saw very nice upward moves during the first eight trading days of the Olympics. And while we can't necessarily give Michael Phelps all the credit, we can certainly accredit him for these pop-ups in price.
And by pumping out commercials and online ads over the next coming months, these companies are keeping themselves – and their stocks – at the forefront of everyone's minds.
But this momentum will dwindle a bit going into the next quarter as earnings – and not endorsements – take center stage…
So as an options trader, the safest and easiest strategy to use is to just go long calls with 30 to 45 days to expiration. And to increase your probability of profits, be sure to set your target price. Remember, this is the price the stock will need to be at or above by expiration to give you your triple-digit gains. And if you want to take a more conservative approach, consider using a vertical call spread, with the option you're selling falling just under that target price.
One last thing…
Be sure to consult with your brokers first to confirm the suitability of your accounts to place these trades. And see what they think about your Olympic picks. Maybe they're huge fans, too…
Up Next: There is no one way to beat the markets, but this three-pronged trading strategy comes close…
Follow Money Morning on Facebook and Twitter.
Join the conversation. Click here to jump to comments…
About the Author
Tom Gentile, options trading specialist for Money Map Press, is widely known as America's No. 1 Pattern Trader thanks to his nearly 30 years of experience spotting lucrative patterns in options trading. Tom has taught over 300,000 traders his option trading secrets in a variety of settings, including seminars and workshops. He's also a bestselling author of eight books and training courses.