Federal Reserve rate policy has dominated headlines this week following the release of the July FOMC minutes on Wednesday, Aug. 17. They indicated Fed officials have mixed opinions on whether or not they should raise interest rates in 2016.
The Fed has kept interest rates low since the recession, but this loose monetary policy is damaging the economy.
In fact, according to Money Morning Capital Wave Strategist Shah Gilani, today's Federal Reserve interest rate policy is a disaster waiting to happen.
Here's how bad it is...
Why the Federal Reserve Rate Policy Has Been Accommodative in 2016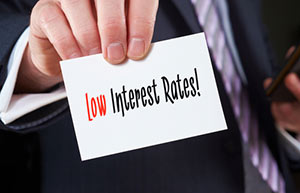 The Fed has kept interest rates near zero for the last decade. Rates have been so low for so long that adult millennials - people born between the early 1980s and early 2000s - have never known anything other than cheap loans for homes and cars.
In December 2015, the Federal Reserve hiked rates for the first time in nearly 10 years. The bank lifted its key interest rate from a range of 0% to 0.25% to a range of 0.25% to 0.5%. At the time, officials projected four rate hikes for 2016.
But slumping oil prices, slowing Chinese growth, and a 5.5% drop in the S&P 500 earlier this year gave the Fed reason to pause. The bank stayed accommodative as fears of a global recession in the spring led up to the Brexit vote this summer.
As we enter the fall, the Fed is likely to keep rates unchanged. The 2016 presidential election all but guarantees the Fed doesn't move in November. December is a possibility, but the odds of a hike are still slim.
According to CME's FedWatch tool, chances of the Fed raising rates at the September FOMC meeting are 18%. The likelihood of a boost in November is a slim 23.3%. For December, odds of a hike are at 43.5%.
In other words, a low Federal Reserve rate policy will be intact for much longer.
Editor's Note: People think Congress' inaction comes from partisan gridlock. They couldn't be more wrong. It comes from how our elected officials don't make laws anymore. Read more...
The Fed appears to believe the U.S. economy still needs support from low rates. But prolonged periods of low rates can distort the economy.
Gilani - one of the world's leading experts on the credit crisis - calls the Fed rate policy tyranny. He says its effect on the economy is getting worse and will soon feel like torture.
And there are two types of people the Federal Reserve's interest rate stance will hurt the most...
The Federal Reserve Rate Policy Will Harm Your Bank Account If You're in One of These Two Groups
According to Gilani, these groups will be hit the hardest by today's irresponsible Federal Reserve rate policy:
Savers: By the end of 2016, Americans will have missed out on roughly $752 billion of interest income. The average annual yield on money markets is only 0.26%. A five-year CD yields a scant 1.2%.
"Not only have they [savers] not made money on their savings and fixed-income investments, they've been cannibalizing their principal to buy food, pay rent and mortgages, utilities, and live," Gilani said.
Retirees: Those suffering most from low rates are those nearing retirement and retirees. The general investing rule holds that as investors enter their later years, they should scale back exposure to riskier assets like stocks and buy into safer investments. The low Federal Reserve rate policy has artificially inflated stocks and weighed on bond prices and their yields.
"So, every year we get older we're holding more and more bonds collecting less and less income. Currently, $1 million parked in super-safe 10-year U.S. Treasuries, yielding 1.55%, would return an annual interest income of $15,500 a year. No one can live on that," Gilani said.
Don't Miss This: Most investors write penny stocks off as high-risk investments. But these cheap stocks can double your money in a matter of weeks if you know where to look. Here's one such penny stock...
The Fed is also having a negative effect on the stock market...
You see, low interest rates let companies borrow money for cheap. But they use that money on share buybacks instead of on growing the company. These buybacks harm investors in the long term because they artificially inflate stock prices, which end up crashing when the market drops from poor earnings.
It's no wonder the economy isn't growing...
Swiss Re reports financial repression will remain a tool for the Fed as the global growth outlook remains tempered. It's up to the Fed to use the low rate climate to make the right changes to the troubled economy.
Unfortunately, the Fed's record for reform isn't comforting.
Gilani says the Federal Reserve hasn't just imposed financial repression on America's savers, retirees, and economy. It has doomed us to a future of low interest rates, a widening wealth gap, and perhaps another Great Depression.
Stay tuned for Gilani's recommendation on what investors can do about it.
Up Next: This Is the Best Way to Profit from Markets Right Now
Follow us on Twitter @moneymorning