The price of gold was closely watched this week as traders awaited the release of the July FOMC meeting minutes on Wednesday. The minutes were expected to provide clarity on possible moves in interest rates.
Instead, we got more fuzziness. Policymakers agreed additional economic data is still needed before deciding on an interest rate hike. Apparently, some officials are itching for an increase soon.
After the minutes came out, gold prices and the U.S. dollar headed in opposite directions. The gold price pushed higher, while the dollar was pulled lower.
Still, the price reactions for both assets remained rather muted, leaving us little clarity of where both are headed this year.
Now, investors will be turning their attention to Jackson Hole, Wyoming. That's where central bankers, finance ministers, and academics from across the globe discuss economic issues every August.
Time will tell what that summit brings as participants meet to discuss economic conditions and policy options.
Meanwhile, the recent action of gold stocks provides clues that a correction may have begun and could have further to run.
Before we get into that, let's look at the price of gold's performance over the last week…
Why the Price of Gold Jumped Nearly 1% This Week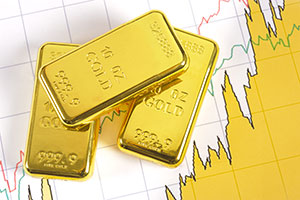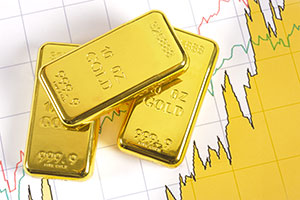 Gold prices kicked off this past trading week on a flat note. On Monday, Aug. 15, gold prices ticked mostly higher throughout the day but managed to settle near Friday's close of $1,336.
But Tuesday saw some gains as the U.S. Dollar Index (DXY) endured volatility. By the end of the session, the gold price gained 0.7% to close at $1,346.
On Wednesday, Aug. 17, the price of gold opened lower as investors bought into the DXY. Once the Federal Reserve released the FOMC minutes that afternoon, the metal saw a solid rebound. Gold prices closed the day at $1,352 for a decent 0.4% gain.
The rally continued the next day as the gold price kept reacting to the mixed opinions of Fed officials regarding a rate hike. Prices jumped 0.4% to settle at $1,357.20.
Editor's Note: Silver is one of the best-performing assets of 2016. It's up more than 40% so far this year. And we see it posting more double-digit returns by the end of 2016…
As of 11:30 a.m., the gold price today is down 0.8% and trading at $1,346.60. Despite today's loss, the price of gold is on track for a weekly gain of 0.8%.
Although gold prices moved higher this week, gold stocks are telling a much different story. In fact, the recent performance of gold mining stocks shows the gold market may be in correction territory.
This chart shows just how much gold stocks have fallen recently…
Price of Gold Is Up, but This Chart Tells a Different Story About Gold Stocks
If we look at the recent action in gold stocks, it does appear a correction has started.
The Gold Bugs Index (HUI) is a broad gauge of gold mining stocks. If we check out its performance in the last month, it seems to have peaked on Aug. 4…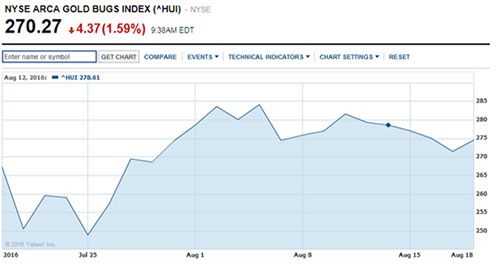 Since then, overbought bullish sentiment and seasonal summer weakness have weighed on gold stocks. The HUI index has dropped by about 5% so far.
Another indicator worth reviewing is the Gold Miners Bullish Percent Index (BPGDM). It's a gauge of overbought and oversold conditions for the gold mining sector. It ranges between 0 and 100. As a general rule, when the BPGDM dips below 30, it's oversold. When it reaches above 70, it's overbought.
It's important to remember both overbought and oversold conditions can persist for weeks and even months. The way to use the reading is by preparing to sell when the index peaks somewhere above 70.
Here's a look at the BPGDM's movement since late April…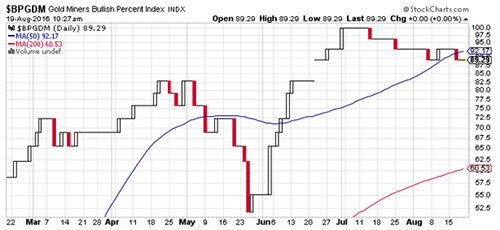 As well, traders and investors can look to prepare for buying when the index bottoms below 30 and goes higher.
Gold prices have been declining alongside gold stocks in the last month. Since the end of July, the price of gold has dropped 0.8%. That means the gold price may have also begun correcting back in early August. If that's the case, we could see gold head for $1,320 or even $1,300 in the near term.
But as we exit summer weakness, gold's likely to come back strong. I stand by my gold price prediction of $1,400 or higher by the end of 2016.
Up Next: Here's Why Gold Prices Will Surge to $5,000 by 2020
Follow Money Morning on Twitter.
Join the conversation. Click here to jump to comments…
About the Author
Peter Krauth is the Resource Specialist for Money Map Press and has contributed some of the most popular and highly regarded investing articles on Money Morning. Peter is headquartered in resource-rich Canada, but he travels around the world to dig up the very best profit opportunity, whether it's in gold, silver, oil, coal, or even potash.