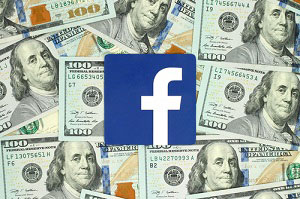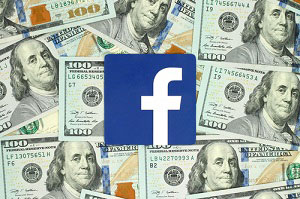 On the Facebook stock split date, many investors will panic when it looks like the Facebook stock price plummeted roughly 70% in just a day.
But you shouldn't panic. You see, the Facebook stock price may look lower, but the value of your shares will be unchanged.
Stock splits can still be confusing, especially if you've never been through one.
Today, we will show you exactly what to expect on the Facebook Inc. (Nasdaq: FB) stock split date. But first, here's more information on why the Facebook stock split was proposed by CEO Mark Zuckerberg…
Why Zuckerberg Wants a Facebook Stock Split
Zuckerberg set the FB stock split in motion in December 2015. In a post to his newborn daughter, Zuckerberg said he would eventually donate 99% of his Facebook stock to make the world a better place.
The problem with Zuckerberg donating his shares is that he would no longer have the majority of voting power in Facebook.
The only solution was a Facebook stock split…
As of this moment, Class A Facebook shares have one vote per share. Class B shares hold 10 voters per share. For Zuckerberg to keep control, he had to create a new class of shares: Class C.
These new Class C shares do not have any voting power. By issuing new vote-less shares to new investors, Zuckerberg can keep control of the company while he donates shares.
Trending: Buy This "New Money" Stock and Get "Old Money" Rich
Without a Facebook stock split, activist investors could have acquired a controlling interest in Facebook as Zuckerberg donated his shares. That could have changed how the company was run and interfered with the 32-year-old CEO's vision.
And Zuckerberg maintaining control is actually good news for shareholders.
It allows Zuckerberg to focus on the innovation that has netted FB shareholders gains as high as 227% since Facebook's 2012 IPO.
Shareholders approved the Facebook stock split on June 20, although a date has yet to be set.
And when the Facebook stock split does eventually happen, it may at first appear like shares have lost 70% of their value. But don't panic. These two charts below show exactly what is happening to shares on the Facebook stock split date…
This Is What Will Happen on the Facebook Stock Split Date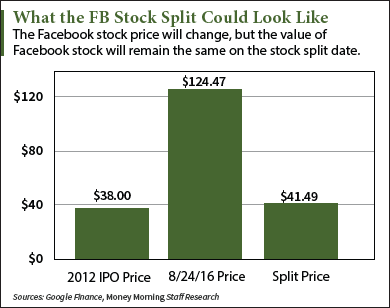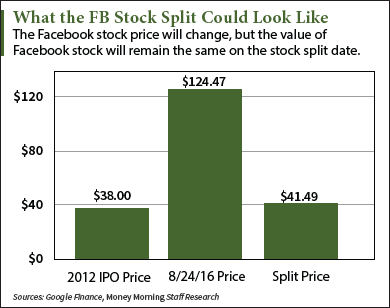 If the 3-for-1 Facebook stock split was today, FB stock would be worth $41.49 per share after the split. We calculated that price by dividing today's opening price of $124.47 by three.
For every one share of FB stock shareholders owned before the split, they will receive two additional shares on the Facebook stock split date.
Shareholders unaware of the split will be in for a shock on the official Facebook stock split date.
It will seem as if the FB stock price dropped 70% in just one day.
But the reality is shareholders just have more shares.
Earlier in 2016, there was a real-life example of what a stock split looks like for shareholders.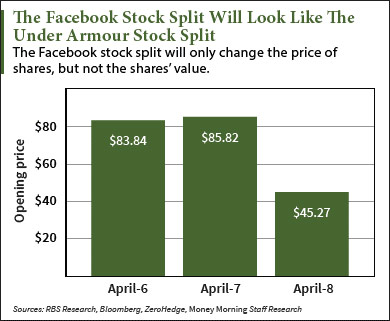 Under Armour Inc. (NYSE: UA) completed a stock split on April 8. Similar to Zuckerberg, the UA stock split ensured CEO Kevin Plank would maintain control of the company he started.
The only difference between this split and the Facebook stock split is Under Armour issued a 2-for-1 stock split. So the price of UA shares was halved in that split.
If the Alphabet Inc. (Nasdaq: GOOGL) stock split is any indication, we may be waiting a while for the Facebook stock split. The GOOGL split was announced in 2012 but wasn't completed until 2014.
But we don't recommend waiting any longer to make a play on Facebook stock…
You see, Money Morning Director of Tech & Venture Capital Michael A. Robinson has a massive price target for Facebook stock.
Robinson projects that by 2020, the FB stock price will trade for $250 per share. That means from today's opening price of $124.47, you could profit as much as 100%.
The Bottom Line: On the day of the Facebook stock split, it will seem as if the FB stock price dropped nearly 70% in one day. The stock price will change, but the value of FB stock will remain the same. Shareholders will receive an additional two shares of FB stock for every one that they owned.
Up Next: The Uber IPO Date Just Hit a Major Roadblock
Follow us on Twitter @moneymorning and like us on Facebook.