For weeks now, I've been telling you to expect a correction in gold prices and gold stocks. Now it seems clearer we've entered that phase.
It's been an incredible run so far. From January to July, the price of gold surged more than 26%. One of the most widely followed gold stock indices soared as much as 182% from January to early August. Yes, you read that right - 182%.
But today we're temporarily facing a different set of circumstances. The gold price has only corrected by 3.5%, while that gold stock index has lost 16.5%.
And that's perfectly normal. No bull market can see a double in a matter of months and expect those gains to be sustained without a break.
That break has finally come, and I don't think it's completely over yet. But once it ends, gold prices and gold stocks will likely resume their stampeding bull market. This is because almost no one - not even sophisticated investors - have gotten in yet.
Here's what I mean...
Just a few days ago, I met with a mid-tier silver and gold mining CEO. He's recently held fundraising meetings with Wall Street hedge funds and family offices. Many of them are warming up to gold because, and I'm paraphrasing him, "they don't mind being wrong, but not for long."
That means they see the price of gold trending higher, and they don't want to "miss the boat."  There's a lot of pent-up cash on the sidelines waiting for an opportune moment to go long on gold. And it looks like that moment is coming soon.
We'll look at our long-term gold price outlook today.
First, here's a recap of gold's movement this past week - and why the gold price correction is taking shape...
Why Gold Prices Slipped 0.7% This Week
The gold price kicked off the week with a modest loss. On Monday, Aug. 22, the metal opened lower and eventually closed at $1,339 for a 0.1% loss.
Gold prices continued lower the following session as the U.S. Dollar Index (DXY) staged a rebound. The price of gold opened a bit higher on Tuesday before falling 0.1% to settle at $1,337.
Here's how the dollar has trended throughout the week...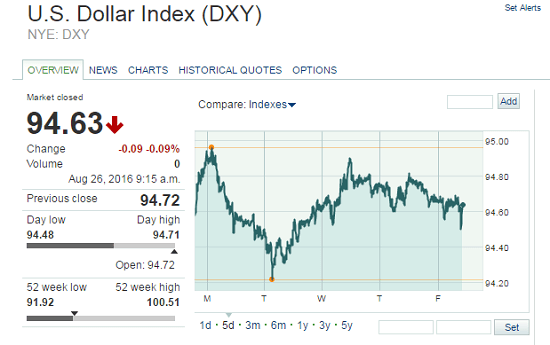 On Wednesday, Aug. 24, the DXY pushed higher once again to peak midday around 94.90. That pulled the gold price 1% lower to close the day at $1,324.
Thursday witnessed more follow through, with the DXY consolidating high in a range between 94.60 and 94.80. Gold prices fell 0.2% to $1,322 on the day.
Editor's Note: Despite the recent gold price slump, gold stocks are still among the best investments out there. That's why we just recommended one gold stock that could gain 49% in 12 months...
But the gold price today (Friday, Aug. 26) is up for the first time all week. As of 9:15 a.m., the price of gold gained 0.6% to $1,332. That puts the metal on track for a weekly loss of 0.7%.
Like I said, the gold price correction we're seeing is a healthy reaction to this year's gains. Although the gold price today is moving higher, we still may see more losses ahead.
But this correction is just a temporary drawback.
Here's where we see the gold price headed by the end of the year...
This Is Our Target for Gold Prices in 2016
Looking at the broader view of the gold market right now, it's still firing on all cylinders. Hedge funds have backed off lately, which might help explain recent softness.
But retail investors poured into gold stocks during the first half of 2016 and are expected to keep doing so. For the first time ever, retail demand is the largest component of overall gold demand for two straight quarters.
The current gold price correction likely began earlier this month and has now become more obvious. Having dropped below its 50-day moving average, the Gold Bugs Index (HUI) - which follows gold mining stocks - is clearly in correction mode.
This chart shows how the index has trended this year...
As of Thursday's close, the HUI was down 16% after peaking on Aug. 4.
In my view, it could fall 20% or more from the peak. That would likely be enough to shake out the weak hands and provide a good entry point. From there, we could be setting up for a further gain of 40% to 50% through the end of this year.
For sure, all eyes and ears are on Federal Reserve Chair Janet Yellen as she speaks at Jackson Hole, Wyoming, today. Any indications that can be gleaned from her talk could influence gold prices and perhaps create a buying opportunity.
All things considered, I see the gold price hitting $1,400 by the end of the year as the metal climbs out of correction mode.
Stay tuned to Money Morning for more updates on gold prices.
Up Next: This Country Is the Biggest Reason to Buy Gold Right Now
Follow Money Morning on Twitter.
Join the conversation. Click here to jump to comments…
About the Author
Peter Krauth is the Resource Specialist for Money Map Press and has contributed some of the most popular and highly regarded investing articles on Money Morning. Peter is headquartered in resource-rich Canada, but he travels around the world to dig up the very best profit opportunity, whether it's in gold, silver, oil, coal, or even potash.