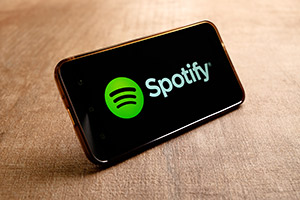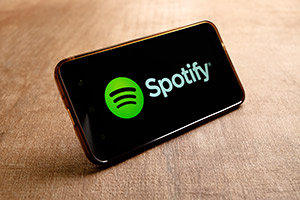 According to Bloomberg, a Spotify IPO may take place within a year, which means we could see Spotify stock in the second half of 2017…
But unfortunately for IPO investors, Spotify has a growing $57 million problem. And it's only going to get bigger from here…
Spotify is already valued at $8 billion, so the Spotify IPO date will be one of the biggest financial days of 2017. That's why we had to make sure Money Morning readers knew more about this $57 million problem and whether Spotify stock is a good investment.
Before we get to that, here's how Spotify has grown into an $8 billion streaming-entertainment giant.
Spotify was developed in Sweden in 2006. It provides streaming music, podcasts, and video services from media companies and record labels. Users can use a free version with limited options or pay for the premium service for more features.
In October 2008, the Spotify app was launched in Europe as a paid subscription service. At the time, free accounts were offered by invitation only.
Spotify wanted to enter the U.S. market as early as 2009, but it wasn't easy. Major record labels like Warner Music Group did not like Spotify's "freemium" model, according to Billboard.com.
Sean Parker (co-founder of free music service Napster) learned about Spotify and invested $15 million in 2010. He became a board member and negotiated deals with Warner and Universal Music Group on Spotify's behalf.
Editor's Note: Money Morning guru Michael A. Robinson just released his "early warning" system for maximum tech profits.
In July 2011, the U.S. launch of Spotify finally happened.
Revenue for the Swedish company was just $12.8 million in 2009. But by 2015, it brought in $1.9 billion. So how did Spotify grow revenue more than 14,000% in just six years? Here's your answer…
How Does Spotify Make Money?
The first way Spotify makes money is through advertising. Spotify sells advertising placements to third parties, and the ads are played in between songs.
The premium version is ad-free, but free subscribers have to listen to the ads. According to Music Business Worldwide, Spotify grew its advertising revenue from $107 million in 2014 to $213 million in 2015.
That's an increase of 99% and accounted for $3.01 in revenue per user in 2015.
But the bulk of Spotify's revenue (which is what investors need to focus on before the Spotify IPO) comes from selling subscriptions. The music-streaming service had revenue of $1.06 billion in 2014 and revenue of $1.9 billion in 2015.
That's an increase of 79%, which is an average revenue per user of $67.99.
But the company is losing money even though it generates billions in revenue…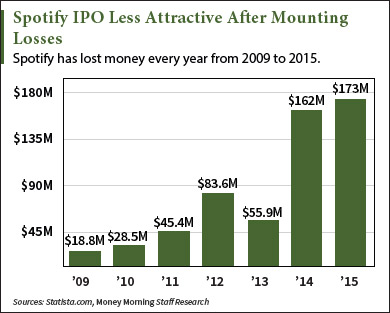 As you can see in the chart, Spotify has reported negative income every year from 2009 to 2015.
Tech companies losing money before an IPO and then becoming successful, though, isn't out of the ordinary. Amazon.com Inc. (Nasdaq: AMZN) lost $3 million in the quarter before its 1997 IPO. In its latest quarter, Amazon reported a profit of $857 million.
While that's not a huge problem, the company is facing a major issue right now.
Before the 2017 Spotify IPO, the music-streaming company may have to change its policies to appease record companies. That means the streaming entertainment provider could start to lose even more money each year…
Mounting Revenue Losses Could Crush the Spotify IPO
Spotify's biggest revenue source, subscriptions, is in jeopardy ahead of the Spotify IPO.
According to The Wall Street Journal, Spotify is now operating on short-term extensions with three major labels. One of those labels has even been on a month-to-month contract for almost a year.
Trending: How This Disruptive Technology Could Save U.S. Elections
Before the Spotify IPO can take place, the record executives want CEO Daniel Ek to make other concessions. According to WSJ, executives want certain music to only be available to paying customers, while others want Spotify to put a limit on free usage.
But the biggest change executives want is in royalties…
Spotify pays 55% of its revenue to record labels and artists for royalties. The problem is Spotify wants to pay less in royalties than it is now, while label executives want it to pay 58%. That is how much Apple Inc. (Nasdaq: AAPL) pays for subscribers who aren't on free trials.
While a 3% increase may not seem significant, it's actually a multimillion-dollar problem for Spotify. Based on its revenue figures, increasing royalty payments to 58% could cost Spotify an additional $57 million, according to our calculations.
And this increased payment could make it impossible for Spotify to ever be profitable…
According to Motley Fool, leaked documents showed the music-streaming service doesn't even expect to be profitable until royalty rates are lowered to 49%. That number is also contingent on costs such as research, development, and hiring employees staying the same, which for a company trying to go public is impossible.
And it would be extremely difficult for Spotify raise prices to offset increased royalty payouts. Apple Music ($9.99 per month), Alphabet Inc.'s (Nasdaq: GOOGL) YouTube Red ($10 per month), and Google Play ($9.99 per month) all cost as much as Spotify now.
Any increase in prices could cause current customers to cancel their accounts and join the other services. It can also cause potential customers to completely avoid Spotify. Not a good problem to have right before a Spotify IPO.
Spotify could eventually figure out a profitable business model. But you don't want to put your money in Spotify stock before that happens.
The Bottom Line: The Spotify IPO is looking less attractive for investors. Record label executives want Spotify to pay more in royalties, increased from 55% to 58% payouts. But Spotify doesn't expect to even be a break-even company unless it pays 49% in royalties. And because of the competitiveness of streaming-music services, it would be difficult for Spotify to raise its prices to offset any increase in royalty payments.
Up Next: Our Future Was Buried at Jackson Hole
Follow us on Twitter @moneymorning and like us on Facebook.