Editor's Note: Facebook has already been a hugely profitable recommendation for Bill's paid-up Private Briefing readers, delivering a market-crushing 83% in gains. Now Bill is expecting another a huge opportunity to add to this "all-upside" position. You'll see why in a moment...
New York Yankees legend Yogi Berra will go down in history as one of the greatest catchers who ever played the game.
He captured 10 World Series titles as a player, was a three-time American League MVP, and won pennants in both leagues as a manager, too.
But his Hall of Fame career isn't all that this baseball icon, who passed away last year, is remembered for.
Many also remember him for his "Yogi-isms," his short and often confusing words of wisdom or funny sayings that mashed a few different ideas together.
These include "It's like déjà vu all over again," "You can observe a lot by just watching," and "Even Napoleon had his Watergate."
These aren't just funny one-liners.
They have real-life applications.
In fact, one of my favorite Yogi-isms can be applied to one of my absolute favorite tech stocks right now.
Let me show you...
Wit and Wisdom and... What?
One of Berra's funniest comments doesn't come from the dugout but rather a pizzeria.
Here's how it goes...
Berra stopped in one day and ordered a pie.
The employee behind the counter then asked him how would he like his pie cut: into four or six pieces?
Then, in true Berra fashion, he responded:
"You better cut the pizza in four pieces because I'm not hungry enough to eat six."
On the surface, this Yogi-ism looks just like a malapropism.
But applied to investing, this mentality is a perfect example of why companies do stock splits.
Just look at Facebook Inc. (Nasdaq: FB).
On June 20, shareholders placed their votes to approve CEO Mark Zuckerberg's motion for a 3-for-1 Facebook stock split (though they haven't yet set the date for the actual split).
On the split date, it will seem like the Facebook stock price has dropped nearly 70%.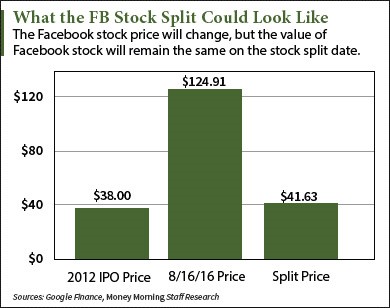 But in reality, the value will remain the same.
Stock splits can be confusing, especially if you've never held a stock that went through with one.
That's why words of wisdom, like Berra's, can come in handy.
The idea that the number of slices somehow changes the total is a myth that we can all laugh at for pizza. But when it comes to shares of stock, that belief has been hard to shake for many beginner investors who believe that having more shares is somehow better even though it represents the same part of the pie.
But if it's all just a paperwork thing, why bother?
Fact is, stock splits can make a stock more attractive to investors. Here's how it works.
Smaller, Richer Slices of Pie for More Investors
Right now, Facebook's stock is trading around $124 per share.
That can be a hefty price tag for some investors, especially when most brokers won't allow you to buy fractional shares.
By doing a stock split, investors can buy in at lower prices, ultimately opening the company up to more trading.
At today's opening price of $124.55, Facebook's stock would be worth $41.51 if the 3-for-1 Facebook stock split took place today.
In a 3-for-1 split, investors receive two additional shares for every one they held.
But it doesn't come without some risk.
Two of the biggest arguments against stock splits are 1) that they can open the stock up to volatility, and 2) because the company has to pay administrative fees when splitting, there is no true gain for the company.
However, the real value added here is that investors often see a stock split as a bullish sign for the future.
Here at Private Briefing, we've been pounding the table about this social media giant for more than two years.
In fact, we liked this stock so much, we recently added Facebook to our "Shopping List" of stocks you want to "Accumulate" and hold long term.
Let's take a look at the success we've seen so far...
Facebook Was a Big Bet with a Big Payoff
All told, Facebook's share price has rocketed 83% since Capital Wave Forecast Editor Shah Gilani suggested the social media giant to us at $68.59 a share back in February 2014.
In the last 12 months alone, the Facebook stock price has skyrocketed 30.74%. But there are even larger profits ahead.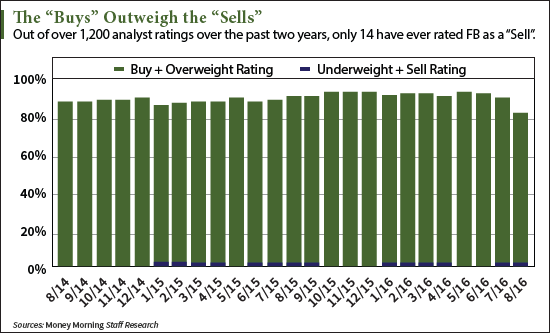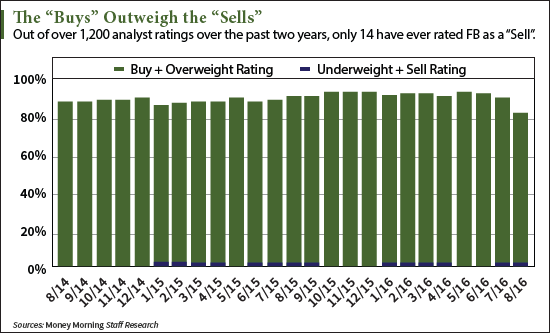 That's because Facebook has billion-dollar revenue sources through:
Oculus Rift
Messenger/WhatsApp
Instagram
When Zuckerberg paid $2 billion for Oculus VR in 2014, Wall Street couldn't understand how virtual reality (VR) would help a social media company. After all, VR is mostly associated with gaming right now.
But it's the future applications of VR technology and profitability of VR software that Zuckerberg had his eyes on...
Eventually, the 32-year-old CEO believes VR technology will allow headset users to have front-row seats to sporting events, create face-to-face interactions between patients and doctors, and allow students to connect with teachers across the globe.
Tractice, a market intelligence research firm, believes sales from VR head-mounted displays, accessories, and content will reach $21.8 billion by 2020.
And while he's conquering the VR world, Zuckerberg is making sure we all use a Facebook platform in our daily communications...
His communication platforms Messenger and WhatsApp aren't generating revenue yet. But Zuckerberg is steadily readying them for monetization. Messenger and WhatsApp are each closing in on a billion users, which gives Facebook two massive platforms to sell ad space.
Messenger allows users to book hotels, order food, and even send money to their friends directly through the app.
Analysts at Deutsche Bank AG (NYSE: DB) project Messenger and WhatsApp will generate $10 billion in combined annual revenue by 2020.
While those three are still in the early stages, Facebook photo-sharing app Instagram is already contributing hundreds of millions of dollars to the company's revenue totals.
When Facebook purchased Instagram in 2012, it didn't make money and only had 30 million total users. Now, Instagram has more than 500 million monthly active users (MAUs), and analysts believe it brought in as much as $750 million in revenue in 2015.
By 2017, research provider eMarketer believes Instagram could account for as much as 10% of Facebook's total global revenue.
Fact is, Facebook is a must-have tech stock - in any portfolio - because the profit potential is massive.
Though he's not always able to articulate it to investors, Zuckerberg is a true visionary. Two years ago, the pundits were questioning every investment he made. Now, they're bowing in deference. It's been quite a shift in perception.
Fortunately, there's lots of money still to be made.
And with the upcoming stock split set to drop the price of this stock into the low $40s, you can bet we'll be snapping up more shares.
Until then, we'll just sit back and watch as Zuckerberg continues to bolster the Facebook Empire.
Monster Profit Opportunity... Coming Soon to the Nasdaq
This small biotech has a monopoly on a unique resource valued at $58.9 million... for a thimbleful. And it's hitting tech's own "big board" any day down. Click here for details...
Follow Bill on Facebook and Twitter.
Join the conversation. Click here to jump to comments…
About the Author
Before he moved into the investment-research business in 2005, William (Bill) Patalon III spent 22 years as an award-winning financial reporter, columnist, and editor. Today he is the Executive Editor and Senior Research Analyst for Money Morning at Money Map Press. With his latest project, Private Briefing, Bill takes you "behind the scenes" of his established investment news website for a closer look at the action. Members get all the expert analysis and exclusive scoops he can't publish... and some of the most valuable picks that turn up in Bill's closed-door sessions with editors and experts.