Tech stocks have been on an incredible tear lately, beating the S&P 500 by up to five to one over the last year, and many investors are afraid they're going to fall... that somehow the run's over.
Not on your life.
And not for reasons you might think.
Here's what everybody else is missing.
Let me begin with a story that sets the stage for today's Total Wealth Takeaway.
Most people have never heard of James Wilson Marshall.
He was a New Jersey-born carpenter working for a German-born Swiss citizen named John Sutter on a water-powered sawmill in California's Sierra Nevada Mountains.
And, on Jan. 24, 1848, he found gold.
Don't Miss: The World's Two Most Legendary Traders Tipped Their Hand - Are You In?
Marshall and Sutter both tried to keep news of what he'd found a secret, but that obviously didn't work. Less than 60 days later newspapers had begun reporting a sizable gold strike.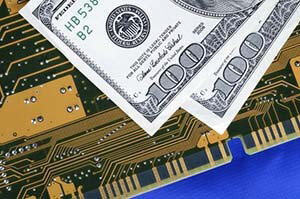 Enter Sam Brannan, another man you may not have heard of.
He was a store keeper in San Francisco and on May 12, 1849, he went screaming up and down the street with a bottle of gold dust in his hand in what accounts of the time called a "one-man parade."
And the rest, as they say, is history - the Gold Rush was on.
Formerly skeptical residents fell all over themselves to head for the hills. Things were so "bad" in the city and "gold fever" so severe that people were literally dropping everything in their rush to strike it rich.
Business people were saddened to have to do their own laundry and cook their own meals. Ships were abandoned on their wharfs as passengers and crew alike made a beeline for the hills.
Almost everybody stopped by Brannan's store to buy picks and shovels for the simple reason that they had to. He owned the only store between San Francisco and the nearby gold fields.
In less than nine weeks, Brannan racked up an incredible $36,000, or roughly $1,083,484 in today's dollars, reportedly buying mining pans for $0.20 and selling them for $15 a pop.
Brannan opened additional stores very quickly to capitalize on the situation, one of which - at Sutter Fort - was soon selling more than $150,000 worth of supplies and sundries a month... in 1849. Today that'd be like your neighborhood drug store doing the equivalent of $4.4 million every 30 days.
Long story short, Sam Brannan became California's first millionaire. And what he did back then is still with us today in the form of an oft-quoted maxim...
...during a gold rush, sell shovels.
Now, it's easy to look at this story and think about the shovels. But the real insight here is the people.
Brannan knew every one of the 200,000-plus 49ers who flooded into the area in search of riches had nothing and needed everything. And he realized that it would be the people - not the gold - who actually created the wealth.
That's why he didn't just sit on the cash he raked in, any more than you should today.
Brannan plowed most of the money he made as a merchant into speculative real estate in the Sacramento area. And that's when he really began to accumulate wealth.
And the miners?
Most went bust despite the fact that they collectively pulled nearly three-quarters of a million pounds of gold out of California's mountains. And, when they did, they returned to rent boarding rooms, make dresses, create bakeries, barbershops, and more, much of which sat on land that - you guessed it - Sam Brannan owned at that point.
And that's where we come back to technology stocks.
Most investors think about today's technology stocks like people thought about gold back then.
"If only I could find the one company that's going to strike it rich by creating some sort of new high-tech gizmo," goes the thinking.
Most will go bust just like the miners did.
But a few - a precious few who understand what Sam Brannan understood - are going to make money hand over fist in the years ahead.
I want you to be one of 'em.
You see, companies like Facebook Inc. (Nasdaq: FB), Amazon.com Inc. (Nasdaq: AMZN), and Alphabet Inc. (Nasdaq: GOOGL) are the Sam Brannans of our day because they sell the shovels people have to have in tomorrow's connected economy.
Facebook now has 1.7 billion people using it...
Google processes more than 5.5 billion searches a day and more than 63,000 searches per second...
Amazon has more than 63 million Prime members and more than 181.76 million unique monthly visitors to its website...
Every single one of which and one of whom is potentially a source of high-margin revenue.
When you think about it for a moment in light of what you now know about Sam Brannan, these are the companies poised to grow no matter what the Fed does, no matter how Wall Street tries to hijack your money, and no matter what Washington thinks.
Each of them has taken the money they made initially as part of the technology revolution and started investing heavily in things like self-driving cars, robotics, artificial intelligence, altered reality, big data, and more - all of which are scalable projects people "must have" in the very near future.
For example, Alphabet's working on a wide variety of projects ranging from curing cancer to artificial intelligence, robots, clean energy, home automation, and even, at one point, a freaking space elevator!
Not to be outdone, Team Zuckerberg is working on virtual reality, drones, and building the most sophisticated advertising engine in recorded history - things he wants to build because he wants to "make the world more open and connected," according to a 2015 Fast Company interview.
Meanwhile, Bezos is plowing into big data services and continues to push the boundaries of what's possible before other people have even thought about the stuff that he did... several years ago. For instance, Amazon Web Services - aka Amazon's Cloud - is now a $10 billion business that is crushing traditional data providers.
And that's on top of five key product sales areas worth nearly $2 trillion that are presently dominated by traditional retailers - clothing, home and kitchen, health and beauty, grocery, and B2B spending which, all by itself, sold more than $1 billion of products alone within a year of launching.
Must See: The Key to Profitable Investing at Market Peaks
What's a company like Home Depot Inc. (NYSE: HD) going to do?
Give you a better shopping experience?
A new kitchen sink?
Spiffy shelving?
No doubt you see my point.
As for which tech company will give you the biggest bang for your buck, I suggest you go after Google, now Alphabet.
It's expensive but don't let that hold you back. Buying even one share at $767.41 where it's trading now is a deal for the simple reason that you're not buying Google for what it's done in the past. Rather, you're buying Google for what it will do in the future.
The situation reminds me very much of Berkshire Hathaway Inc. (NYSE: BRK.A), Warren Buffett's shop and a stock that trades $212,829 per share today.
Like Berkshire, which is constantly investing in new businesses, Google is, too.
The way I see it, Google is really 10 or more businesses in one. Restructuring the company to create Alphabet (of which Google is now one of several subsidiaries) last year is the first move in unlocking the value associated with Calico (life extension research), Nest (home automation and smart home services), and Google X (which serves as Google's Skunkworks for top-secret moonshot ideas).
The company has a 22% profit margin and, as of June 30, is sitting on $77 billion in cash that it can spend on the most outrageous research imaginable. The company has received 152 upward revisions in the last 30 days.
More will follow and, each time they do, still more potential will be created, but you cannot play along if you're not "in to win" at any price.
If you'd like to cast a wider net, consider the iShares North American Tech ETF (NYSE Arca: IGM).
The exchange-traded fund (ETF) invests at least 90% of its assets in North American technology companies, including those I've just mentioned. Created in March 2001, the fund has 271 holdings, trades at a 0.03% premium to net asset value, and kicks off a small but better than nothing yield of 0.91%.
Either way, remember that it's not 1849 anymore, and remember Sam Brannan's maxim...
...in a gold rush, sell shovels.
Only remember that those very same shovels are bits and bytes now.
Editor's Note: It's not uncommon for "must-have" companies that align with Unstoppable Trends to have multiple (and profitable) entry points. Finding those companies is the first step, but it's surprisingly simple for investors who follow the Keith's Principles of Total Wealth. For a comprehensive report on the Principles that Total Wealth investors use every day - and access to all of Keith's future insights - click here. It's completely free!
Follow Money Morning on Facebook and Twitter.
Join the conversation. Click here to jump to comments…
About the Author
Keith is a seasoned market analyst and professional trader with more than 37 years of global experience. He is one of very few experts to correctly see both the dot.bomb crisis and the ongoing financial crisis coming ahead of time - and one of even fewer to help millions of investors around the world successfully navigate them both. Forbes hailed him as a "Market Visionary." He is a regular on FOX Business News and Yahoo! Finance, and his observations have been featured in Bloomberg, The Wall Street Journal, WIRED, and MarketWatch. Keith previously led The Money Map Report, Money Map's flagship newsletter, as Chief Investment Strategist, from 20007 to 2020. Keith holds a BS in management and finance from Skidmore College and an MS in international finance (with a focus on Japanese business science) from Chaminade University. He regularly travels the world in search of investment opportunities others don't yet see or understand.