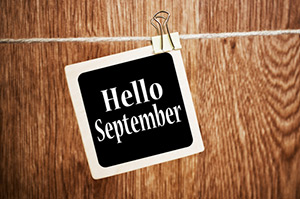 September is historically the worst month for stock markets, so investors need to be particularly selective. That's why we're bringing readers the three best stocks to buy now for September 2016.
You see, since the Dow Jones Industrial Average debuted in the late 1890s, the benchmark has lost an average of 1.1% in September. Meanwhile, the 11 other months of the year have averaged a gain of 0.8%.
With markets trading near record highs and stocks trading at inflated prices, finding solid investments is more important than ever. The Dow Jones and S&P 500 are both trading just shy of the records they set earlier this month. So investors shouldn't be surprised if the markets pull back in the particularly bearish month of September.
Urgent: This small-cap stock could double your money - and save a dying industry at the same time. Click here to learn more...
But that doesn't mean investors should flee markets...
"Prices ultimately reflect growth over time, which is why you want to invest, even at market peaks," Money Morning Chief Investment Strategist Keith Fitz-Gerald told readers last week.
Fitz-Gerald says that investors need to prioritize "must-have" stocks during market peaks, though. Don't invest in the "nice-to-have" companies, and instead focus on companies that provide products people can't live without.
That's what we've done today with the three picks on our best stocks to buy now list. These stocks to buy are all strong investments no matter the month or what the market is doing...
The 3 Best Stocks to Buy Now
Best Stocks to Buy in September 2016 No. 1: Apple Inc. (Nasdaq: AAPL) has been one of our favorite stocks to buy throughout 2016. And the company will debut its iPhone 7 on Sept. 7. Rumors have been swirling about the new phone for months.
The most persistent rumor is that Apple will get rid of the headphone socket. All Apple launches are highly anticipated, and this one will be no different. If there is any disappointment in the launch, the Apple stock price could fall in the short term, but don't follow the crowd. This is an excellent stock to buy and hold long term.
Trending Now: This Biotech Stock Is Set to Soar 115%
You see, even though the iPhone gets most of the attention, service is now the most exciting unit for Apple. Apple services include Apple Pay, the iTunes Store, Apple Music, and iCloud. Significant growth in this segment is why Money Morning Chief Investment Strategist Keith Fitz-Gerald is so bullish on Apple.
"Services are where it's at. You've got a billion-something devices out there. That's the point," Fitz-Gerald told FOX Business News earlier this month. "Everybody thinks about Apple as a device company. It hasn't been a device company for five years... It's all about what's going to take the ecosphere forward. Apple is going to be an enabler. It's no longer going to be the end game as it was under [late Apple CEO Steve] Jobs."
Services will represent 29% of Apple's gross income in 2020. According to Credit Suisse, that's up from 15% right now. That means by 2020 Apple will be less dependent on iPhone profits, which account for nearly two-thirds of the company's profits today. Slowing iPhone sales have been a concern as the smartphone market continues to become more saturated.
Plus, Apple is morphing into a data-driven company.
"They're generating billions of dollars from apps and billions of dollars from service contracts," Fitz-Gerald added. "That's where the future is."
Fitz-Gerald has a four-year Apple price target of $200. That would be a gain of nearly 90% from today's price. Over the last three years, Apple shares are up 49.07%.
And that's just the first pick on our list of the best stocks to buy for September 2016...
Best Stocks to Buy in September No. 2: Facebook Inc. (Nasdaq: FB) shares hit an all-time high in July after blockbuster Q2 2016 earnings. They've continued to climb since, and shares are now up 20.3% in 2016.
FB handily beat earnings per share (EPS) and revenue estimates, posting EPS of $0.97 on $6.44 billion in revenue. FB also comfortably beat on user counts, the most closely watched number in FB's earnings report. The daily active user count came in at 1.13 billion, while the monthly active user count totaled 1.7 billion.
Some analysts are concerned that FB's blistering growth will slow. But with FB yet to monetize three enormous sources of revenue, that's not likely anytime soon. Oculus Rift, Messenger/WhatsApp, and Instagram are all untapped sources of significant revenue for FB.
Market intelligence firm Tractica projects sales for virtual reality accessories, head-mounted displays, and content will be a $21.8 billion worldwide market by 2020. That bodes well for FB's virtual reality arm: Oculus Rift.
Facebook will also generate billions in revenue from Messenger and WhatsApp, its communication platforms. Messenger boasts over 1 billion users, and WhatsApp has some 900 million. Deutsche Bank AG projects Messenger and WhatsApp will generate as much as $10 billion annually by 2020.
Credit Suisse estimates Instagram could bring in as much as $3.2 billion revenue this year.
Money Morning Director of Tech & Venture Capital Michael A. Robinson has a Facebook stock price target of $250 per share by 2020. That's almost a 100% gain from today's price.
At $125.43, FB shares are up 19.85% year to date.
Finally, here's the third pick on our list of the best stocks to buy now...
Best Stocks to Buy in September 2016 No. 3: Raytheon Corp. (NYSE: RTN) Many investors believe that smaller tech companies will receive the bulk of new technology investment dollars needed to combat cyberterrorism. But tech giant Raytheon is emerging as the winner in the cybersecurity space because it has the resources needed to manage legacy systems.
Moreover, Raytheon has the needed clearance to do the work that smaller contractors can have trouble obtaining.
Raytheon has invested a whopping $3.5 billion in its cybersecurity division in the past 11 years that has mostly been totally unrecognized by the markets.
Fitz-Gerald doesn't think it will be long before investors recognize "the potential this brings to the table on top of its other defense contracting offerings at a time when America's enemies are growing more sophisticated by the day."
But what really excites Fitz-Gerald is something that very few analysts have focused on yet. It's that Raytheon is leading the charge in teaching computers to defend themselves.
He says RTN is one of the very few solid growth choices you can tap into today.
At $140.23, RTN shares are up 12.53% year to date.
Up Next: You can profit from the price of gold no matter where it moves. Check out everything you need to know about the precious metal in our new guide on gold investing...
Follow us on Twitter @moneymorning and like us on Facebook.
Related Articles: