Brazil managed to pull off the 2016 Summer Games, South America's first ever, free of major problems or disruptions.
The same can't be said of the country's politics or its economy, though. Massive budget deficits, rocketing interest rates, and a plunging currency are linked with a widening corruption scandal that's brought down the president of Brazil and spurred violent civic unrest.
That doesn't seem like a likely source of market-beating 44% and 24% gains, but that's exactly what our Brazilian plays have returned over the past 10 months - a time that's seen plenty of global investors run away from the country's 200 million consumers.
Clearly, not every investor is running out on Brazil. In fact, a few of the world's smartest, richest investors are making a beeline for Brazil... along with other, similar markets that offer better diversification, higher yields, and bigger gains.
But you don't have to leave home for profit potential like this. It's really easy to buy...
Why "Things Could Hardly Look Worse" Is Music to My Ears
The recent Rio Games are a good example of detractors spotlighting negatives... Oh, the Olympic facilities weren't going to be ready in time... Nothing was going to work properly... A massive crime wave was supposed to threaten spectators and athletes alike.
But as we saw, aside from a few unruly, "exuberant" athletes, the positives stole the show.
That's not a bit different from what we see in Brazil as an investment. Back in May, for instance, I weighed all of the country's well-documented economic, political, and social woes and said, "things could hardly look worse" for Brazil, even as I recommended investing there.
Fact is, Brazil was attractive because it was so downright cheap relative to other markets and it was, frankly, despised.
So if we look around for a comparable setup today, there's a parallel investment that boasts a similar profile: the emerging markets.
Emerging Stock Markets Are Deceptively Weak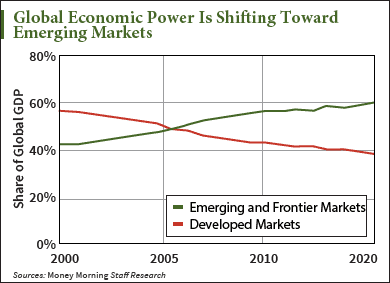 In the past decade economic power has clearly shifted, with emerging and developing economies now representing a stunning 60% of worldwide gross domestic product.
Globalization has helped boost average incomes. We've reached the point where huge populations represented by the developing world means buying power that impacts a number of markets.
Recent entrants to a bulging global middle class have taken a liking to travel. Spending on tourism has exploded. Marc Faber of the famed "Gloom, Boom & Doom Report" estimates that China alone contributes some 130 million outbound tourists - packing billions of dollars in their bags - to the world economy each year.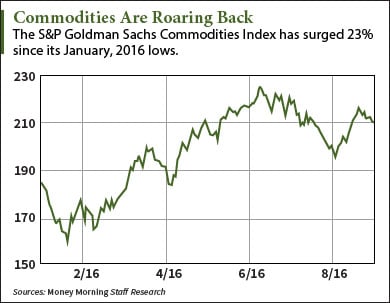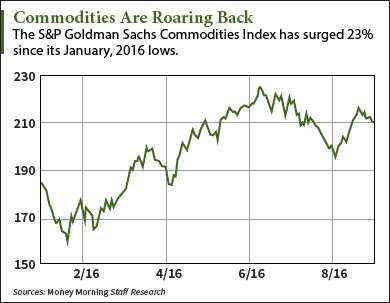 Many of the world's developing economies tend to be resource-based. And until early this year, most resources were mired in a four-year downward trend. Since the start of 2016, however, that seems to have reversed. The S&P Goldman Sachs Commodity Index is up 23% since its January low.
But it's not just travel and the commodities rebound that are fueling the potential of emerging markets.
Most developed economies are thrilled if they can muster the sub-2% annual growth that's become typical of the West.
Meanwhile, countries with large populations are generating a multiple of those growth numbers, with "slow-down" China still above 6%, Indonesia near 5%, the Philippines near 7%, and India reaching almost 8% annual GDP expansion.
Despite that, the stock markets of these economies have radically underperformed those of their more developed brethren.
Money is fleeing those exchanges, making the classic but fatal mistake of chasing returns offered by stock markets in the developed world - stock markets that, thanks to central bank monkeyshines, are radically decoupled from their sluggish home economies.
Net outflows from emerging markets were a massive $750 billion last year, according to The Wall Street Journal, which surmises those numbers should ease by as much as one-third this year.
According to JPMorgan, investors have pulled their funds from emerging markets, causing a whopping $76 billion to exit stock markets from the Pacific Rim to Latin America. Of course, a 15% loss for the MSCI Emerging Markets Index is enough to discourage many.
But that's being short-sighted, and I'll show you why...
Don't Chase Return When You Can Seize Value
If we look at the S&P 500 right now, it trades at a price/earnings (P/E) ratio of 18 and yields 2%.
By contrast, the iShares MSCI Emerging Markets ETF (NYSE Arca: EEM) trades at a much leaner P/E of 12 and yields 2.14%. Yet after being down 25% over the last five years, that compares badly with the S&P 500, which is up over 60% over that same span.
And that's exactly why no one's interested.
Yet contrarians who stepped in and bought the two Brazilian plays I mentioned above, despite the country's numerous challenges, have made out well in just a short time.
Now BlackRock Inc. (NYSE: BLK), the world's largest asset manager overseeing $4.77 trillion, has just come out in favor of emerging markets, too. Gerardo Rodriguez, portfolio manager of the BlackRock Total Emerging Markets Fund, said three areas of previous concern had improved lately: China's economy appears to be stabilizing following a sharp slowdown, commodities prices have stopped falling, and the United States has kept recession at bay.
What's more, this weekend, legendarily far-sighted investor Jim Rogers said he's investing in countries like Zimbabwe and looking hard at opportunities in Rwanda and Kazakhstan. The man has even expressed a desire to invest in North Korea, comparing the Hermit Kingdom to China in 1981.
It's very easy to see the appeal in these countries for visionaries like Rogers, and it's easy to see the opportunity for us.
Emerging and developing countries are home to nearly 90% of the world's population under 30 years old, a group that's increasingly possessed of more and more disposable income.
Couple that with stellar economic growth, the contrarian signal of negative sentiment and dirt-cheap valuations, and you have all the hallmarks of a great investment together in one convenient vehicle like the iShares MSCI Emerging Markets ETF.
Up Next: The Commodities Boom Is Making This Soar... The global materials boom has been good for lots of investors, particularly those who stand to pocket as much as 300% in gains from this commodity's upward surge. Click here to get Michael Lewitt's 2016 "profit playbook" on his favorite metal and you'll get his Sure Money service at no charge whatsoever.
Follow Money Morning on Facebook and Twitter.
Join the conversation. Click here to jump to comments…
About the Author
Peter Krauth is the Resource Specialist for Money Map Press and has contributed some of the most popular and highly regarded investing articles on Money Morning. Peter is headquartered in resource-rich Canada, but he travels around the world to dig up the very best profit opportunity, whether it's in gold, silver, oil, coal, or even potash.