The candidacy of Republican nominee Donald Trump has taken us back to the turbulent 1968 U.S. presidential election campaign.
With a message tailored for disgruntled white voters, Trump's bid has drawn comparisons to two 1968 campaigns - that of eventual winner Richard Nixon and that of pro-segregationist George Wallace, who deserted the Democratic Party to run a third-party candidacy.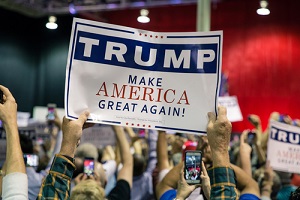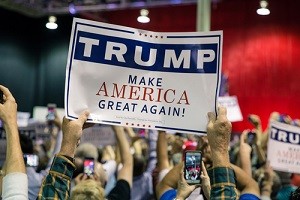 Granted, Trump has had some help from the troubled world we live in.
Certainly the angst-filled atmosphere of 2016, while not an exact duplicate of 1968, echoes what Americans were experiencing then.
The civil rights struggle had increased racial tensions, especially in cities. America was fighting an unpopular war in Vietnam. Protesters often clashed with police, who they derisively called "pigs." Crime was on the rise.
People had a sense that the country was out of control.
It's not surprising 2016 feels eerily similar to those days...
America's Anxieties Have Proven Fertile Ground for Donald Trump
A series of police shootings has given rise to the Black Lives Matter movement, raising racial tensions. America has been at war in the Middle East since 2001. America is also struggling with deep disagreements over immigration from Mexico and distress over terrorist attacks both at home and abroad.
Don't Miss: How Big Money in Politics Bought a Presidential Election - in 1896
The common thread is higher fear and anxiety in the electorate, feeding a strong desire for change. That particular political stew makes voters more open to divisive rhetoric and more likely to consider any candidate who promises to make things better.
In 1968, Minnesota Senator Eugene McCarthy's anti-Vietnam war stance drew a lot of Democratic support from disaffected younger voters - much as Vermont Senator Bernie Sanders did this year. But like Sanders, McCarthy was undone by 1968's version of party-controlled "superdelegates," who voted for establishment candidate Hubert H. Humphrey.
Republican nominee Richard Nixon was very much an establishment candidate, but like Donald Trump, he had success with choosing to exploit the prevailing anxieties...
Richard Nixon: The "Law and Order" Candidate
Nixon sought to appeal to what he called the "silent majority" - the majority of Americans who weren't in the streets protesting but instead wanted leaders to do something about the turmoil of the times.
Nixon's answer was to be the "law and order" candidate. His promises to take action on such problems as civil unrest and soaring crime rates appealed to white middle-class voters. Nixon's message was sent in code - it lacked the overt racism seen in Wallace's campaign.
Related: Why Hillary Clinton Is Richard Nixon in a Pantsuit
Donald Trump's hard-line stance against illegal immigration and criticism of the Black Lives Matter group is also targeted to specific white middle-class voters. He, too, bills himself as the "law and order" candidate.
It is Nixon's 1968 playbook, updated for 2016.
Trump himself described these parallels to The New York Times in July:
"I think what Nixon understood is that when the world is falling apart, people want a strong leader whose highest priority is protecting America first," Trump said. "The 60s were bad, really bad. And it's really bad now. Americans feel like it's chaos again."
But despite these parallels with Nixon's strategy, Trump has more in common with the provocative George Wallace ...
Has Donald Trump Revived the Ghost of 1968 George Wallace?
Like Nixon, George Wallace well understood the anxieties of white middle-class America. But unlike Nixon, he didn't bother to use code language or sugarcoat his message.
Wallace famously called for "segregation now, segregation tomorrow, and segregation forever."
Donald Trump's rhetoric has followed Nixon's "code" model, sending his message by talking about violent protests and criticizing the recent attacks on police. African Americans, at least, get it: In a recent PPP poll, Trump got 0% support from black respondents.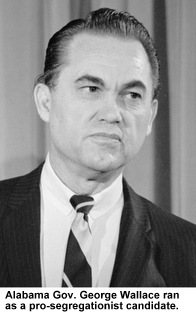 But when it comes to his statements about Hispanics, Trump has mirrored Wallace. The blanket condemnation Trump made in the speech he delivered when he launched his campaign has plagued his campaign ever since.
"When Mexico sends its people, they're not sending their best," Trump said June 16 of last year. "They're sending people that have lots of problems, and they're bringing those problems with us. They're bringing drugs. They're bringing crime. They're rapists. And some, I assume, are good people."
Trump dug the hole deeper this June when he said that a U.S. district judge assigned to preside over the Trump University case would not treat him fairly because of his "Mexican heritage." (Judge Gonzalo Curiel was born in Illinois to Mexican immigrants.)
Trump also has fed on fears about Islamic terrorism by vowing to halt the immigration of Muslims to the United States. While that may be reassuring to the voters Trump is courting, many see such a broadly based ban as disturbing and offensive.
Related: You Won't Believe How Much This 1980 Reagan Attack Ad Sounds Like It's About Trump
All of which sounds very much like Wallace's message.
And such tactics aren't the only thing the two candidates have in common...
Donald Trump and George Wallace: Birds of a Feather
Wallace was a colorful and blunt speechmaker, whose quips played well in the media -- just like Trump now.
Wallace had a knack for taunting protesters and creating an "us-versus-them" atmosphere at his well-attended and boisterous rallies.
To the long-haired hippies, he would say things like "There must be a barbers' strike around here."
Wallace dismissed intellectuals as "pointy-headed professors who can't even park a bicycle straight."
And the media were "sissy-britches intellectual morons."
Even as a third-party candidate, such populist talk drew a lot of free media attention - a hallmark of Trump's campaign.
And Trump has checked all the same boxes.
He jeers protestors. He berates the media, describing various outlets as "dishonest" who don't treat him fairly. And he demonizes "elites who've led us to one financial and foreign policy disaster after another."
George Wallace's daughter recognizes the similarities between the two candidates.
"Trump and my father say out loud what people are thinking but don't have the courage to say," Peggy Wallace Kennedy, who was 18 in 1968, told NPR in April. "They both were able to adopt the notion that fear and hate are the two greatest motivators of voters that feel alienated from government."
The man who ran two of Wallace's four presidential campaigns, Charlie Snider, agrees.
"It's just a replay," Snider told NPR. "We're looking at a modern-day George Wallace."
Snider, now 84, is a Trump supporter.
Next Up: Hillary Clinton is way ahead of Donald Trump in campaign fundraising. In any other election in American history, that would be a good thing. But 2016 isn't any other election. Here's why Trump's fundraising deficit is an advantage...
Follow me on Twitter @DavidGZeiler or like Money Morning on Facebook.
Join the conversation. Click here to jump to comments…
About the Author
David Zeiler, Associate Editor for Money Morning at Money Map Press, has been a journalist for more than 35 years, including 18 spent at The Baltimore Sun. He has worked as a writer, editor, and page designer at different times in his career. He's interviewed a number of well-known personalities - ranging from punk rock icon Joey Ramone to Apple Inc. co-founder Steve Wozniak.
Over the course of his journalistic career, Dave has covered many diverse subjects. Since arriving at Money Morning in 2011, he has focused primarily on technology. He's an expert on both Apple and cryptocurrencies. He started writing about Apple for The Sun in the mid-1990s, and had an Apple blog on The Sun's web site from 2007-2009. Dave's been writing about Bitcoin since 2011 - long before most people had even heard of it. He even mined it for a short time.
Dave has a BA in English and Mass Communications from Loyola University Maryland.