Gold prices today (Tuesday, Sept. 6) are back up more than 1% after a sustained pullback in August.
As I've been saying all year, every good runner needs to take breaks. And that's exactly what happened with the price of gold in August.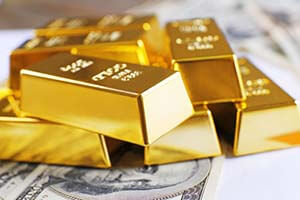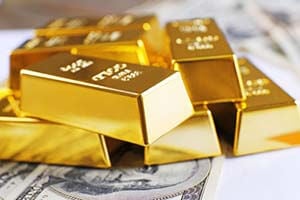 Back in January, gold started what's likely to become a marathon-type race. Except the format will probably be sprint, rest, repeat.
For the past month gold prices have been in rest mode, and that's creating some very attractive bargains.
The gold price correction that started back in early August has become more intense. Gold dropped only about 5% during the slide, but gold stocks gave up about 22%. That's 4-1 leverage, but not unexpected given the massive run-up gold stocks have enjoyed throughout 2016.
Once this correction runs its course, the deals probably won't be as good as they were at the start of the year. But given the distance left in this race, anyone buying in the near term is likely to do very well.
Thanks to hawkish Jackson Hole speeches and commentary, the U.S. dollar has enjoyed a rally that's weighed on gold prices.
Before we get into our gold price prediction for the rest of 2016, here's a look at what is moving gold prices today, and last week…
Gold Prices Today Rebound After Down Week
On Friday, Aug. 26, U.S. Federal Reserve Chair Janet Yellen spoke at Jackson Hole. The gold price initially soared in advance, but quickly dropped following the speech. It opened at $1,328 and peaked at $1,333 by 11 a.m. But as Yellen's awaited speech was quickly digested, the dollar jumped on renewed expectations of a rate hike. That of coursed pushed gold down, falling to $1,320 just after 2:00 p.m., where it closed for the week.
On Monday, the precious metal opened slightly lower at $1,319 and ended up closing higher at $1,323.
Tuesday then saw an early morning sell-off as traders seemed to anticipate more dollar strength.  Gold prices opened at $1,320 and fell consistently through the day to end at $1,310.
Wednesday was more volatile, with gold starting out at $1,313 and quickly dropping to $1,307 by 9:00 a.m., likely in response to dollar strength. That was gold's lowest levels since peaking at $1,370 in early August.
Urgent: Despite the recent gold price slump, gold stocks are still among the best investments to make now. That's why we just recommended one gold stock that could gain 49% in 12 months…
Thursday, the price of gold dropped even lower to $1,303 just before 9:00 a.m. then ran up to $1,314 by late morning. It would end Friday at $1,324.
Gold prices today have continued Friday's momentum. By 11:00 a.m., gold prices today were up more than 1% to $1,340 per ounce.
Now that we've examined gold prices today and last week, here's what investors can expect from the precious metal moving forward…
What's Next for Gold Prices in 2016
Here's an interesting chart looking at the U.S. Dollar Index (DXY) that is extremely important for gold investors.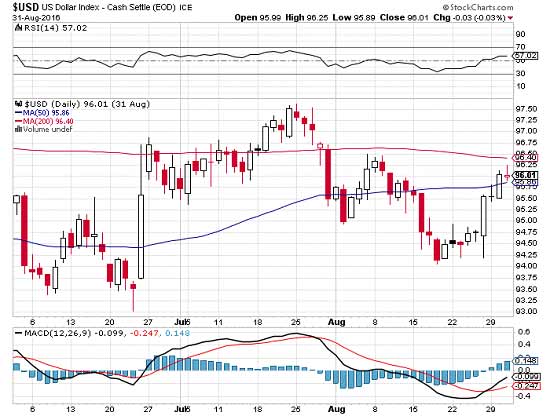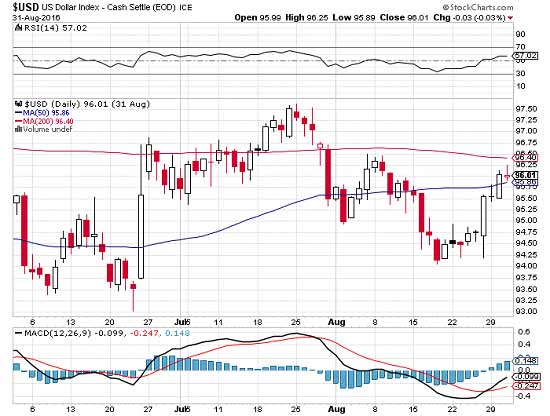 The recent strength is mainly due to renewed rate hike talk since Jackson Hole. What's most interesting is that the DXY has regained its 50-day moving average, and momentum is positive.
Meanwhile, gold prices have dropped below their 50-day moving average and have downward momentum.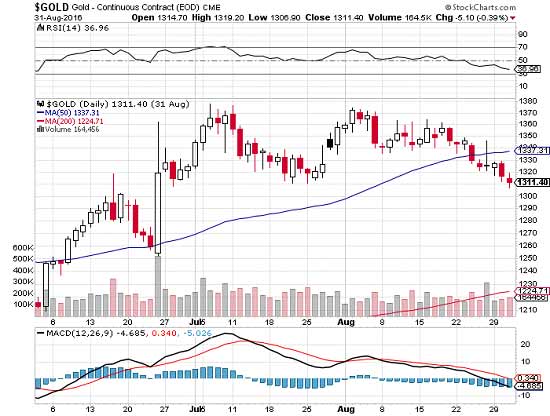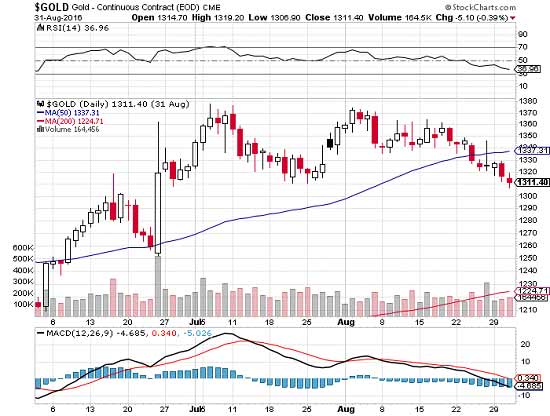 Gold stocks tracked gold's behavior during the week, hitting a low on Wednesday. Based on the HUI, gold stocks were down 22% from their Aug. 4 peak.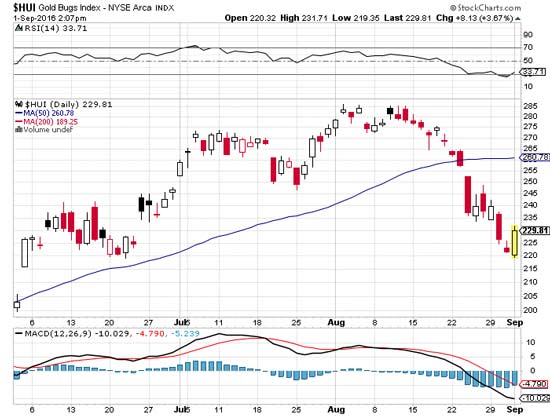 That's widely considered official correction territory. Will they drop further? No one knows for sure, but I think that could still happen.
Nonetheless, if you've been waiting for a chance to buy, it would probably make sense to start buying gold and gold stocks. Your best bet would be to buy some now and watch for further weakness. When it comes, you can allocate more to the sector. This way you eliminate the risk of missing out completely. You may not "pick the bottom," but you'll be getting in at relatively attractive levels.
On a seasonal basis, September tends to be a strong month for gold prices, while it's typically a weak month for general stocks. We've seen that already, with gold prices today climbing 1% early.
Once this correction is done with, gold is likely to go back to sprinting, with a goal of $1,400 in view.
Another Great Hard Asset Play: Investors have a brand new hard asset option for profits as well as the protection they need now. Diamonds, in fact, are one of the best ways to get both, but they haven't always been easy to buy and trade. That's all changed now, and Michael Lewitt has prepared an investor briefing that shows you the best way to use diamonds now. Click here to get it, and you'll get his Sure Money service, too, free of charge.
 Follow us on Twitter @moneymorning and like us on Facebook.
Join the conversation. Click here to jump to comments…
About the Author
Peter Krauth is the Resource Specialist for Money Map Press and has contributed some of the most popular and highly regarded investing articles on Money Morning. Peter is headquartered in resource-rich Canada, but he travels around the world to dig up the very best profit opportunity, whether it's in gold, silver, oil, coal, or even potash.