Silver has been correcting for the recent weeks in 2016. But this one chart gives us a big sign as to where the silver price is headed next…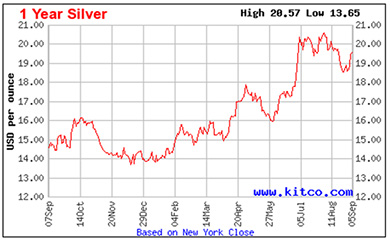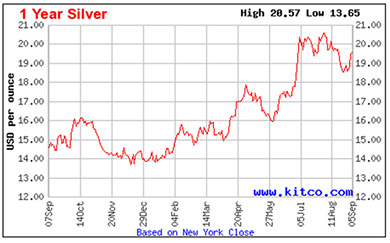 Since peaking on Aug. 2, silver has given back as much as 10.7%. But that's just part of the story.
From the bottom at the start of 2016, silver prices have been up an astounding 49%. The recent pullback has dragged silver below its 50-day moving average, and silver stocks have also retraced recent gains.
U.S. Federal Reserve Chair Janet Yellen's Jackson Hole speech, seen as hawkish by the market, supported the U.S. dollar, which in turn weighed on the silver price.
But the last couple days of last week, silver was rebounding, thanks mainly to weaker U.S. jobs data released Friday. That cooled rate-hike expectations and pushed back on the dollar's recent gains, supporting a higher silver price.
It's all a big tug of war, which one side or the other will have to eventually win.
Now the question is, is it over? And then the next logical question is: Should you buy?
We'll explore that this week.
What's Been Moving the Silver Price Recently
Silver began last week on at weak note, selling off in the late evening of Sunday, Aug. 28. It gained Monday – but that was short-lived. Silver saw some volatility mid-week and closed Wednesday at $18.64.
Trending: The Best Gold ETF to Buy Today
Then on Thursday, the August jobs numbers were being anticipated for Friday's release. The market was pricing in a relatively weak jobs reading, which would imply delayed rate hike expectations. The weaker dollar bumped silver, which opened at $18.63, then bounced to $18.85 by 1 p.m. and closed at that same level.
After some early morning weakness, Friday brought a surge in silver prices as the weak jobs number was released. The DXY dropped to 95.19 but quickly recuperated to a peak of 95.96, then backtracked to 95.80 by midafternoon. Despite that renewed dollar strength, silver, which opened at $18.85, soared to $19.20 by 9 a.m., then climbed steadily to $19.37 near the close.
Here's how Friday's action looked.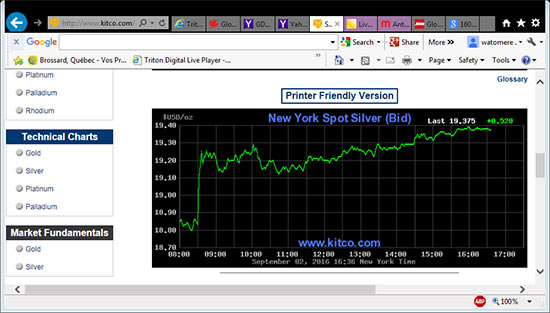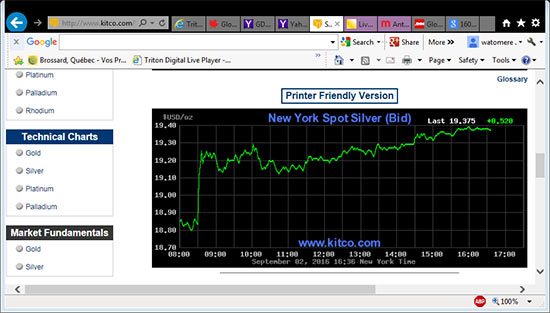 Today, the silver price continues its climb – up to $19.77 by 10:45 a.m.
So what's next for silver?
Let's start by looking at a chart.
Where the Silver Price Is Headed Next
With the bounce at the end of last week, the silver price is once again approaching its 50-day moving average. That will be a level to watch.
If silver regains that level and heads higher, odds will be the correction is over.
If instead the 50-day moving average acts as resistance, that could mean there's more left to correct, and we might see still weaker silver prices.
Don't Miss: You Can Profit Today from the Trend that Made Stocks Soar 1,262% 25 Years Ago
One interesting anecdote is that silver ETFs saw inflows of 361 tonnes in August, the highest amount since March, according to www.metal.com. Silver ETF holdings have been up every month this year except in January.
And despite all that buying, silver still fell in August.
So if you don't own any silver or silver stocks yet, I wouldn't wait to buy. Your best bet would be to buy into this sector gradually in tranches. Though I still think we could see lower prices, no one knows for sure.
Nonetheless I believe when buying comes back full force, silver has the ability to take out the $22 level this year.
 For more on silver buying, check out The Essential Guide to Buying Gold & Silver and The 3 Best Silver Stocks to Buy Now
 Follow us on Twitter @moneymorning and like us on Facebook.
Join the conversation. Click here to jump to comments…
About the Author
Peter Krauth is the Resource Specialist for Money Map Press and has contributed some of the most popular and highly regarded investing articles on Money Morning. Peter is headquartered in resource-rich Canada, but he travels around the world to dig up the very best profit opportunity, whether it's in gold, silver, oil, coal, or even potash.