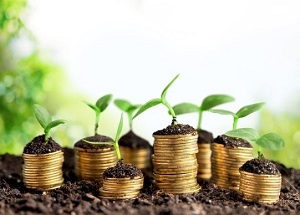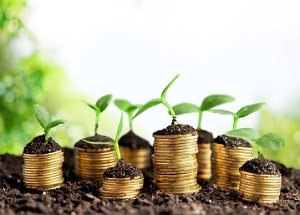 We love the profit potential in some of the best gold stocks right now – check it out…
Money Morning Resource Specialist Peter Krauth believes that more gains for gold lie ahead. Gold is up 24% for the year, trading around $1,337 today. One gold stock index was up 182% for the first eight months of the year.
While gold prices are nearing a two-year high, stocks and bonds continue to rally at the same time. This is a rare occurrence and presents a huge opportunity for gold investors. There are big gains available right now in gold stocks.
And we see these gold gains continuing…
Why the Best Gold Stocks to Buy Will Keep Gaining
The market volatility at the beginning of the year drove investors to the precious metal as a safe haven. Troubles in China, Brexit, and domestic political worries all contributed to dismal market performance around the globe and a surge in the price of precious metals.
Don't Get Scammed: 7 Ways to Tell If Your Gold Is Real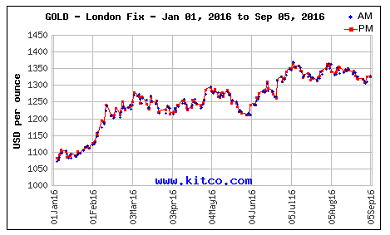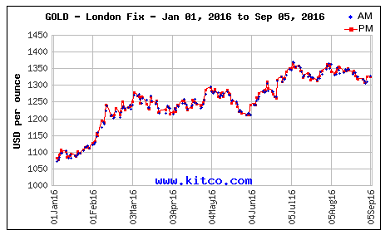 Supply and demand factors are also key elements in gold's current success. We just mentioned the "safe haven" factor, but China and India are also major buyers of gold for various purposes. Mint sales around the world are expecting record sales numbers in 2016. Coupled with soaring demand, the industry is looking at a tightened supply of gold. For the first time in eight years, global output is expected to fall due to lack of mine development. This is good news for gold investors.
At the end of 2015, the Federal Reserve tentatively promised us four interest rate hikes in the coming year. However, lackluster market performance, slow job growth, inflation, and global economic conditions have caused them to re-think that strategy at each successive FOMC meeting so far this year. Some experts believe that we may not see an interest rate hike at all in 2016, and if we do it will be minuscule. This inaction on interest rates is likely to keep the U.S. dollar depressed, and both of these elements are good news for gold prices.
While buying physical gold is an option, 2016 has been an excellent year for gold mining stocks and other gold-related plays. Here are three of our top gold stocks this year.
Best Gold Stocks, No. 3
While not technically a stock, the Sprott Gold Miners ETF (NYSE Arca: SGDM) is a great way to start collecting gold-related profits without owning the physical coins and bars.
SGDM tracks the Sprott Zacks Gold Miners Index. It holds the healthiest mining companies. Their balance sheets and revenue growth are among the best in the industry.
Don't Miss: Get the Best Investing Research Today to Grow Your Money
As Money Morning showed you recently, the world's central banks are loading up on gold mining stocks like the ones held in SGDM. The Swiss National Bank was worth about $500 million in 2013, and likely grew. And beyond central banks, Deutsche Bank Ag USA holds about $2 billion in gold miner shares.
Best Gold Stocks, No. 2
Barrick Gold Corp. (NYSE: ABX) is a Canadian-based company that is engaged primarily in the production and sale of gold. They also locate and explore new mines and produce some copper at one principal location. The company has projects around the world in such places as Canada, Argentina, Peru, the Dominican Republic, and the United States. While there are plenty of gold mining companies that you can choose to invest in, Barrick is an excellent choice for several reasons.
A year ago, Barrick was carrying a significantly high level of debt compared to similar companies. Not only have they reduced that debt by $3 billion over four quarters, but they have also posted five consecutive quarters of positive cash flow. Barrick's most recent quarterly results showed earnings of $138 million on revenue of $2.01 billion compared to a net loss of $9 million the year prior.
ABX stock is currently trading at $18.55, and shares are up 152.3% year to date. Barrick is one of two mining stocks that Citigroup awarded a "Buy" rating recently, and the target price set for Barrick was $29 a share, leaving plenty of room for investor growth.
Best Gold Stocks, No. 1
Goldcorp Inc. (NYSE: GG) is another Canadian gold producer that explores, mines, and sells gold in Canada, the United States, Mexico, and Central and South America. Goldcorp is one of the world's top producers of gold and has risen above the pack as one of the most efficient, making it a top pick for investors who want to buy gold stocks.
The key measure of a miner's efficiency is its "all-in" mining costs per ounce of gold produced. The company has continued to cut costs and has plans to slash up to half a billion more in expenses over the next two years. This year, Goldcorp projects that its "all-in sustaining cost" to produce an ounce of gold will be from $850 to $935. In 2013, that number was $1,031 and other mining companies continue to report similar figures. Lower production costs mean higher profits, particularly as the price of gold continues to rise. GG stock is currently trading at $16.48, and the shares are up 42.6% year to date. Citigroup has issued a price target on GG stock of $20.00, and another analyst has gone as high as $26.50, leaving the potential for more than 60% gains from today's price.
Up Next: The Best Silver Stocks for Market-Beating Gains
Follow Money Morning on Facebook and Twitter