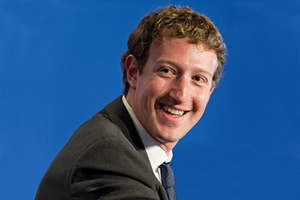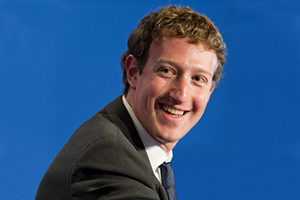 Investors were rattled when a rocket carrying a Facebook Inc. (Nasdaq: FB) satellite exploded on Thursday, Sept. 1, causing a short-term drop in the Facebook stock price.
Immediately after the accident, Facebook stock dropped slightly (0.6%) to an intraday low. But since then it has rebounded and is now trading at record highs of $129. Clearly, it was a short-term blip.
But because of unclear headlines and a lack of information from the mainstream media, there has been a lot of confusion about what exactly happened and what this means for the Facebook stock price moving forward.
We'll cover what happened with the Facebook satellite explosion first to make sure you are all caught up. After, we'll provide an extensive outline of our Facebook stock price prediction, which shows gains as high as 97%.
Here's what happened on Sept. 1…
Here's What Really Happened with the Facebook "Rocket Explosion"
Elon Musk is best known for being the CEO of Tesla Motors Inc. (Nasdaq: TSLA). But he's also been the CEO of Space Exploration Technologies Corp. (SpaceX) since 2002.
SpaceX manufactures aerospace vehicles and offers transport services.
Facebook CEO Mark Zuckerberg was using SpaceX's transport services to launch a satellite named Amos-6 as part of his Internet.org project. Internet.org is a project to provide affordable and accessible Internet to developing countries.
SpaceX's rocket, the Falcon 9, had a test firing on Sept. 1 before the official launch on Sept. 3. But due to an "anomaly" on the launching pad, the Falcon 9 exploded and the Amos-6 satellite was destroyed.
The headlines of "Facebook Rocket Explosion" caused knee-jerk reactions and Facebook shareholders to panic.
But it shouldn't have…

Editor's Note: Shareholders approved a 3-for-1 Facebook stock split back in June. Here's what it will look like.
You see, the Internet.org project is intended for goodwill. It's true that connecting more people to the Internet can generate Zuckerberg more money through ad revenue, but the Internet.org project will not be a source of revenue for Facebook for the foreseeable future.
Also, the actual cost of the satellite to Facebook is misleading. While the satellite cost $200 million to build, Facebook did not pay for its construction. It leased out the satellite in October 2015 for $95 million for a period of five years.
Facebook posted revenue of $6.44 billion just for Q2 2016, so the $95 million lease is a minimal investment when you consider Facebook's massive revenue totals.
The mainstream media hasn't taken time to share these facts, though, so we hope this cleared up any confusion for our readers. Now, we are going to focus on how the Facebook stock price will climb another 97% by 2020, and why this is a great time to buy…
Rocket Explosion Can't Stop the Facebook Stock Price From Climbing 97%
Money Morning Director of Tech & Venture Capital Michael A. Robinson believes the Facebook stock price can climb to $250 by 2020.
In less than four years, that could be a profit of 97% from today's opening price of $126.67.
The Facebook stock price is going to get to that price target as the company monetizes:
Oculus VR
Messenger/WhatsApp
Instagram
Analysts questioned Zuckerberg's decision to purchase Oculus VR for $2 billion in 2014. It's true virtual reality (VR) technology is mostly associated with video games, but Zuckerberg knew VR applications would be much more powerful and profitable in the future.
According to Business Insider, every new employee of Oculus VR is given a copy of the book "Ready Player One." In the book, users log in to a virtual world called the Oasis. The creator of the Oasis generates massive amounts of revenue by charging players fees for transporting between different virtual worlds.
From going to school to exploring exact replicas of a small town in the 1980s, there were endless possibilities for exploration in the Oasis platform.
While this is a book of fiction, it shows how powerful VR will be and provides an outline of how Zuckerberg could generate massive profits from the emerging technology.
Editor's Note: Find out more on how Money Morning is making investing profitable for retail investors, just like you.
By 2020, research company Tractica projects sales from VR accessories, content, and head-mounted displays will generate $21.8 billion in sales.
And that's just the first major new revenue source for Facebook.
Messenger and WhatsApp don't generate revenue yet. But within the next four years, they will add billions to Facebook's total profits.
Messenger is turning into a one-stop shop for all your daily needs. It not only lets you send messages to friends and family, you can also:
Place food orders
Send and receive money
Book hotel rooms
Right now, WhatsApp is used for mobile messages that don't have fees from SMS texting. The features in Messenger, though, could eventually be used by WhatsApp.
Deutsche Bank AG (NYSE: DB) projects Messenger/WhatsApp could earn Zuckerberg $10 billion in combined annual revenue by 2020.
Outside of virtual reality and communication platforms, Facebook is currently earning hundreds of millions of dollars from picture app Instagram.
When Zuckerberg first purchased Instagram in 2012, it only had 30 million users and didn't make money. Now Instagram has more than 500 million users, and analysts project it earned as much as $750 million in revenue in 2015.
By 2017, Instagram could account for as much as 10% of Facebook's global revenue totals, according to eMarketer.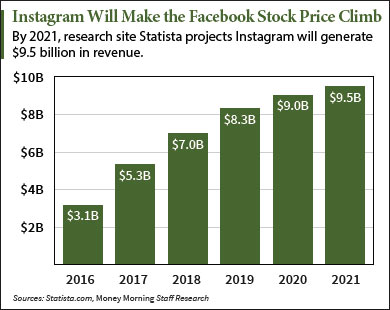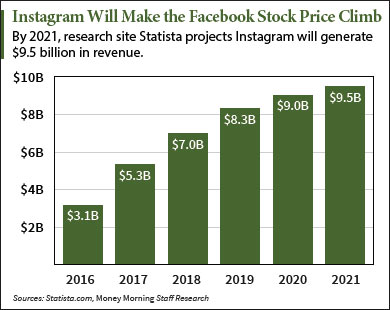 Investor Update: Silicon Valley Has a Secret "Watch List"- and Now You Can, Too
By 2020, all of these massive revenue sources will push the Facebook stock price to $250.
Facebook stock is one of our top picks, but we understand investors are concerned about buying Facebook stock near its all-time high trading price.
But Robinson has a strategy for these investors.
"A good way around that is to put in a lowball limit order to grab it on a pullback," Robinson told me on Aug. 19. "FB has not traded below the 30-day moving average since July 6. So, you set an entry price there and hope it fills."
The Bottom Line: The Facebook stock price dropped slightly after a rocket carrying its satellite exploded. Facebook did not own the satellite, though, and it was just leasing it to expand on a goodwill project it created with six other companies. The most important news to focus on is what will really drive the Facebook stock price moving forward: Oculus VR, Messenger/WhatsApp, and Instagram. Because of those massive revenue sources, the Facebook stock price will climb to $250 per share by 2020.
Next Up: Investing in This Top Tech Trend Is the Best Way to Get Rich Now
Follow us on Twitter @moneymorning and like us on Facebook.