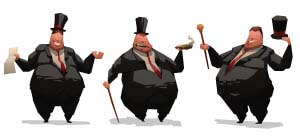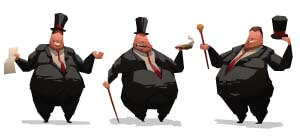 According to Glassdoor, the average CEO compensation in 2015 was $13.8 million. But that massive wealth hasn't curtailed outrageous CEO spending habits, like using the company as their own personal piggybank.
Our first story of excessive CEO spending starts right where you might expect to find a glorified celebration of wealth and materialism: Wall Street.
It seems the classic movie that is its namesake didn't have to stray to exaggerate opulent settings and nasty plot points.
Outrageous CEO Spending Starts at Wall Street
We'll just give you one example among a sea of choices...
Former Merrill Lynch CEO John Thain spent millions of dollars on his office while the company, which had been around for 94 years, was going out of business.
In early 2008 -- with the global economy crashing all around him -- Thain hired the notoriously posh Michael S. Smith Design to revamp his office. The firm has worked with celebrities such as Cindy Crawford, Michelle Pfeiffer, Steven Spielberg, and Michelle Obama. Thain thought it was the right time to spend $1.22 million of the company's money to revamp his office suite.
Trending: How Russian Spies Nearly Hatched a U.S. Stock Market Crash
Here were some of his purchases, according to CNBC:
Area rug: $87,784
Four pairs of curtains: $28,091
Trash can: $1,405
Coffee table: $5,852
Commode on legs: $35,115
Meanwhile, the U.S. stock market was busy losing 33.8% of its value in 2008. Unemployment rose to 7.3% by that December, and the number of homeless people in the United States increased by 3% from 2008 to 2009.
And Merrill Lynch itself was on the verge of bankruptcy. It was forced to sell itself to Bank of America for $50 million in 2008 -- half of its market value from within the past year.
All while Thain was busy decorating his office. That's just greedy CEO spending, plain and simple.
But Thain wasn't the worst.
Here are two other examples of CEOs who selfishly shelled out huge amounts of company funds on bizarre personal items and services...
Two More CEO Spending Habits You Won't Believe
When gas prices slid during the 2008 financial crisis, former Chesapeake Energy Corp. (NYSE: CHK) CEO Aubrey McClendon lost most of his $2 billion fortune.
In a creative compensation package, McClendon got the company to spend $12 million on his collection of personal maps. According to Fortune reporter Christopher Helman, McClendon told him that he had hung the maps throughout Chesapeake's headquarters campus in Oklahoma City.
McClendon said it was unusual for a CEO to have to personally provide art, and it would have been a shame if he had to remove the art and sell it to someone else.
Shareholders didn't buy the explanation. Aubrey was forced to repurchase the art through a legal settlement in 2011 for $12 million plus 2.28% interest.
But the award for most ludicrous spending goes to former Tyco CEO Dennis Kozlowski.
Dennis Kozlowski Gets Company to Pay $1 Million for Wife's Birthday
In 2000, Kozlowski threw a 40th birthday bash for his wife, Karen.
The party was held on the island of Sardinia, and it was over the top as soon as guests arrived. According to accounts of the event:
There were chariots... with lions attached to them.
There was an ice sculpture of Michelangelo's David.
"Happy Birthday Karen" was displayed on a mountain in sight of the venue.
Jimmy Buffett performed a private concert.
The whole shindig cost over $2 million.
It was a great gift -- but one that Kozlowski listed as a "company retreat." He was able to get Tyco to pick up half of the $2 million bill.
Up Next: What's Being Done to Stop the Spread of the Zika Virus in the U.S.?
Would you spend money just like CEOs? Let us know on Twitter @moneymorning and Facebook.
Related Articles: