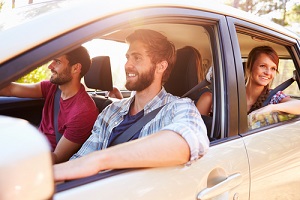 Uber stock will be one of the most sought-after stocks on the market when the company goes public, and a recent $680 million acquisition makes it look even more attractive.
But Uber still has a billion-dollar problem, and it's not going away anytime soon. That makes Uber stock a risky investment when the Uber IPO hits the market.
We'll cover the $680 million acquisition to make sure you know all the details. After, we'll provide an extensive analysis showing why you shouldn't follow the herd in buying Uber stock on the Uber IPO date.
Here's everything you need to know about Uber's $680 million acquisition…
Uber Purchases Self-Driving Startup for $680 Million
In May, self-driving startup Otto launched with 91 employees. The startup was formed by four former Google employees, including Anthony Levandowski (an original engineer on Google's self-driving team) and Lior Ron (the head of Google Maps for five years).
According to Recode, Otto's core mission is to develop self-driving technology and help the public realize its safety benefits.
Otto developed a kit that lets big-rig trucks drive autonomously on highways. Having vehicles as large as big rigs drive themselves shows the power of Otto's software and makes the idea of unmanned vehicles more tangible for skeptics.
"When we started discussions with Uber we realized there is a complete understanding of the need for acceleration on all aspects: on technology, on knowledge, on resources," Otto's co-founder Lior Ron told Recode.
Uber is increasing its efforts to develop self-driving technology and believes Otto is a good fit ahead of the Uber stock offering.
Bloomberg estimates the deal was worth roughly $680 million.
Trending: Upcoming IPOs to Watch in September
And if you're wondering why Uber is paying so much for self-driving technology when it already has drivers, that's a good question.
Eventually, self-driving service cars and self-driving taxis will become the norm. Tesla Motors Inc. (Nasdaq: TSLA) CEO Elon Musk announced on July 20 that Tesla cars will eventually be able to pick up ride-hailers on their own when not in use. That would allow the owners to earn extra money while not using their vehicles.
As the technology improves, self-driving cars will be safer than human-operated vehicles. Already, a Virginia Tech Transportation Institute study found that self-driving cars were involved in fewer accidents compared to humans.
The good news for potential Uber stock investors is CEO Travis Kalanick is forward-thinking and investing in self-driving technology. The bad news for the Uber IPO and Uber stock price, though, is there's still a billion-dollar problem Kalanick has yet to solve…
The Biggest Threat for Uber Stock
Morgan Stanley analyst Adam Jones predicts complete vehicle autonomy will begin by 2026. That means cars will completely drive themselves without humans needing to be attentive in case of an emergency.
But Uber will have to rely on human drivers until then. And that could be a major problem for the Uber stock price.
That's because the company keeps getting sued by drivers seeking full-time employment contracts…
Uber reached a $100 million settlement with drivers seeking full-time employment in California and Massachusetts on April 21. Uber agreed to a number of concessions in order to keep the drivers as independent contractors.
But the settlement was rejected by U.S. District Judge Edward Chen on Aug. 18. He said the settlement terms weren't fair or reasonable for the drivers.
And if Uber drivers ever become full-time employees, Uber stock shareholders are in serious trouble… The current business model of listing drivers as independent contractors makes the ride-hailing service profitable in North America right now. In February 2016, Uber made profits of $0.19 per ride, according to Yahoo! Finance.
In March, there were 50 million rides booked in the United States. That means Uber could have earned as much as $9.6 million just in March in the U.S. alone.
However, those profits are only possible if Uber drivers remain independent contractors.
Here's what Fortune estimates full-time Uber drivers would cost the company:
$2.6 billion in gas and tolls
$612 million in Medicare and Social Security
$512 million in worker's compensation
$112 million in health insurance
$110.4 million in sick days and vacations
$80.9 million in unemployment
$72 million in 401(k) plans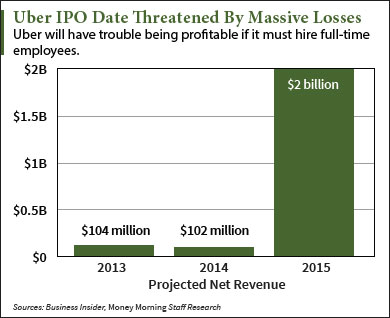 Annually, that's a total of $4.1 billion. And as Uber hires more drivers and expands its operations, that cost would only increase.
Currently, Uber's revenue totals aren't even close to covering that cost.
That makes Uber stock a very speculative investment. We don't recommend rushing to invest in Uber like the rest of Wall Street.
The Bottom Line: Wall Street's hype is making Uber stock the hottest stock to own ahead of the inevitable Uber IPO date. The company is forward-looking and investing in self-driving technology and companies, like its $680 million purchase of Otto. But the problem is Uber's profitability for the next 10 years depends on human drivers acting as independent contractors. If the drivers ever receive full-time employee status, Uber doesn't make enough money to cover the cost.
Next Up:  The Subprime Auto Loan Market Is About to Collapse – Here's How to Profit
Follow us on Twitter @moneymorning and like us on Facebook.