President Obama and his generals have consistently put cybersecurity at or near the top of U.S. strategic defense priorities.
Ever since, the military and government have had their work cut out for them, fighting relentless, daily waves of computer attacks, in many cases against vital national interests.
The private sector is in the trenches, too, as state actors and individuals press attacks to get trade secrets or customer identity data.
Now, recent high-profile cyberattacks against the Democratic National Committee, most likely by Vladimir Putin's intelligence services, have pushed the issue into "six o'clock news" territory.
But the problem goes so much deeper than the media is reporting. This country is embroiled in nothing less than a full-scale global cyberwar right now. There may not be any casualties (yet), but everything is up for grabs and the stakes are very high.
For instance, the cost of fighting this war is set to eclipse $1 trillion between 2017 and 2021, making the battlefield one of the largest new markets on earth.
I'm going to show you how you can profit from our efforts to win, but first let me peel back the curtain on a huge conflict that's largely hidden from public view…
Here's Where the War Got Started
The release of the so-called Stuxnet worm can be thought of as the Fort Sumter or Pearl Harbor of this cyberwar, even though, unlike those historic battles, the United States won… or appeared to.
No one in government will talk on the record about it, but independent security research has all but definitively linked the worm to U.S. and Israeli intelligence services. After all, the scope and complexity of the worm's code suggests that it could only be the work of a nation state… with deep pockets.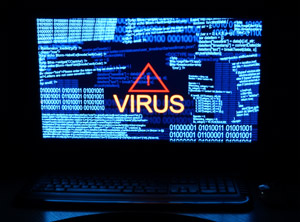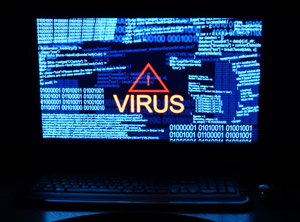 The target in this case was the laptop computer of an anonymous Iranian nuclear scientist employed at the country's nuclear research facility in Natanz. The worm was able to spread into the facility itself and cause the labs working uranium centrifuges – running Windows-based Siemens Step7 software – to spin out of control, destroying roughly one-fifth of them and dealing a crippling blow to Iran's nuclear ambitions.
So the world's first "cyber use of force" likely helped keep nuclear weapons out of a hostile state's arsenal. A win for the "good guys," and a validation of our national cybersecurity strategy.
What's the downside?
Well, Stuxnet didn't really stop in Natanz…
It's in the wild now, and as of just a few weeks ago, it's available to the highest bidder, all courtesy of the Shadow Brokers.
The U.S. National Security Agency's internal team of elite hackers, the Equation Group, suffered a breach this summer. A hacker collective known as the Shadow Brokers made off with quite a digital haul of cutting-edge, next-gen malware like Duqu and Flame, and – you got it – the code for Stuxnet.
It may only be a matter of time before Stuxnet is used against the United States or one of its allies, and considering the very real physical havoc this worm is capable of creating (it literally left Iran's centrifuges a smoking ruin), we may not have long to wait for the first flesh-and-blood casualties of this global secret war.
Stuxnet and Stuxnet-like attacks notwithstanding, our national security faces cyberthreats from countries like Russia. China, too, has been implicated in a number of high-profile attacks. Even North Korea may be getting in on the action. Individual hackers, with unknown motives and acting on behalf of no state, have been responsible for plenty of security breaches.
These attacks have reached such a fever pitch that the U.S. Department of Homeland Security (DHS) wants to step in to "safeguard" U.S. elections, especially the upcoming presidential contest.
That might be a good idea… if DHS weren't so often the victim of cyberattacks itself.
The way things stand with current security measures, no one in the world is safe.
As grim as this situation is, it's only one facet of the complex threat picture we're facing now…
Petty Criminals Are Having a Rich Payday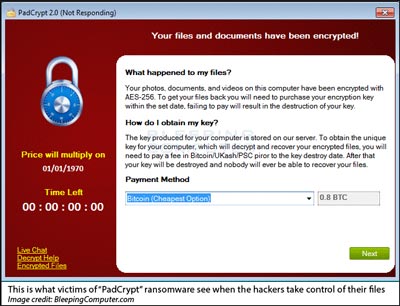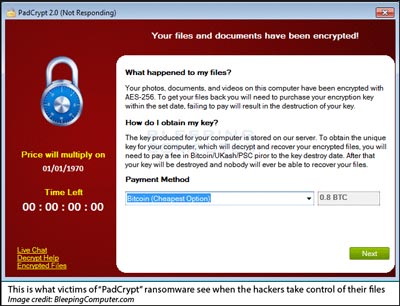 Entire countries are slugging it out on the cyber battlefield, but the cyber back alleys aren't much safer.
According to security firm McAffee Inc., cybertheft is a $400 billion-a-year industry. And consulting firm PwC reports that there were nearly 60 million discovered attacks last year – more than 164,383 each day.
Undiscovered attacks or worms and viruses lying in wait are unknown.
And this doesn't include the newest threat to companies, especially small- and medium-sized ones – ransomware.
Ransomware often starts with a "drive-by download," where a victim is duped into downloading an executable file or macro which, when activated, then checks to see if certain criteria have been met – oftentimes the hackers operate in Russia, and if the program finds the potential victim is from the old Soviet bloc, it will do nothing.
But if the computer is located in the European Union or United States… watch out.
The ransomware will lock the hapless user out of their own data and send a message that, for a fee – often a few hundred dollars or euros, or a fraction of Bitcoin – the hackers will unlock the computer.
For businesses, the stakes (and the ransom payments) are often far higher.
As nearly 200 million people connect to the Internet each year, with good intentions and ill, the cybersecurity challenges grow exponentially.
Add to that the growing Internet of Things (IoT), with its 5.4 billion new connected devices, and you have a flat-out security nightmare.
But pressing challenges often make for lucrative opportunities. Now that you know the scale of the problem, I'm going to show you an easy-to-buy "pure play" on cybersecurity that gives the broadest possible exposure to the dynamic, high-profit companies in the rapidly expanding cybersecurity segment.
Here's the ticker…
This Is the Best Cybersecurity Investment on the Market
What I like most about the PureFunds ISE Cybersecurity ETF (NYSE Arca: HACK) is that it's a pure play in the sector.
Built to track the ISE Cybersecurity Index, it is a great way to take advantage of the "arming" of businesses, governments, and individuals.
The index is made up of all the big and many of up-and-comers in the sector. That means you get a play on both federal, state, and local governments beefing up their security, and a huge array of business cybersecurity solutions, all in one spot.
This fund's holdings are like a "Who's Who" of Silicon Valley.
Here are some of my favorites from the list.
Symantec Corp. (Nasdaq: SYMC) is the Big Daddy of cybersecurity.
It is one of the oldest and largest cybersecurity firms in the market and is a major player in the U.S. government's cybersecurity platforms. It also owns the Norton brand security programs that are popular with individuals, as well as enterprise solutions for both mobile and computer security.
For good or ill, the federal government's computer systems are set up on various protocols and security platforms. Some of this is for security purposes, but generally it was because each massive department built out their own systems organically over the decades, and no one was overseeing "the big picture."
Symantec is the go-to player to rationalize this challenge. It has the skills and the knowledge deal with this mammoth task in the United States and abroad as well. And this expertise is then passed down to its other divisions.
The stock is up nearly 46% in the past six months, largely because investors and Wall Street are starting to understand the long-term growth explosion in this sector. And there are some analysts expecting at least another 25% out of the stock just in the short term.
Palo Alto Networks Inc. (Nasdaq: PANW) is one of the newest players to become a familiar name in any IT department, and one of my favorite single plays in the sector. It operates in three divisions: Next-Gen Firewall, Advanced Endpoint Protection, and Threat Intelligence Cloud.
The company's rise can be pegged on the latter of these three divisions. Palo Alto Networks has been on the cutting edge of discovering and identifying threats for a while now.
It has clients in every sector, both public and private, but has had a tough time recently acquiring new clients because of the slack economy. But this is our advantage. The stock is off about 6% in the past 6 months, but the overall trend is up – it's up 176% since its IPO in mid-2012 – which makes now a great time to get in.
Qualys Inc. (Nasdaq: QLYS) is a cybersecurity player in the fast-growing cloud sector. This is where the future of computing will reside and where IoT will either sink or swim. Given the enormous corporate interests involved in IoT, it will be extremely important for every link in the cybersecurity chain be as strong as the next, and Qualys is building a reputation for just that.
With nearly 9,000 clients and more than 60 of Forbes 100 companies, Qualys is building a substantial reputation in the space. And part of the great advantage of buying HACK is you get a pure play cloud security company like Qualys without missing out on other important security sectors.
Qualys stock is up 41% in the past six months, so there is real momentum at play here. It released its second-quarter earnings in early August and even then, things were looking up. Revenue was up 20% for the quarter, as was gross profit. It also raised its guidance for the rest of 2016, always a bullish sign given the broad economy.
Mantech International Corp. (Nasdaq: MANT) is a company that keeps a low profile. That's because it operates on highly sensitive projects for the U.S. intelligence community as well as the Departments of Defense, State, Health and Human Services, Veterans Affairs, Justice, and the Federal Bureau of Investigation (FBI).
Simply put, anywhere in the federal government where secure records are a top priority, Mantech is on the job.
It also provides secure networks for the intelligence community so that communications between outposts and command can be relayed without threat of hacking.
That's why it's not surprising the stock is up 34% year to date. The federal government is finally committing to beefing up its cybersecurity and it needs a reliable integrated solution. Mantech is the kind of specialist organization that can work with the government at the highest levels.
And even now, the company is paying a solid 2% dividend – income you get by owning HACK.
HACK is up more than 20% year to date, with much of that coming in the last quarter. This is the beginning a very long train. It's a great time to get involved, because once this trend gathers momentum, these prices will be distant memories.
This Is Some of the Fastest Money in Tech
Michael has discovered a tech firm in a great position to clean up quickly on the back of a stunning breakthrough in defense medical research. It's a revolutionary technology that's giving wounded soldiers a chance at real healing. Doctors and medics are so blown away that they're calling it a "paradigm shift in the field of medicine." This company could soon see a 6,642% spike in revenue, simply because it dominates this new market. Click here to learn more…
Follow Michael Robinson on Facebook and Twitter.
Join the conversation. Click here to jump to comments…
About the Author
Michael A. Robinson is a 36-year Silicon Valley veteran and one of the top tech and biotech financial analysts working today. That's because, as a consultant, senior adviser, and board member for Silicon Valley venture capital firms, Michael enjoys privileged access to pioneering CEOs, scientists, and high-profile players. And he brings this entire world of Silicon Valley "insiders" right to you...
He was one of five people involved in early meetings for the $160 billion "cloud" computing phenomenon.
He was there as Lee Iacocca and Roger Smith, the CEOs of Chrysler and GM, led the robotics revolution that saved the U.S. automotive industry.
As cyber-security was becoming a focus of national security, Michael was with Dave DeWalt, the CEO of McAfee, right before Intel acquired his company for $7.8 billion.
This all means the entire world is constantly seeking Michael's insight.
In addition to being a regular guest and panelist on CNBC and Fox Business, he is also a Pulitzer Prize-nominated writer and reporter. His first book Overdrawn: The Bailout of American Savings warned people about the coming financial collapse - years before the word "bailout" became a household word.
Silicon Valley defense publications vie for his analysis. He's worked for Defense Media Network and Signal Magazine, as well as The New York Times, American Enterprise, and The Wall Street Journal.
And even with decades of experience, Michael believes there has never been a moment in time quite like this.
Right now, medical breakthroughs that once took years to develop are moving at a record speed. And that means we are going to see highly lucrative biotech investment opportunities come in fast and furious.
To help you navigate the historic opportunity in biotech, Michael launched the Bio-Tech Profit Alliance.
His other publications include: Strategic Tech Investor, The Nova-X Report, Bio-Technology Profit Alliance and Nexus-9 Network.