Speculative trading on so-called long contracts, or long-term bets that the markets will rise, has reached a startling high this year.
On Wednesday, analyst David Rosenberg at Gluskin Sheff found that speculative long contracts on the Dow reached a record high of 38,382. Long contracts for the S&P 500 also hit their highest level since June 2013 at 38,083, according to Yahoo Finance.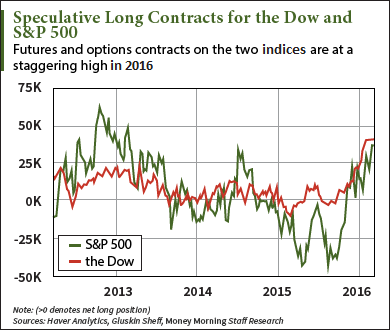 For investors looking for any reason to worry about this strangely calm stock market – this is a good one…
The overwhelming number of speculative long contracts right now signals some major underlying market issues.
Why Speculative Trading Right Now Is at a Dangerous Level
Many investors are perennially bullish right now. After all, the Dow's up roughly 750 points (4.3%) this year and nearly 2,000 points (12%) in the last 12 months. As a result, many investors have become too complacent about current market conditions.
The high volume of current speculative long contracts suggests investor oversight – and too much market exposure. That's because there simply aren't many bull market indicators right now…
"None of the headlines you see today cast doubt on the fact that the world is a dangerous, complicated, and nasty place," Money Morning Chief Investment Strategist Keith Fitz-Gerald – a seasoned analyst and professional trader with over 30 years of global investing experience – noted to readers on July 21.
Central Banks Are Backing Away from Easy-Money Policies
One of the biggest bullish indicators – central banks' easy-money policies – are showing signs of waning.
On Friday, Federal Reserve Bank of Boston President Eric Rosengren said that "a reasonable case can be made" for raising interest rates sooner rather than later. Rosengren's statement is noteworthy because he has consistently advocated in the past for lower rates. His statement also echoes sentiments from Fed Chair Janet Yellen's speech on Aug. 29, which she delivered with a hawkish tone.
What's more, European Central Bank President Mario Draghi announced this week there would be no additional quantitative easing measures. That means no additional stimulus for the Eurozone economy.
Don't Miss: How Small Investors Can Take on Wall Street… and Win
Valuations Are Artificially Elevated
Another trend these speculative investors are ignoring: elevated valuations. The S&P 500's current forward 12-month price-to-earnings ratio of 18.51 is significantly higher than its five- and 10-year averages at 14.7 and 14.3, respectively.
That means stocks are trading at a significant premium – even with subpar earnings results this year. There was a -8.6% blended S&P 500 earnings decline for Q1 2016, and a -3.2% decline in the second quarter. The second quarter marked the sixth-straight quarter of declining earnings.
Dangerous Catalysts Are Being Overlooked
Speculators also aren't pricing in large catalysts, like the U.S. presidential election outcome, the next Fed rate hike, or the continuing Brexit narrative, according to Yahoo Finance. Any one of these three developments could trigger a big sell-off.
For example, Fed Chair Janet Yellen's speech on Aug. 29 was full of hawkish indicators. And we all remember S&P 500's 10% drop the last time the Fed raised rates in December 2015…
Don't be surprised about another similar drop after the next rate hike.
The Bottom Line: Even if we've convinced you this market is risky, it's important to keep making the right investments…
Fitz-Gerald encourages investors ride the rally rather than fight it – as always, by focusing on must-have investments. You have to be "in to win," he told readers on July 21. And Fitz-Gerald has some of the best ways to intelligently navigate today's markets – even when they reverse course after a rate hike.
Learn more about Fitz-Gerald's strategy, up next.
Up Next
It's always best (unfortunately) to trade with central banks instead of against them.
That means sometimes buying even when markets are rising scarily higher…
And still making smart investments when the market are falling.
Counterintuitive? Sure. But it works, and Fitz-Gerald explains why, right here…
Follow Money Morning on Facebook and Twitter.