Editor's Note: Normally, only Bill Patalon's paid-up Private Briefing subscribers get this kind of access to his in-depth, forward-looking insight on global affairs and how they'll affect readers, but the current situation in the South China Sea is an issue Patalon knows extremely well, and it would be a disservice to make his crucial understanding of the issue inaccessible during this time of uncertainty...
Russia and China are preparing for joint sea naval drills this weekend (Sept. 9-11).
The military exercises between the two countries are somewhat routine - there have been five since 2012.
However, this time will be the first joint exercises between these particular allies conducted in the fiercely disputed South China Sea.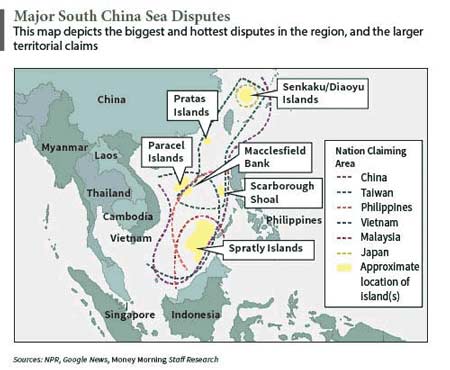 In fact, they're the first multiparty drills between any countries in the controversial maritime region since The Hague ruled overwhelmingly against China on July 12 in a case brought by the Philippines.
Don't Miss: How the U.S. Exposed China's Nuclear Espionage Plot
One can't help but wonder if this weekend's scheduled drills between China and Russia are actually intended to "send a message" to their adversaries - namely NATO.
So we phoned Money Morning Executive Editor William Patalon, III, on Sept. 8 to have him weigh in. Patalon has covered the South China Sea dispute since 2012 - long before the mainstream media picked up on the dangers swirling about the region. And he's been keeping his Private Briefing readers up to snuff on the conflict the whole time, because there's a lot more to the conflict that the public just isn't aware of.
Here's how he's reading the tea leaves a day ahead of this barbed military exercise...
Russia and China's Aggressive New Alliance
"Over the last few years, China and Russia have become much chummier from a military standpoint," Patalon said. "They view the U.S. and NATO as a common enemy and are concerned about the same threats. So it makes sense that they'd view themselves as kindred spirits from a military standpoint."
Patalon went on to explain that the two countries' treatment of Japan in recent months is evidence of their increasingly aggressive alliance.
"Japan says that it's seeing more 'incursions' of its air space by China and Russia than at any time in the last 50 years," he said, citing The Japan Times.
Don't Miss: This $5 Stock Will Double Your Money - and Save a Dying U.S. Industry
For example, Japan's Air Self-Defense Force scrambled fighters 873 times in the fiscal year that ended in March -- including 571 times against China and 288 against Russia.
"That's a big jump from the 464 'sorties' recorded the year before," Patalon noted.
"With each airspace 'incursion,' the 'home team' (in this case, Japan), has to 'scramble' its interceptors. One move triggers another, each of them escalating the situation -- and each elevates the potential for a collision, an erroneous shoot-down, or another incident that could trigger a full-blown combat situation, causing the 'snowball' to pick up speed."
To thwart these escalating threats, Patalon explained, Japan actually created a new fighter squadron. This 9th Air Wing consists of 40 Mitsubishi F-15J "Peace Eagle" air-superiority fighters, based on a design by McDonnell Douglas and built under license in Japan. The 9th is based at Naha Air Base in Okinawa.
"Thanks, in part, to this new joint aggressiveness by China and Russia, the military dynamics in that part of Asia are changing," Patalon said, "and in a big way."
Japan's Response to Russia and China Threat
"Since its defeat in World War II, Japan has been very careful to position its military for home defense - it's even known as the 'Japan Self-Defense Forces,' or JSDF," Patalon said.
But, he noted, the South China Sea mess, issues on the nearby Korean Peninsula, and Japan's key role in America's Asia-Pacific security strategy are all combining to shift the Japanese government's view of its military...
"[Japanese Prime Minister Shinzo] Abe recently approved a record $41.4 billion defense budget for the 2016-2017 fiscal year - the fourth-straight military budget increase since [he] took office in December 2012."
Such defense preparation certainly couldn't be all for naught. NATO must be expecting Russia and China's provocation tactics to further escalate, perhaps into a full-fledged South China Sea war.
Patalon believes almost assuredly so.
"This ongoing dispute is likely to be a dominant 'influencer' in global affairs for years to come," he said. "And it will likely help determine how well you live out your 'golden years' and how well your children and grandchildren live."
Here's how Patalon expects the South China Sea conflict will impact those of us two thousand miles away...
Follow Bill Patalon on Twitter and Facebook.