According to billionaire entrepreneur Mark Cuban, the U.S. stock market will tank if GOP presidential nominee Donald Trump becomes America's next commander in chief.
Cuban issued his dire warning today (Monday) in response to a Trump interview on CNBC's "Squawk Box" this morning.
Donald Trump Talks Interest Rates, Hillary Clinton's Health, More (Full Interview) Squawk Box CNBC, Sept. 12, 2016
That's when Trump decried the U.S. Federal Reserve's current fiscal policy: "The interest rates are kept down by President [Barack] Obama. I have no doubt that that's the reason they are being kept down."
Just moments after the interview aired, Cuban took to Twitter to slam Trump's comments…
Mark Cuban: Trump "Hasn't Made Any Effort to Learn"
Cuban accused Trump of allowing "others to continue to make his decisions" for him on the campaign trail.
Cuban was reacting to a follower's suggestion that perhaps Trump was learning to control his tendency to make abrupt outlandish comments because the real estate magnate has thus far refrained from using social media to exploit Hillary Clinton's poor health.
Don't Miss: Subzero: How Negative Interest Rates Will Finally Kill America's Free Market
When another follower jumped into the tweet thread to show her support for Trump – claiming that Trump was indeed "learning" to modify his typically unpredictable behavior – Cuban shot back:
"His Fed comments [this morning] prove he hasn't made any real effort to learn," the "Shark Tank" host tweeted.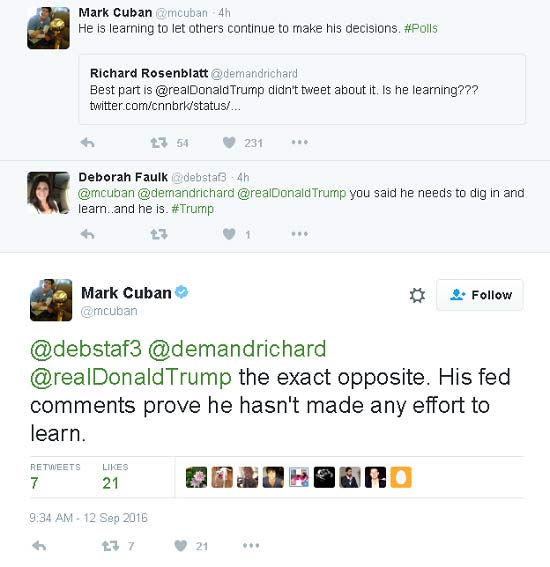 He then questioned Trump's understanding of fiscal policy…
Finally, Cuban ended his tirade by challenging Trump personally…
He tweeted to the candidate this message: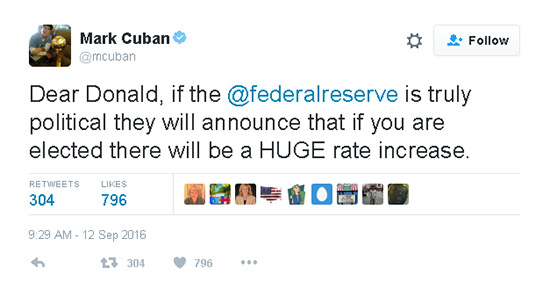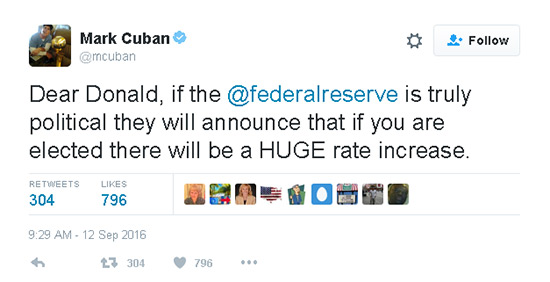 This isn't the first time Cuban has attacked the Republican presidential nominee via social media…
On July 21, during the GOP convention, Cuban launched a series of scathing tweets attacking Trump's talking points in real time.
Regardless of Cuban's personal vendetta against his fellow billionaire businessman, one practical question does arise from his angry tweetstorm…
Which Candidate Is Better for the U.S. Markets?
It's a question investors are asking.
And recently, Money Morning's D.R. Barton, a 28-year technical trader and celebrated financial coach, gave a great answer in a May 16 appearance on FOX Business' "Varney & Co."
Watch as Barton tells viewers what the stock market will look like under either a Hillary Clinton or a Donald Trump presidency, here…
Follow us on Twitter and like us on Facebook.
Up Next: