Last week, I told you that the price of silver per ounce had been correcting for nearly a month.  But then came a big bounce in silver prices.
In just five trading days, the price of silver per ounce bottomed at $18.50 before quickly surging to $20.
Silver stocks have posted even bigger gains, with one of the larger silver exchange-traded funds (ETFs) gaining 15% in just four trading days.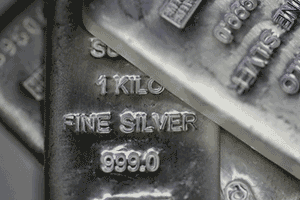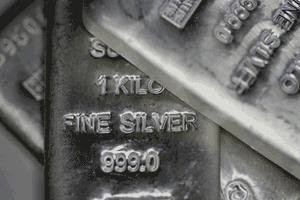 Naturally, silver and silver stocks got a helping hand from a beaten-down dollar, but that was short-lived. We've also seen an impact on prices as traders and investors take some profits on what has been one of the strongest markets of 2016.
So what will be the next move for silver prices? Before we get to my silver price prediction, here's what has been moving the price of silver per ounce recently…
Another Volatile Week for the Price of Silver per Ounce
Silver prices started last Monday trading on a positive note, opening at $19.43 before climbing to $19.51 and holding that level to the close.
But Tuesday saw the biggest moves for the price of silver per ounce last week. Silver prices opened at $19.55 and soared once the U.S. Dollar Index (DXY) tanked. By noon, silver had reached $19.77 before closing at $20.04.
By Wednesday, weakness returned as the DXY stabilized and recovered slightly. The price of silver opened lower at $19.87 and eventually closed at $19.74.
The slide continued on Thursday when silver prices opened at $19.82 and the DXY started climbing. You know what happens next. Silver dropped sharply to $19.54 by 1:00 p.m., then regained slightly to close at $19.57.
On Friday, the price of silver per ounce opened weaker at $19.39 thanks to strength in the DXY.  That strength then ramped up, taking the DXY from 95 at 8:00 a.m. to as high as 95.60 by 10:00 a.m. Silver sold off to $19.00 by late afternoon.
Trending Now: Gold stocks continue to outperform the markets in 2016 and remain some of the best investments to make now. That's why we just recommended one gold stock that could gain 49% in 12 months…
And throughout the week, here's how the U.S. Dollar Index action looked…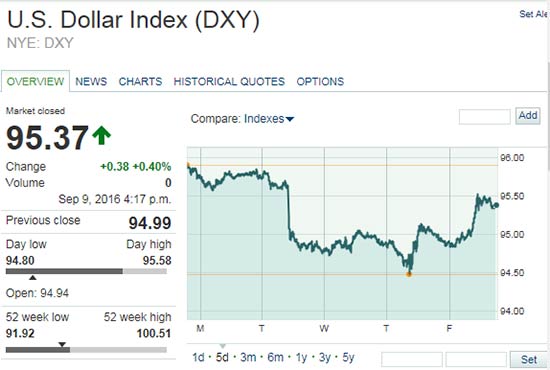 Now that we've looked at why the silver price per ounce was so volatile this week, here's what you can expect from silver prices for the rest of this year…
What's Next for the Price of Silver per Ounce in 2016
As it turns out, August was another bad month for the sale of American Eagle silver bullion coins. For July, the U.S. Mint reported sales of 1.37 million units, but just 1.28 million in August. That was its worst showing since December 2013, when sales totaled just 1.2 million coins. Recent silver price strength has likely weighed on sales, which were strong into the early part of this year.
If we examine the positions of silver hedgers, those regarded as "smart money investors," they've only just started to back away from an extreme historical net short position. They still see silver prices as high and expect them to keep retreating. That is a contrarian signal to watch.
And looking at the technical view of silver prices, we see the price of silver rose above its 50-day moving average recently.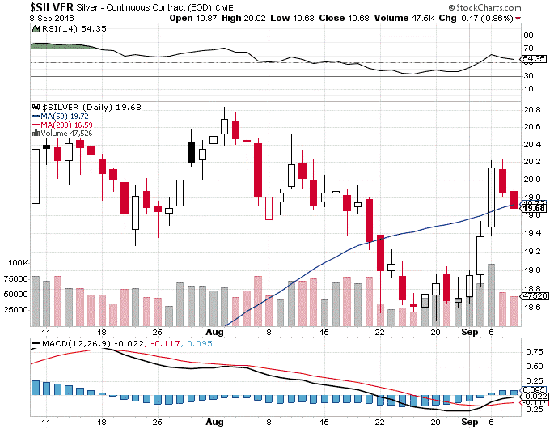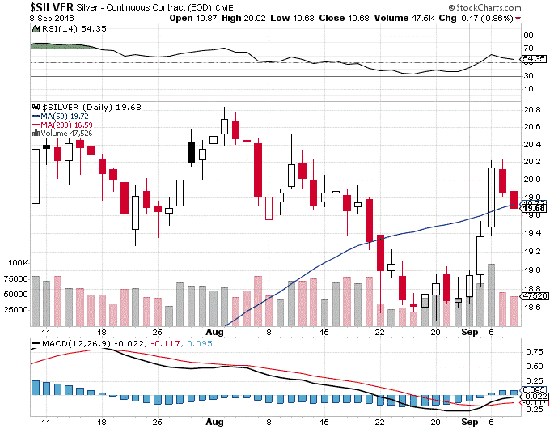 But it closed just below that level on Thursday. This will be an important level to track as we look for clues on silver's near-term direction. If the DXY gains strength and silver prices treat the 50-day moving average as overhead resistance, then we could be looking at near-term weakness.
Still, silver's all but certain to follow gold's likely charge higher into the second half of 2016. I think the price of silver per ounce could easily produce a further 12% gain from current levels to reach $22 by year's end.
Up Next: This Country Is the Biggest Reason to Buy Gold Right Now
Follow Money Morning on Twitter.
Join the conversation. Click here to jump to comments…
About the Author
Peter Krauth is the Resource Specialist for Money Map Press and has contributed some of the most popular and highly regarded investing articles on Money Morning. Peter is headquartered in resource-rich Canada, but he travels around the world to dig up the very best profit opportunity, whether it's in gold, silver, oil, coal, or even potash.