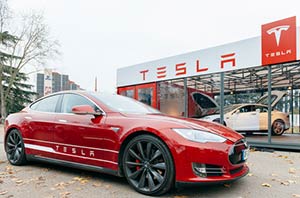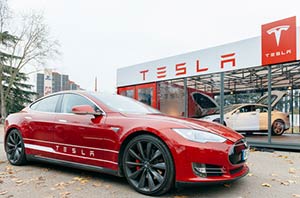 The Tesla Motors Inc. (Nasdaq: TSLA) stock price is down 13.4% in the last month. And while some investors are panicking, we view this TSLA stock price drop as a great buying opportunity.
But before we get into our outlook on the Tesla stock price, here's what has dragged down TSLA stock in the last month…
Why the TSLA Stock Price Has Dropped 13% This Month
Because the TSLA stock price is notoriously volatile, any bit of negative news can send the stock falling. But this month, there have been three major issues that have sent Tesla shares tumbling 13%…
Questions About SolarCity: In late August, regulatory filings showed CEO Elon Musk bought $65 million of bonds from SolarCity Corp. (Nasdaq: SCTY) in the solar company's debt offering. The purchase raised eyebrows because Tesla is acquiring SCTY in a $2.6 billion deal. Musk is also the chairman of SCTY.
Trending Now: This little-known penny stock could bring investors triple-digits gains – and revolutionize a dying industry at the same time. Click here to learn more…
The notion of a senior officer buying debt is rare and raises questions. You see, when a company officer buys stock, it's deemed a good sign. But when they buy debt, the question of long-term value is raised.
Debt holders are usually paid before bondholders in the event of bankruptcy. Musk explained in a statement that he invested in the solar bonds because it's an efficient way for the company to raise capital without paying expensive banking fees. The bonds are issued directly online and there are no fees for investors, either.
Tesla Is Burning Through Cash: On Sept. 9, Tesla announced it secured a $300 million line of credit from Deutsche Bank. The deal is aimed at bolstering TSLA's finances.
In the first half of 2016, TSLA burned through $600 million in cash as it ramped up manufacturing capacity for its new Model 3 vehicles and completes its enormous Nevada "gigafactory."
Tesla and SolarCity's combined debt was $5.43 billion in 2015, with a collective cash burn of $830 million. Tesla officials said the Deutsche Bank deal will reduce its own cash requirements for the direct leasing program it offers.
SpaceX Setback: On Sept. 2, a Space Exploration Technologies Corp. rocket and a satellite exploded on takeoff at Cape Canaveral. The rocket and space transportation company are owned by Musk. The cause of the unmanned rocket explosion will take months to determine. This launch was particularly noteworthy because it was carrying a satellite to provide Internet access to people in sub-Saharan Africa.
If problems are found with the rocket's fueling procedure, questions about the company's safety and dependability will be raised. And that could interfere with SpaceX's plans to start launching manned capsules for NASA.
Related Content: This Biotech Stock Could Bring Profits Over 100%…
And while all three of these factors have been weighing on the Tesla Motors stock price, we view this recent dip as an excellent buying opportunity for long-term investors. Here's why we remain bullish on the long-term prospects for the TSLA stock price…
Why This TSLA Stock Price Drop Is a Buying Opportunity
The TSLA stock price is up more than 1.5% to $198.82 intraday today (Monday). The stock was propped up by comments from Musk about the company's semi-autonomous driving system. Updates to the system should improve its ability to prevent crashes.
It will be called Autopilot 8.0, and the system will temporarily halt users from using the system if they fail to respond to audible warnings. Musk said the company is making more effective use of its radar.
That's the kind of innovative thinking and product development that makes Tesla Motors stock so appealing.
Money Morning experts view Tesla as much more than a car company. It is also a pioneer in the auto, solar, and space arenas.
But Tesla stock is not a perfect investment for everyone…
The TSLA stock price is notoriously volatile, so shares are best suited for long-term investors willing to take on some risk for five to 10 years. Timing the stock is nearly impossible, and as the past month shows, wild swings are common.
Money Morning Technical Trading Specialist D.R. Barton says Tesla is "head and shoulders ahead in the electric car front." Money Morning Chief Investment Strategist Keith Fitz-Gerald said Musk is "shaking up Detroit and rewriting the automobile industry whether executives are ready or not."
Still, many investors buy Tesla shares because of Musk himself — not simply its cars.
"I think Musk is the most innovative CEO on the planet and that he sees value others don't yet recognize," Fitz-Gerald said in 2015. "Cars, batteries, innovative business models – nobody knows where it will go but ultimately if you're along for the ride, I think it'd be very hard to go wrong over time."
At $195.75, TSLA stock is down 16.4% in 2016. But over the last five years, shares are up a whopping 758.57%.
Editor's Note: Investors can profit from gold no matter where prices are going. We have everything you need to know about gold in our new guide on gold investing…
Follow us on Twitter @moneymorning and like us on Facebook.
Related Articles: