It's impossible to predict exactly where the market is heading, but one thing is certain: The markets will be highly volatile in September.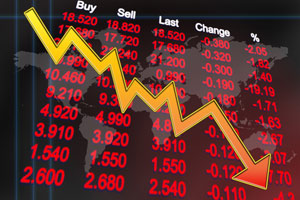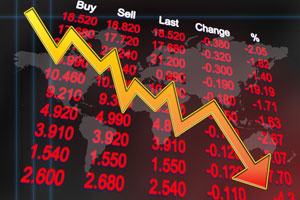 And that has a lot of investors worrying about a potential 2016 stock market crash.
That's why we're bringing readers the best investments to make before and during a stock market crash. But before we get to those investments, here's why September should be an extremely volatile month for the markets...
Why Investors Can Expect Volatility This Month
First, September is a historically bearish month for stocks.
Since the Dow Jones Industrials Average was created in the late 1890s, the index has logged an average loss of 1.1% in September. Meanwhile, the other 11 months have averaged a gain of 0.8%.
And this September is more important than normal. On Sept. 20 and Sept 21, the U.S. Federal Reserve will resume discussions of a potential interest rate hike. A recent string of hawkish comments from Fed officials has put the chance of a September interest rate hike back on the table.
In late August, Fed Chair Janet Yellen said she believed the case for a rate hike has strengthened in recent months. Friday, Boston Fed President Eric Rosengren said an argument could be made for raising rates.
Stocks tumbled Friday in the wake of Rosengren's comments. The Dow, S&P 500, and Nasdaq lost 2.4%, 2.39%, and 2.4%, respectively. That had investors worrying that a potential 2016 stock market crash was coming.
Despite the hawkish statements, the odds of an interest rate increase at the September FOMC meeting remain low. The likelihood of a rate hike this month is just 21%. That's down from 24% on Friday. Still, the Fed would like to raise rates soon.
The central bank raised interest rates at the end of December. It was the first interest rate increase in seven years and was overdue. Still, the Dow dropped 10% in the following six weeks.
So investors have a reason to be on edge.
And Money Morning Capital Wave Strategist Shah Gilani points out that over the last two months, U.S. stocks have traded in a narrow band on very low volume. Prior to Friday's sharp drop, the S&P 500 hasn't moved more than 1% - in either direction - on a closing basis since July 8.
But these dull markets could turn dangerous...
After several months of relative calm, the market fear index (VIX) spiked Friday. It rose nearly five points to 17.50.
The VIX tells us "where psychology is and what investors are feeling - most importantly whether they're feeling greedy or fearful," Gilani explains.
When the VIX is low, investors are comfortable. When the VIX rises, investors are afraid.
"The fact that the VIX has been so low is partly telling us that investors are complacent and that they expect the "controlled" environment to yield gains as opposed to spikes and drops," Gilani said. "That's all artificially induced by central banks... and that's a big problem."
"Central banks are meeting throughout September, and any unusual moves - by that I mean unexpected moves - could trip up markets instantly," Gilani said.
Urgent: This tiny penny stock could bring gains over 100% - and save a dying industry, too. Click here to learn more...
Because of all of this uncertainty in the markets, we've compiled a list of investments to make that will protect your money, and even help you profit, if we see a 2016 stock market crash...
How to Protect Your Money and Profit from a 2016 Stock Market Crash
Gilani recommends adding the ProShares Short S&P 500 ETF (NYSE Arca: SH) to a portfolio right before a 2016 stock market crash.
SH is an inverse exchange-traded fund (ETF) designed to profit from a decline in the daily performance of the broad-based S&P 500.
Investors who got into SH ahead of the 2008 stock market crash netted gains of more than 40% in the five months from September 2008 to January 2009. During this year's sell-off between January and February, the ETF climbed 15%. As fears of a stock market crash mount, SH shares have risen 2.35% during the last week. The S&P 500 is down 2.28% over the same time.
This ETF is only a short-term investment. And investors should only allocate a small portion of their portfolios to this ETF, no more than 2%.
Timing markets isn't easy. But when you time it right, gains can be substantial.
And if a stock market crash does happen in 2016, gold prices and gold stocks should soar as investors pile into safe-haven investments.
Money Morning Global Credit Strategist Michael Lewitt recommends investing 10% to 20% of a portfolio in gold. For investors who find holding physical gold burdensome, Lewitt recommends gold ETFs.
The SPDR Gold Trust (NYSE Arca: GLD) is the world's biggest gold ETF.
GLD changes hands like a stock. That allows investors to buy and sell gold like they would shares of a stock. The value of GLD correlates to the amount of gold the ETF owns and its value, as well as fluctuations in the price of gold.
For investors who want to invest in gold mining companies, which are among this year's best performers, here's one with substantial upside potential.
Goldcorp Inc. (NYSE: GG) is Money Morning Executive Editor Bill Patalon's favorite gold stock to buy now. Goldcorp has become a much more efficient gold mining company by reducing its costs. So far, that has paid off.
At $16.32, GG is up 41.18% year to date. Analysts believe GG could still gain 45% from current levels.
Editor's Note: You can profit from gold prices no matter where they are moving. We have everything you need to know about gold in our new guide on gold investing...
Follow us on Twitter @moneymorning and like us on Facebook.
Related Articles: