One of my earliest childhood memories is eating a nice hot bowl of soup whenever I got sick or it was cold outside.
This soup, in particular, was a staple in my family's kitchen, and I bet it was in yours, too.
Now this company's been around since 1869. However, its latest earnings report suggests that America could be falling out of love.
But contrary to what investors are thinking, there's never been a better time to put your money on it.
And this is why...
Why Campbell's Earnings Miss Is a Win for Your Wallet
For the first time in over two years, Campbell Soup Co. (NYSE: CPB) neither met nor beat its earnings expectations, reporting earnings of $0.46 (down from the $0.51 estimate). Although its reported revenue of $1.69 billion actually met estimates, Campbell's adjusted gross margin came in lower at 32.4%, breaking its five-quarter streak of posting adjusted gross margin expansion.
Campbell has been trying to make a push into the fresh-foods market for some time now and created its own fresh-food unit (accounting for 13% of its total sales). But according to the last earnings report, it attributed its declining quarterly sales specifically to the fresh-food unit, citing:
The recall of 3.8 million bottles of its Bolthouse Farm Protein PLUS drinks due to a manufacturing issue that created some spoilage
A premature harvest of carrots that led them to be so puny in size, customers simply didn't want them
Now Zachs Investment Research reported that Campbell is prone to currency fluctuations, saying these adverse currency translations affected its fourth-quarter results.
But even though it had an underwhelming earnings report and has faced a couple of issues with its fresh-food unit, CPB announced a hike in its quarterly dividend (payable on Oct. 3, 2016), from $0.31 to $0.35. And that makes the prospect of buying CPB within the next month far more attractive to investors.
And CEO Denise Morrison doesn't seem overly concerned that the future of Campbell is in real trouble, stating that these recent hiccups were execution problems that will be fixed, although it may take a little time to return back to normal.
She also says the company remains on track to improve the fresh-food unit and its long-term performance, focusing particularly on 2017, which is the year in which it expects sales growth (if any) to be at 1%. Right now, Campbell's biggest priority is boosting shareholder (and consumer) confidence in its products. And the dividend increase is one of the ways it plans to do so.
On the day of its earnings report, the stock fell by 6%. Take a look at the chart below and you will see it is also down from its peak in July, which was close to $68 per share.
Post-earnings, the stock has dropped well below the 50-day simple moving average (SMA) and is now trading under its 200-day SMA.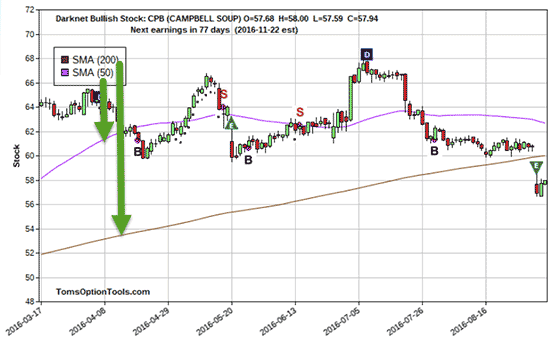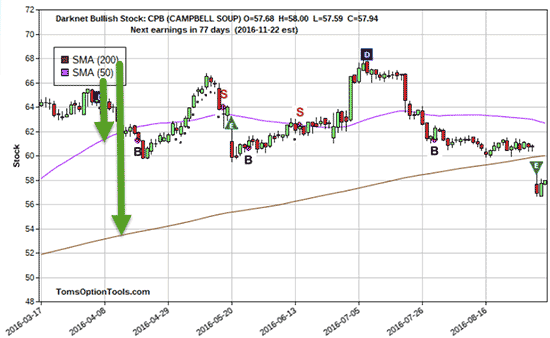 Any kind of recovery in price is welcome, especially if you see the current price as too attractive to pass up. But I want to caution you on buying at this price...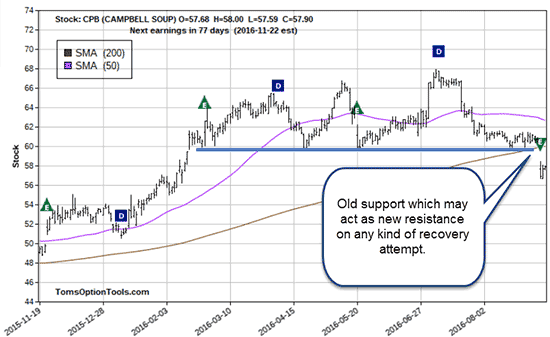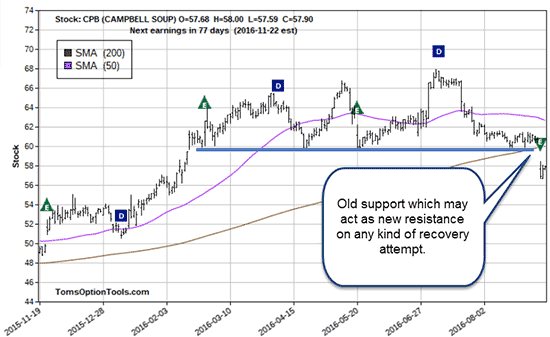 Any kind of recovery in price may be met with some resistance at around $60. I marked the previous price support level in the chart above.
Since April of this year, we've had bullish signals. And although CPB moved six points higher from those first two signals, the last bullish signal didn't fare out too well. Maybe the rumors of an upcoming "downfall" had investors anticipating a less-than-stellar earnings. And after earnings came out, the old "sell on news" effect took place.
Cashing In on Campbell Right Now
It'll take more of a wait-and-see approach to determine if and when Campbell actually does everything it says it will. But up until this past earnings report, CPB stock has performed well. So Morrison may be given the benefit of the doubt on these past couple execution misses, retaining faith in her and the company.
For right now, any kind of real strength in price will need to clear the overhead resistance at $60, which was the key support level from February/March 2015 up through this past earnings report.
And I see options as the best way to play it...
Now as an options trader, you'll want to analyze how a stock has done in past earnings reports when you're trading around earnings and consider the following:
Put options if you see that a company has a history of missing its earnings expectations or has a history of forecasting low earnings numbers in future quarters
Call options if you see that a company has consistently beat its earnings expectations and has a history of forecasting high earnings numbers in future quarters
Taking a long call position on CPB could be a bit tricky, given the recent dip in the stock. You'll also want to take into account implied volatility (IV) and that it tends to increase as the stock decreases. So, take a look at its historical volatility and see how the current IV correlates to that. What you'll want to avoid is high IV. And if you decide on taking a long position on options or the stock itself, be wary of the pivot low of about $56.75 and consider a really tight stop price.
But if you're looking at the stock and see it dropping a bit more, what you'll really want to consider over a long call position is a long put position.
Here's a look at CPB's price movement from Feb. 3 of this year through Aug. 12: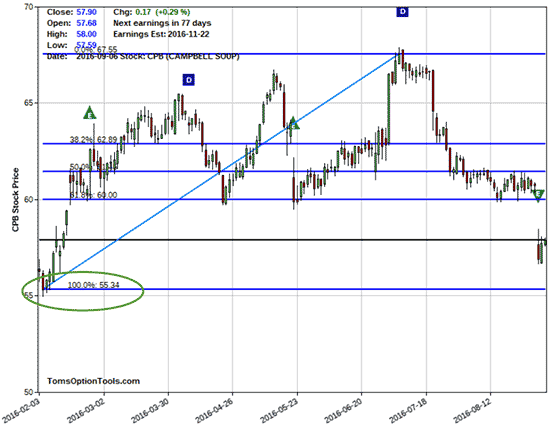 A 100% Fibonacci retracement is a ratio that's used to identify possible reversals. And a Fibonacci retracement on CPB would take it down to $55.34.
This downside movement of $2.56 creates the perfect scenario for a long put option... and a nice profit.
This Is the Best "Retirement Stock" of 2016... And the good news is, it's trading for "pennies." But it won't be for long... its revenue is set to surge 4,709%. Learn the details of this $5 stock today while it's still "on sale." Read more...
Follow Money Morning on Facebook and Twitter.
Join the conversation. Click here to jump to comments…
About the Author
Tom Gentile, options trading specialist for Money Map Press, is widely known as America's No. 1 Pattern Trader thanks to his nearly 30 years of experience spotting lucrative patterns in options trading. Tom has taught over 300,000 traders his option trading secrets in a variety of settings, including seminars and workshops. He's also a bestselling author of eight books and training courses.