Facebook Inc. (Nasdaq: FB) stock just received a new catalyst with the release of "chatbots" this week.
But this is only part of the reason why our Facebook stock price analysis shows FB shares soaring in the long term.
Before we get into our full Facebook stock price prediction and analysis from Money Morning Director of Tech & Venture Capital Michael A. Robinson, here's more about this newest Facebook stock price catalyst...
Chatbots Represent a $4 Billion Opportunity for Facebook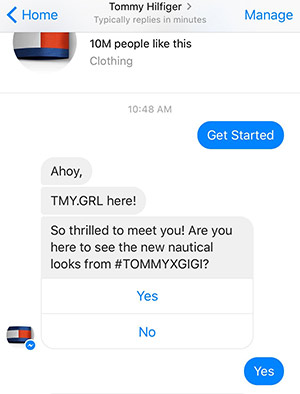 Ahead of New York Fashion Week, Tommy Hilfiger launched a "chatbot" to promote its Fall 2016 line and its TommyXGigi collection.
The chatbot works as a concierge. It recommends specific products for users and looks that customers may be interested in. You can talk with the chatbot through Facebook's Messenger.
I tested out the process to see its efficiency firsthand.
It introduced itself as TMY.GRL and asked me if I wanted to look at new nautical looks from #TOMMYXGIGI. It provided a box to answer yes or no, and I clicked yes.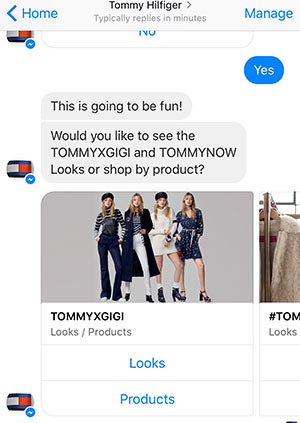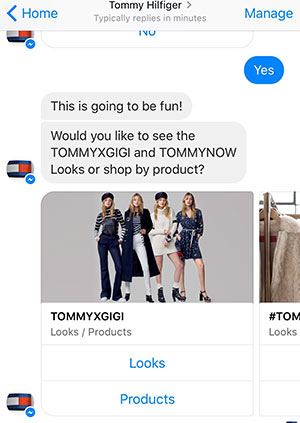 When I typed "Yes," it gave me background information on the collection and then presented the option to check out looks or products from Tommy Hilfiger.
I was impressed with how fluid the initial interaction was. And even when I tried to throw it for a loop, the Tommy Hilfiger chatbot still provided surprisingly intuitive results for what I wanted.
When I typed in the word "sunglasses," the Facebook chatbot provided me with several different sunglasses to view and potentially purchase.
Editor's Note: Facebook approved a 3-for-1 stock split on June 20. Here's everything you need to know.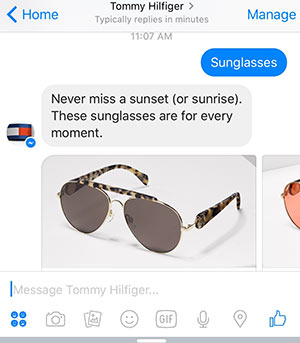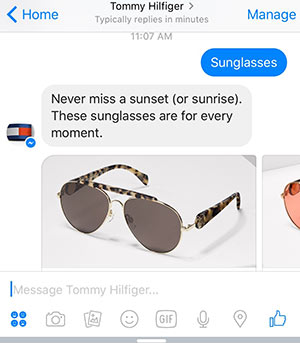 Of course, it still isn't perfect. When I asked about shipping, it seemed to be stuck with one preprogrammed response.
When I typed in the word "shipping" or asked "How long does shipping take," it kept responding with, "Did you mean - 'Do you ship in Asia?'"
As the technology becomes more sophisticated, using chatbots to purchase clothes and food, book hotel rooms, and purchase plane tickets will become the norm.
That could end up being a huge source of additional revenue for Facebook.
Research from Evercore Group LLC indicates that Facebook could net up to $4 billion in revenue through these chatbot partnerships.
And that's not the only way chatbots could contribute to Facebook's bottom line.
You see, that $4 billion is what Facebook could make just by providing a platform for businesses to connect with customers.
In our newest Facebook stock price analysis, we discovered how chatbots can also increase Facebook's already billion-dollar advertising revenue. And that's going to send Facebook stock skyrocketing by 2020....
Our Facebook Stock Price Analysis Shows FB Trading at This Huge Number
According to tech site Engadget.com, chatbots on Messenger can accept payments within Messenger and don't have to send customers to an external site as of Sept. 12.
[mmpazkzone name="in-story" network="9794" site="307044" id="137008" type="4"]
And our Facebook stock price analysis shows that's going to be a major catalyst for the FB stock price.
Here's why...
Facebook can earn even more advertising revenue because it is now a one-stop shop for buying products.
This is how it will work:
Companies will spend money on ads, telling people about new products.
Potential customers will be directed to the chatbot in Messenger, and can ask questions and browse for products.
When the customer finds something they like, they can buy it directly from the app.
This incentivizes companies to spend even more money on Facebook ads. Facebook already has a massively engaged audience of 1.71 billion users, and ads can be tailored to specific users based on their likes.
Users also spend an average of 50 minutes per day on Facebook, so it's also an incredibly engaged audience for advertisers to target.
And our Facebook stock price analysis shows that as social media ad spending increases, so too does the FB stock price.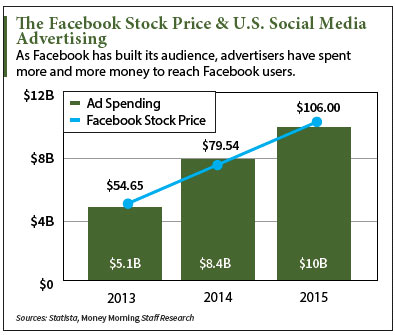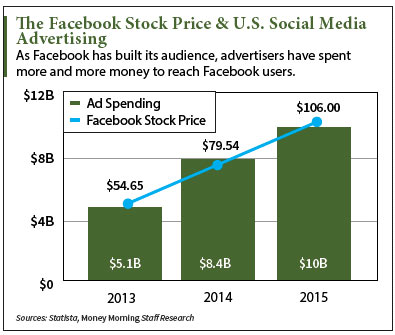 In the United States, social media ad spending increased from $5.1 billion to $10 billion per year from 2013 to 2015.
That's a 96% increase in just two years.
And during that time, the FB stock price also increased by 93%.
But the future looks even brighter for FB shareholders...
From 2016 to 2018, social media ad spending in the United States is projected to increase by 28%, according to research site Statista.
In the Facebook Q2 2016 earnings call, COO Sheryl Sandberg said the company is focused on making advertising as easy as possible for businesses.
It has done that.
And we're not the only ones with a bullish Facebook stock price analysis. According to FactSet, the Facebook stock price has a one-year price target of $153.88 per share. That's a potential profit of 21% from today's opening price of $128.03.
But Robinson has an even bolder prediction.
By 2020, his Facebook stock price analysis shows the FB stock price will trade for $250 per share. In less than four years, that's a potential profit of 95%.
The Bottom Line: Facebook just announced a major new catalyst for its stock with the new "chatbots" feature. Not only will it add more money through hosting supported customer messaging, but companies will also pay more money for ads because people can buy directly in the chatbot. And our Facebook stock price analysis shows as advertising spending climbs, so does the Facebook stock price.
Next Up: The Subprime Auto Loan Market Is About to Collapse - Here's How to Profit
Follow us on Twitter @moneymorning and like us on Facebook.