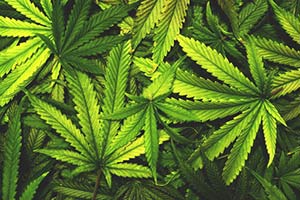 Americans using marijuana for recreational or medicinal purposes is at an all-time high...
One in eight U.S. adults say they currently smoke marijuana, according to a July Gallup survey. That ratio represents 13% of Americans, up six percentage points from three years ago in July 2013.
The number of Americans who have "tried" marijuana is even higher - at more than four in 10 Americans. That's 43% of U.S. adults, up slightly from 38% in 2013.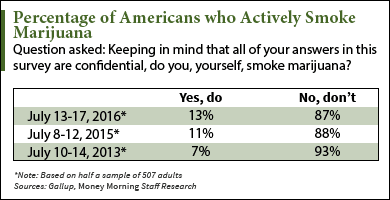 Another poll conducted by AP-NORC recently found that 61% of Americans support legalizing marijuana. That number is up slightly from an October 2015 Gallup poll where 58% of Americans said they supported legalizing marijuana.
Even without these poll numbers, it's clear that public acceptance of marijuana has surged in recent years...
In just the past six years alone, 15 states have legalized marijuana in some form. Currently, 23 states plus Washington, D.C., permit the use of marijuana for medical purposes. Four states currently allow recreational marijuana use: Washington, Colorado, Alaska, and Oregon.
And in November, these nine states will vote on various levels of marijuana legalization...
9 States Vote to Legalize Marijuana in November 2016
California: Already allows medical marijuana since 1996, but will have another referendum about making recreational use legal. The state currently has a $2.7 billion marijuana market, according to The Washington Post. Legalization could cause its marijuana industry to balloon to $6 billion by 2020, according to ArcView Research.
Nevada: Legalized medical marijuana in 2000, but will now vote on legalizing recreational use in November. A July poll found that 50% of Nevada voters support recreational legalization, while 41% were against it, according to The Washington Post.
North Dakota: A staunchly conservative state, North Dakota's medical marijuana referendum in November comes as somewhat of a surprise. Still, according to a 2014 poll, 47% of voters approved medical pot, while 41% were against it, according to The Washington Post.
Montana: Voters approved medical pot here in 2014, but the state government has since imposed big restrictions on medical pot dispensaries. This November referendum would roll back those restrictions, making Montana's medical marijuana market viable once again.
Arizona: Legalized medical marijuana in 2010, but will now have a referendum in November on permitting recreational use. A July poll found that 53% of voters opposed recreational legalization in Arizona, compared to 39% that support it, according to The Washington Post. Recreational marijuana advocates face a tough fight here.
Don't Miss: How to Find and Research the Best Marijuana Stocks to Buy
Massachusetts: Legalized medical cannabis in 2012, but will now vote on permitting recreational use in November. The state's governor, Charlie Baker, has been campaigning fervently against the measure. Forty-one percent said they'd vote for the referendum in July, compared to the high 50s just a few months earlier, according to The Washington Post.
Maine: Legalized medical marijuana in 1999 and will now vote on legalizing recreational marijuana in November. There's strong support for the referendum in the state - upwards of 50% of Maine citizens, The Washington Post
Florida: Marijuana is not legal here... yet. The Sunshine State will vote on legalizing medical marijuana in November. If passed, Florida would be the first state in the South with a strong pro-medical marijuana law. Back in 2014, Florida voters barely rejected a similar referendum. Fifty-eight percent of voters approved a California-like medical marijuana market, missing the 60% threshold needed for a constitutional change, The Washington Post
Arkansas: Marijuana is not yet legal here, either. The state will be voting on legalizing medical marijuana in November. Voters rejected a similar referendum in 2012. Like Florida, the state could also be the first in the South to pass a robust medical marijuana law.
With so many states prepared to move forward with marijuana legalization, the marijuana market is bursting with profit potential. Already, preliminary estimates suggest it will reach $35 billion in value by 2020, according to a 2015 report from the Bank of America Merrill Lynch.
You can get a piece of this staggering growth - right now - by investing in one of the best marijuana stocks to buy.
Money Morning Director of Tech & Venture Capital Michael A. Robinson recommended it to readers on March 27, 2014. Since then, it has helped readers beat the market by more than 620%. And this pot stock still has room to run...
In fact, Robinson still believes that this stock is the very best play in the emerging cannabis biotech industry. Find out more, right here...
Related Articles:
Follow Money Morning on Facebook and Twitter.