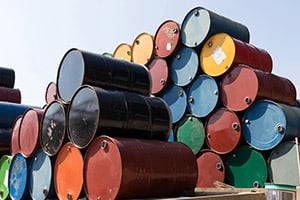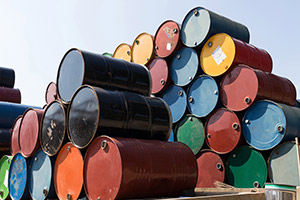 The price of crude oil has been extremely volatile this week, and the WTI price dipped below the $45 level again this morning. Despite the drop, we still see the price of crude oil climbing through the end of the year and throughout 2017.
Before we get into our new crude oil price prediction, here's why crude oil prices have been so volatile this week.
Why the Price of Crude Oil Is So Volatile This Week
Crude oil prices rose modestly Monday, along with the U.S. dollar, after a new report was released showing a sharp drop in supply at the Cushing, Okla., storage area.
West Texas Intermediate crude prices ended the day up $0.41, or 0.09%, to $46.29 a barrel.  Brent crude, the global benchmark, rose $0.31, or 0.06%, to $48.32.
The U.S. dollar weakened against other currencies Monday following dovish remarks by U.S. Federal Reserve Governor Lael Brainard. She said the case for tighter monetary policy has become less applicable. The Wall Street Journal Dollar Index, which measures the dollar, rose 0.3% to 86.25 on Monday.
Another factor pushing oil prices higher Monday was a report from data provider Genscape Inc., which showed inventory in Cushing fell more than 1.2 million barrels in the week ending Sept. 9. That followed federal data last week showing a 14.5 million barrel reduction in U.S. oil stockpiles.
Trending Now: This tiny penny stock could bring gains over 100% – and save a dying industry, too. Click here to learn more…
But on Tuesday, WTI crude oil prices tumbled a steep 3% to $44.90 a barrel as supply concerns resurfaced. The International Energy Agency (IEA) slashed its forecast for global oil demand for 2016 and 2017 amid "wobbling" Asian demand.
The IEA says the economic uncertainty in China, along with severe weather in certain regions, has slashed the industrial and transport use of oil in the nation. A drop-off in Europe's oil demand was also cited as a factor for the glum forecast.
The IEA's dispiriting crude oil price outlook comes as OPEC continues to pump crude at high levels. Saudi Arabia has overtaken the United States as the largest producer of oil in the world, according to the IEA.
The price of crude oil was up slightly this morning (Wednesday) as traders went bargain hunting after Tuesday's sell-off. Brent was higher by 0.51% to $47.34 a barrel. WTI prices were up 0.73% at $45.73 a barrel.
Investors can expect the price of crude oil to trade in a tight range for the rest of the month, but there are more gains for oil prices ahead. In fact, Money Morning Global Energy Strategist Dr. Kent Moors expects the price of crude oil to rise significantly by the end of 2016 and into 2017.
Here's how high he sees the price of crude oil climbing…
Our Crude Oil Price Prediction Shows Gains in 2016 and 2017
OPEC's production stance will be a major factor for the future of crude oil prices.
The 14-nation cartel gathers in Algeria from Sept. 26 to Sept. 28. The key topic will be how to deal with the global supply glut.
Despite the oil price crash from 2014 and 2015, OPEC producers are still pumping at record rates.
In its monthly report on market conditions, OPEC said non-OPEC members, including the United States, Russia, and Norway, will produce about 190,000 barrels a day more than expected this year. By 2017, OPEC's data suggests that oil supplies will outstrip demand by an average of about 760,000 barrels a day. That's more than three times higher than OPEC predictions from just last month.
Editor's Note: You can profit from gold prices no matter where they are moving. We have everything you need to know about gold in our new guide on gold investing…
Despite this information, Moors still believes the global oil supply glut is coming to an end. And Saudi Arabia will play a major role in this decreasing supply…
You see, Saudi Arabia has a major incentive to cut production: its upcoming Saudi Aramco IPO.
Saudi Aramco is a state-owned national petroleum and natural gas provider. In 2015, it was the world's largest oil and gas company with an estimated value between $2 trillion and $3 trillion.
The IPO is part of Saudi Arabia's plan to reduce its dependence on oil. The kingdom will use the IPO proceeds to invest in new areas like technology in an attempt to diversify its revenue stream.
Here's where oil prices come in…
The value of Saudi Aramco stock will closely rely on the price of oil. Low oil prices would keep investors away and prevent the stock price from climbing. But Saudi Arabia's muscle in the oil market means it can greatly influence prices via a production cut.
That Saudi Aramco issue is part of the reason why Moors sees the price of crude oil trading in the mid-$50 range by the end of the year. By Q1 2017, he projects oil prices will be trading around $60 a barrel.
Here is Moors' complete outlook on the oil and energy sectors, including the second major factor that will drive the price of crude oil higher from here…
Follow us on Twitter @moneymorning and like us on Facebook.
Related Articles: