Last Friday, U.S. stocks declined by the most in a single day since the Brexit referendum, with the Dow down 394 points.
This bloodbath was sparked by Federal Reserve Bank of Boston President Eric Rosengren putting a September rate rise back on the table, and investors started heading for the doors. Expect other Fed members to spend this week calming the markets.
Friday's effect on crude oil prices, however, was immediate.
A 23% rally stopped right in its tracks and reversed. When official oil trading closed at 2:30 p.m. Eastern, WTI (West Texas Intermediate, the benchmark oil grade traded in New York) was down 3.7% for the day.
Trending: OPEC Needs This One Country to Boost Oil Prices – and They're About to Cave In
Brent (the equivalent benchmark set in London, and more widely used globally) was down 3.9%.
But even as oil started recovering from those dips on Monday, scaremongers started calling for even lower prices.
They're blaming – of all things – the weather.
You can safely ignore them – here's why…
A Rate Rise Would Lower Oil Prices – If It Ever Came Around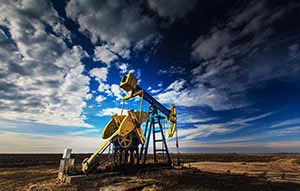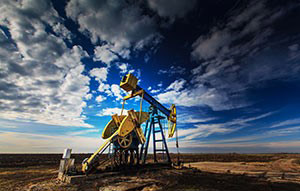 Now, any concern about a Fed rate hike, such as the comments that started Friday's sell-off, will likely lead to the dollar rising against other currencies.
That also pushes oil prices down, because virtually all oil sales worldwide are denominated in dollars. When the exchange value of the dollar rises, it now takes traders more of their own currency to buy the same amount of oil. That decreases global oil demand, pushing prices down.
Of course, when the markets realize that there will not be a rate increase until (probably) December, matters will readjust. In the interim, rumor-fueled volatility will rule the oil market.
With this in mind, the only tangible factor the so-called "experts" can latch on to is the import situation. They assume that imports determine the margins in oil supply.
Hence, the recent passing of Hurricane Hermine should translate into increased imports, rising supply, and lower prices.
They couldn't be more wrong…
Oil Prices Are Set to Level Off – for Now…
By Monday morning these pundits were warning of another drop in oil prices as supply recovered from the disruptions caused by Hurricane Hermine and other U.S. storms.
The argument goes like this: By interrupting shipping around Florida and the East Coast, Hurricane Hermine caused a temporary decline in U.S. oil imports, causing the price of oil to spike.
To the extent that import cuts did result in lower than expected oil supply, the impact would be higher prices. That's especially the case when you consider the historically massive drawdown from oil stockpiles that we saw last week.
So, even without other factors coming into play, expect oil prices to level off in the short term.
Don't Miss: Kent's (Bold) 2017 Oil Price Forecast – and Today's Most Profitable Energy Play
After all, without any change in oil's underlying fundamentals, there are no grounds to continue an overheated pricing picture. Yes, the international balance between supply and demand is moving forward, and massive extractable reserves have been kept out of the market by producers.
These might in themselves provide an equilibrium as the main balance sets in. But after such a noticeable rise of late, that equilibrium will produce some pullback in prices.
But that still leaves the issue of imports…
U.S. Oil Imports Are Less and Less Important
In short, imports are not as important to U.S. oil prices as they used to be.
To begin with, the percentage of U.S. crude oil that comes from imports has gone down. As you all know, the U.S. market has come a long way from where it was just a few years ago. Back then, it looked like America would have to rely on foreign sources (including Canada) for some 70% of daily demand.
The shale revolution changed that quickly.
In less than five years, that import dependence had been reduced to less than 40%, and it's widely assumed that the United States will become energy independent within a decade.
Even better, when you consider Canadian production to be "domestic," that independence seems to be arriving much faster.
Of course, at the time, oil was trading at $100 a barrel. At that price, local supply made more sense than imports.
However, following the Saudi-inspired OPEC decision – made on Thanksgiving Day, 2014 – to keep production levels (and then raise them) in defense of market share, things started changing. The relationship between domestic oil production and crude imports became centered on one thing…
Prices Determine Oil Imports – Not the Other Way Around…
Cost.
Aside from a few days in June, WTI prices for oil have remained below $50 a barrel for more than a year. That is significantly below the breakeven cost for most deep, horizontally-drilled and fracked shale wells in the United States.
In other words, the bulk of unconventional reserves cannot be extracted at current oil prices.
Instead, low-cost imports become more palatable. But remember, the "import" label applies to oil from Canada as well as from overseas. Currently, oil from north of the border is almost completely delivered via pipelines, which are virtually at capacity.
That leaves other imports as leverage against domestic production in an ongoing cost calculation.
U.S. refineries now export more processed oil products than any other country on Earth. This already plays a huge role in estimating import levels – since import levels are determined largely by looking at refinery margins, which in turn are influenced by oil product exports.
Furthermore, Congress is now allowing exports of crude oil for the first time in over four decades. This will take a bit longer to become a major element.
As the price of oil slowly rises, the price difference between imported and domestic oil will narrow, and the apparent advantage of lower cost imports will disappear. OPEC may be providing discounts to attract additional sales in Asia, but there are no discounts coming to American shores.
So make no mistake…
Even when we are talking about the impact of disrupted imports on U.S. oil prices, the cost calculus is really working itself out in the broader global market.
In the end, whether we import oil or not will depend on global oil prices, not on temporary bad weather. So you can safely ignore the scaremongers that point to imports as a sign of lower oil prices.
In fact, oil is set to go up before the end of the year…
Profit in Any Energy Market, Under Any Market Conditions: Subscribers to Dr. Kent Moors' Energy Advantage service have seen ten double- and triple-digit gains on open and closed positions in 2016 alone, including a 227% gain on a stellar refining company. To find out how you can join Kent's premium, profit-focused research service, click here.
Follow Money Morning on Facebook and Twitter.
Join the conversation. Click here to jump to comments…
About the Author
Dr. Kent Moors is an internationally recognized expert in oil and natural gas policy, risk assessment, and emerging market economic development. He serves as an advisor to many U.S. governors and foreign governments. Kent details his latest global travels in his free Oil & Energy Investor e-letter. He makes specific investment recommendations in his newsletter, the Energy Advantage. For more active investors, he issues shorter-term trades in his Energy Inner Circle.