Today I want to talk to you about one of the most pressing problems in investing.
It's one my Private Briefing readers tell me they encounter regularly, and one you may have dealt with more than a few times, too.
But don't worry - I guarantee this is one of the sweetest quandaries an investor has to cope with.
It's about the profits.
Now, when you've got good independent research, bagging triple-digit gains is no problem - 20,000 readers have done precisely that more than 40 times since Private Briefing began in August 2011.
But... believe it or not, holding those winners (especially in 2016's volatile markets) and parlaying them into even bigger profits does pose a bit of a challenge.
Fortunately, we've got access to the best "battle-tested" and proven strategies for handling this welcome dilemma.
Let me show you...
Everyone Should Have "Problems" Like This
Now I admit that fretting over a stock that has doubled may seem like a crazy topic in this market - especially given the wall of worries facing the global economy.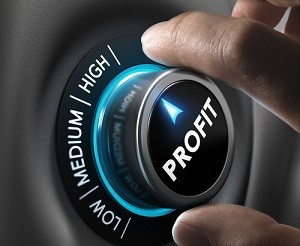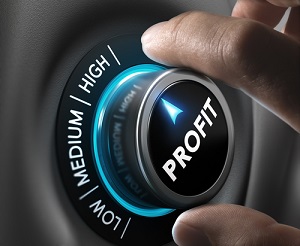 But Michael Robinson, a close colleague of mine and Editor of Radical Technology Profits and The Nova-X Report, has an explanation of why big gains can become a big problem.
"You see, Bill, in choppy markets like this, the action attracts momentum traders," Michael said. "These are aggressive types who pile into stocks that are on the move. While that can add to our short-term gains, it greatly increases the odds that we'll see a big mover reverse quickly on profit taking."
That's the bad news - but it can get worse.
"And in some cases, the decline can be brutal because short sellers suddenly perceive weakness and bet the stock is ready for a reversal," Michael said. "That can add to the downward pressure."
Put another way, that means your quick 20% gains can quickly go upside down and reverse themselves... and you end up breaking even, if you're lucky.
But like I said, we've done this more than 40 times, with some of the savviest experts in the market, so we've successfully negotiated "predicaments" like...
Pharmacyclics Inc.: Shares of this cancer-treatment biotech have zoomed as much as 809.6%. That huge windfall came in early March, after AbbVie Inc. (NYSE: ABBV) - another Private Briefing recommendation - stunned investors by announcing it was buying Pharmacyclics for $21 billion. But it gets better: AbbVie offered up cash and stock worth $261.25 a share - a full 818% more than our original recommendation price of $28.47.
Ambarella Inc. (Nasdaq: AMBA): Our play on ultra-high-definition television (UHDTV) and wearable cameras doubled readers' money in just five months - on its way to a peak gain of 366.2%. In fact, we've recommended this developer of video chips five times - and Private Briefing subscribers have double-digit gains to show for it.
NXP Semiconductors NV (Nasdaq: NXPI): In March 2015, this leader in the area of near-field communication (NFC) technology announced an $11.8 billion deal to buy out Freescale Semiconductor Ltd. (NYSE: FSL). That buyout created a massive windfall. Shares of NXP have gained as much as 363.7% since we recommended them to you at $23.40 each back in May 2012. And the stock jumped well over 60% following the late-October 2014 launch of Apple Pay, when we predicted NXP would be one of the biggest beneficiaries of the new mobile-payments standard.
Clearly, this is a great "predicament" to be in. Now I'll show you how you can hang on to all that profit.
What to Do with the Doublers
When you factor in how quickly those gains came, it's hard to balance the belief that additional gains are possible against the fact that you don't want to lose what you already have.
Of course, how you decide to handle a stock that has doubled in price will very much depend on such factors as...
[mmpazkzone name="in-story" network="9794" site="307044" id="137008" type="4"]
How much you've made. Did you make more, less, or precisely what you expected on this investment? Is it a dividend stock, or was it more of a speculative play that you invested in purely in pursuit of capital gains?
How this position fits in with the rest of your holdings. Has the growth in this stock caused it to become an inordinately large percentage of your holdings? Do you have too many stocks that are in similar businesses or that face similar risks? If so, you might want to pare this position.
Your tolerance for risk. Are you really bothered by the whipsawing moves the market seems to make with increasing frequency - or are you truly able to embrace a long-term view? If every little move the market makes ties you up in knots, you're better off doing whatever you can to alleviate risk - giving yourself peace of mind in the process.
Your overall investment goals. Are you investing for extra monthly income to spend or save? Are you a younger investor with a few decades left until retirement? Or is your retirement coming sooner rather than later? This makes a huge difference.
Happily, for every kind of investor, with every kind of goal, there's a way to play your winners.
It's Always Easy (and Usually Free) to Get "Insurance" for Your Profits
These are topics we talk about a lot in Private Briefing. And all of our experts agree that, when deciding what to do with a stock that's gone up 100% or more, you really have four options.
If you've doubled your money, the strategy that our experts prefer to recommend is what they refer to as a "free trade." You sell half of your holdings - which covers your original investment - and then let the rest ride. Because your costs are covered, what remains is pure profit - hence the "free trade." And because your costs are covered, you no longer have to worry about "trailing stops" on this particular investment position.
You can cash out, bank the profit, and look for the next opportunity to come along. This obviously prevents you from benefitting from any additional gains, but it completely eliminates any downside risk on the position. And, hey, who can criticize someone who was smart enough to double their money?
You can let your entire position ride, but protect your downside with the use of a trailing stop or the purchase of put options. The put options, a form of "insurance," can be cumbersome and expensive to maintain, especially if you end up holding the position for a long time. We're big advocates of trailing stops as a risk-management tool. However, with a stock that's doubled, you have to be willing to be completely cashed out if the stock hits your "stop," meaning you won't participate in any subsequent gains should the stock later resume its run.
Or you can let your entire investment ride, without any kind of hedging or insurance whatsoever. You could conceivably see more profits, but - and this is critical - from a downside standpoint, this is the riskiest move of the four strategies we've outlined here. Given that fact, we don't rmend it.
Clearly, deciding what to do with a stock that's doubled in price requires considerable thought.
But, like I said, it's a nice "problem" to have.
For his part, Michael likes to recommend the free trade - though he calls it playing "Moneyball." (That's because Michael spends most of his time in Silicon Valley, and one of the Valley's two favorite baseball teams, the Oakland A's, were the subject of that 2003 book.)
"By selling half, your subscribers will book big gains at the top and remain poised to profit from the stock's next big rally," he told me.
We'll do our best to keep "problems" like this coming your way.
Follow Bill on Facebook and Twitter.
About the Author
Before he moved into the investment-research business in 2005, William (Bill) Patalon III spent 22 years as an award-winning financial reporter, columnist, and editor. Today he is the Executive Editor and Senior Research Analyst for Money Morning at Money Map Press.