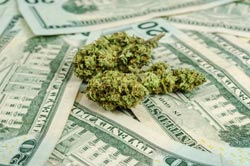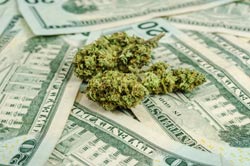 Legalizing marijuana is controversial, as adversaries believe it is a gateway drug to more dangerous substances, or that it signals a breakdown of our society.
But love or hate legalization, there's no denying one irrefutable positive: the economic benefits from marijuana sales.
As of right now, only four states have legalized recreational marijuana usage as of May 25.
While the sample size of economic benefits is small, you may be shocked at how effective marijuana legalization could be in stimulating your hometown economy…
Economic Benefit from Marijuana Sales No. 5: Job Creation
Before Amendment 64 was passed in Colorado in 2014, unemployment that January was at 5.8%. After it passed, unemployment in the state dropped to 4.2%, as of January 2015.
This drop in unemployment in the Centennial State is at least somewhat related to its booming marijuana industry, if not totally related. You see, according to NaturalSociety.com, over 10,000 new jobs were created from January 2014 to May 2014, when Amendment 64 first passed. These are positions that never existed before.
And as the industry grows, more and more jobs will be created.
On top of job creation, the marijuana industry has positively impacted wages…
For example, "bud trimmers" trim away leaves from marijuana plants. According to the Associated Press, these workers can earn as much as $15 per hour. That's more than double the minimum wage of $7.25. And employees who climb the ranks can have an even more lucrative full-time career. Gardeners and concentrate makers can earn as much as $90,000 a year.
Aside from these completely new jobs, marijuana sales are also creating more jobs within an established industry: protection services.
Because legal marijuana stores deal with a large amount of cash and a very valuable product, it can be a dangerous business to work in even when it's legitimate. According to reporter Grant Hatchimonju of CSO.org, one shop in Denver spends between $5,000 to $10,000 a month just on security.
This need for security has also created opportunities for military veterans – a group that often struggles to find careers that can utilize their skills and expertise.
As of 2014, 7.9% of veterans who served in Iraq and Afghanistan did not have jobs. That was much higher than the 5.7% national average.
According to International Business Times, David Keyes, an Air Force vehicle operator who was deployed twice in Iraq and once in Qatar, helped transport high-raking officials through dangerous territories. After trying out different jobs when he returned, Keyes found his skills transferred over as a night security guard at a Colorado marijuana dispensary. Keyes than went on to become the operations manager at Security Grade Protective Services, a security guard service that provides a full suite of security services tailored to the cannabis industry in Denver.
These new jobs are a great way to stimulate local economies.
But the economic benefits of marijuana sales go well beyond that, including helping the fight against terrorism and saving police departments millions…
Economic Benefit from Marijuana Sales No. 4: Decreased Law Enforcement Costs