By the standard of today's mega-mergers, a $4 million investment seems like pretty small change.
Especially in the $1 trillion global healthcare industry.
You see, Johnson & Johnson Inc. (NYSE: JNJ) recently joined with a private-equity firm to invest that "measly" sum in AnTolRx Inc., an early-stage biotech that uses targeted nanoparticles to treat a range of illnesses, including autoimmune diseases and diabetes.
Perhaps because the deal is so small, it went completely unnoticed on Wall Street. And that's fine with us, because at Strategic Tech Investor we crush the market by getting out in front of the Street.
More to the point, this seemingly small investment speaks volumes about a key tech investing trend that most so-called "analysts" have largely ignored.
I'm talking what I call "Biotech's Quiet Comeback." Fact is, four main catalysts have driven this sector upward by 16% in recent weeks.
Today, I'm going to reveal these four major catalysts.
And I'll show you the single best way to play this silent but lucrative trend…
Don't Tell Anyone About This…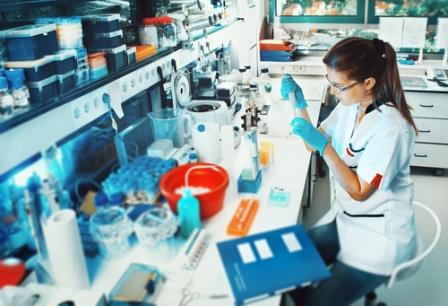 Let's put the biotech sector's huge recent gains into some perspective. Since the market hit its post-Brexit bottom on June 27, the bellwether Dow Jones U.S. Biotechnology Index has gained roughly 16%.
That's more than double the returns we've seen from the overall market. The Standard & Poor's 500 Index has increased by just 7% during the period.
Biotech's rebound comes after the sector sold off for several reasons last year, falling 31% from late July 2015 through February 2016.
But since then, I have seen four factors at play that account for the sector's quick turnaround. Take a look…
Biotech's Quiet Comeback Catalyst No. 1: Drug Breakthroughs
Whether it's the kind of early-stage investment that Johnson & Johnson just made in AnTolRx or late-stage drug pipeline news, the sector is set up to profit from a series of breakthroughs.
Take the case of Keytruda from Merck & Co. Inc. (NYSE: MRK). This drug could turn the tide against cancer by altering how our immune system responds to cancer cells. On Sept. 6, the U.S. Food and Drug Administration said it will consider approving the drug as a first-line defense against lung cancer. That came just a few months after the agency approved it as a second-line defense.
Don't Miss: This is your ticket to bigger and better returns… and it won't cost you a penny. What are you waiting for? Read more… 
Plus, Sanofi SA (NYSE ADR: SNY) just announced a new diabetes breakthrough in partnership with small-cap Lexicon Pharmaceuticals Inc. (Nasdaq: LXRX). That news sent shares of Lexicon up 17% – and shares of Sanofi will surely benefit over time as its sales forces peddle this impressive new drug.
A steady supply of new compounds is one of the reasons global drug sales have risen for at least 15 straight years, from $390 billion in 2001 to more than $1 trillion today, according to Statista. And with so many baby boomers heading into old age, that figure may reach $2 trillion by the end of the next decade.
Biotech's Quiet Comeback Catalyst No. 2: M&A
Join the conversation. Click here to jump to comments…
About the Author
Michael A. Robinson is one of the top financial analysts working today. His book "Overdrawn: The Bailout of American Savings" was a prescient look at the anatomy of the nation's S&L crisis, long before the word "bailout" became part of our daily lexicon. He's a Pulitzer Prize-nominated writer and reporter, lauded by the Columbia Journalism Review for his aggressive style. His 30-year track record as a leading tech analyst has garnered him rave reviews, too. Today he is the editor of the monthly tech investing newsletter Nova-X Report as well as Radical Technology Profits, where he covers truly radical technologies – ones that have the power to sweep across the globe and change the very fabric of our lives – and profit opportunities they give rise to. He also explores "what's next" in the tech investing world at Strategic Tech Investor.