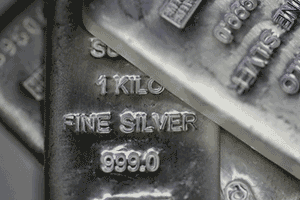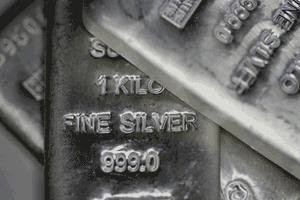 Silver prices today (Friday) are falling following reports that U.S. inflation is climbing. Higher inflation is bolstering the case for the U.S. Federal Reserve to potentially raise interest rates.
Despite today's pullback, we still see silver prices climbing by double digits before the end of 2016.
Before we get into our silver price prediction and our favorite way to play the precious metal, here's what investors need to know about silver prices today…
Why Silver Prices Today Are Tanking  
Silver prices are down 2.73% over the last five days. In midmorning trading, spot silver prices today were down 1.06% at $18.86.
Silver prices dipped after the U.S. Department of Labor reported its Consumer Price Index rose 0.2% in August from an unchanged reading in July. The better than expected read was also above the 0.1% rise economists were expecting.
Stripping out the typically volatile categories of food and energy, prices rose an even more robust 0.3% in August. That was the largest increase for so-called "core prices" in six months.
For the full year, the data revealed inflation has risen 1.1%. The increase came as we've seen sharp declines in energy prices. The energy index suffered a 9.2% decline last month. And despite a rebound earlier this year, oil prices remain down more than 50% from June 2014 highs.
U.S. inflation data and its outlook is a key consideration for Fed members, who gather next week for the September FOMC meeting. The Fed last raised its benchmark rate in December 2015 to a range between 0.25% and 0.50%. It was the first interest rate hike in seven years.
The central bank still wants to see 2% annual inflation. But inflation has remained under that benchmark for more than four years running.
Minutes from the July FOMC meeting showed the Fed expects inflation to remain low in the near term because of energy prices. Over the medium term, policymakers expect inflation to rise to 2% as energy and import prices stabilize and the labor market keeps improving.
Fed officials have repeatedly said they'll raise short-term rates at a gradual pace over the next several years. They say that will keep inflation in check without derailing U.S. economic growth.
While today's reports show inflation pressure, policymakers will need a lot more information than just that before hiking rates.
Get Our Best Wealth-Building Ideas: Money Morning's top 5 investment reports to grow your money like never before are right here – and they're absolutely free. Read more…
Odds of an interest rate hike at the September FOMC meeting are still low at just 12% following today's CPI report.
But the CPI data was enough to jolt silver prices today. And silver prices have been volatile all week. Here's how the price of silver has been trending and why we still see double-digit gains ahead for the precious metal in 2016…
Silver Prices and Silver Stocks Poised for More Gains
Silver prices are expected to trade in a narrow range leading up to the September FOMC meeting next week.
The price of silver per ounce is down 3.13% in the last month, as precious metal traders and investors remain cautious ahead of the FOMC meeting.
The overwhelming consensus is that the U.S. central bank will keep rates unchanged next week. However, the official statement could reveal clues about the future path and pace of interest rates.
That has some investors worried…
Investors appear to be bracing for the worst, and that fear is weighing on silver prices today. But jittery investors focused on the short-term picture are missing the big picture.
You see, even when the Fed raises rates, policymakers will remain extremely accommodative. Moreover, central banks around the globe continue to remain in rate-cutting mode. A number are also using some unconventional monetary measures to spur their struggling economies. One-third of global government debt currently sports a negative yield.
Investors around the world have lost faith in central banks. Many investors have resorted to hoarding cash. Others have run to safe-haven investments like silver.
Silver coin sales are on pace to post another record year. Sales of 2016 American Silver Eagles currently total 26.2 million coins. That's a 20.5% year-over-year (YOY) increase.
As silver futures climbed nearly 35% in the first half of 2016, investors piled into silver. But when talks of an interest rate hike increased, some investors took profits and silver prices retreated.
But the case for silver prices today remains solid. In addition to accommodative central banks, stocks are overvalued despite weak earnings.
The forward 12-month price/earnings (P/E) ratio for the S&P 500 is 17.0. That's above the five-year average of 14.8, as well as the 10-year average of 14.3, according to FactSet.
Meanwhile, earnings continue to disappoint. For Q3 2016, earnings for the S&P 500 are expected to drop 2.0%. Should the broad-based index report a decline in earnings for Q3, it will mark the first time the benchmark has recorded six straight quarters of YOY declines in earnings since FactSet began tracking the data in Q3 2008.
Volatility is another huge bullish factor for silver prices today.
The markets have been skittish in September. Volatility is only expected to increase as we move closer to the November presidential election, which is the most contentious in recent memory. Then we enter December – the best chance this year for an interest rate hike.
Money Morning Resource Specialist Peter Krauth had recently been warning investors about a temporary pullback in the silver price before the next leg up. He now believes that investors should buy into any dip.
"I think the price of silver per ounce could easily produce a further 15% gain from current levels to reach $22 by year's end," Krauth said.
With silver prices positioned for further double-digit gains in 2016, investors have several options.
Silver coins and bars are one way to go, but some investors find holding physical silver burdensome. Silver exchange-traded funds (ETFs) are another option. Silver ETFs, many with triple-digit gains, took the top 10 spots on the list of best performers in the first half of 2016.
But there's an even better way to profit from silver prices today…
The best silver stocks are poised for more significant upside than the metal itself. That's because their shares stand to appreciate more as earnings, revenue, and profits surge.
Here are the three best silver stocks Krauth likes now…
Follow us on Twitter @moneymorning and like us on Facebook.
Related Articles: