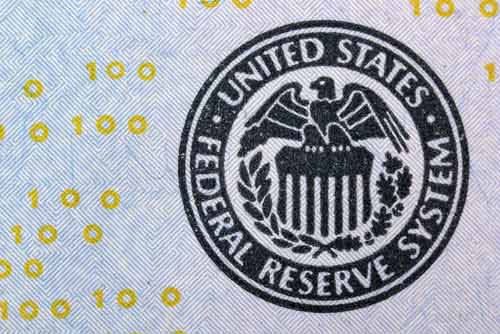 By dissecting speeches from Federal Reserve officials, FOMC meeting minutes, and other data, we've pinpointed when investors can expect the next Fed rate hike.
But before we get to our analysis, let's look at the impact rate hikes have on the markets, including what happened during the Fed's last rate hike in December…
It's been nearly 10 months since the Fed last raised rates. And investors reacted poorly to the Federal Reserve interest rate hike then.
The markets were supposedly pricing in a nearly 60% chance of a rate hike that December, according to CME Group. Even so, the S&P 500 still fell 10% between January and mid-February after the rate hike. During the same time period, the Dow Jones Industrial Average dropped about 8.7%. Keep in mind, this sharp stock market pullback was from only a tiny 0.25% point rate increase.
That shows exactly how much power the Fed has over markets.
After having more than nine months to acclimate to December's modest interest rate hike, stocks have moved toward record highs. The Dow reached 18,597 on Aug. 18, and the S&P 500 hit 2,190 on Aug. 15. But another stock market pullback could be right around the corner – and the next Fed rate hike could be its trigger.
Investors will want to be prepared. [Editor's Note: Our Capital Wave Strategist Shah Gilani has a full guide about how readers can survive the Fed and thrive into retirement. Check it out, right here.]
With the September FOMC meeting just days from now, let's look at whether the Fed could raise rates this year…
When We'll See the Next Fed Rate Hike
Sign up for SMS so you never miss special events, exclusive offers, and weekly bonus trades.
The Fed has offered us a few clues about when it will raise rates next. But as with anything the Fed says, these clues require some interpretation.
In Fed Chair Janet Yellen's August speech in Jackson Hole, Wyo., she said the economy was "ready" for another rate hike.
Other Fed officials, including Boston Fed President Eric Rosengren, echoed Yellen's hawkish statements.
Despite being a well-known dove, Rosengren said an argument could be made for raising rates sooner rather than later.
Don't Miss: Get the Best Investing Research Today to Grow Your Money
Yet a few Fed officials still have dovish positions. On Monday, Fed Governor Lael Brainard said that there was no rush to raise rates. She argued that the risks of keeping interest rates low were smaller than the risks of raising rates too quickly.
Although Yellen's comments are always the most important, conflicting Fed opinions would normally make it more difficult to time the next Fed rate hike…
But in this case, Brainard has the minority opinion.
In July's FOMC meeting minutes, the Fed's consensus view suggested that an interest rate hike as early as September was possible, but not certain. But the minutes were more hawkish than dovish and suggested that short-term risks to the economy had weakened.
However, the markets are only expecting a 12% rate increase in September, according to the CME Group. The probability is higher in November and December, with a 19.9% and 39.6% chance, respectively.
Going into the September FOMC meeting, the big data dump this week is unlikely to sway the Fed toward lifting rates this month, according to The Wall Street Journal. The data ranged from the producer price index to retail sales. But it didn't show much improvement to the U.S. economy.
PPI, which is a measure of inflation for producers, rose only 0.1%. And retail sales slumped in August because of a decrease in factory output. These lukewarm reports follow news of a slight downtick in the Institute for Supply Management's non-manufacturing index for August and a slowdown in job growth in the same period.
Currently, the markets are pricing in the Fed's decision to hold rates steady, at least until later this year. A decision from Yellen to raise rates in September would only shock the markets – and the U.S. economy.
A Fed rate hike in December is much more likely. Not only are markets pricing it in better than September or November, but it would also align with the timing of the last rate hike. That kind of continuity can ensure investors won't be caught off guard. And we all know the markets love predictability.
With a December rate hike looking likely, investors will need to protect themselves from any market reaction. That's why Money Morning Capital Wave Strategist Shah Gilani has just made his recommendations on how investors can protect their portfolios, no matter what the Fed does.
With Gilani's recommendations, you'll ensure that you're not caught off guard should the market overreact to a Fed rate hike. Here's his full guide.
The Bottom Line: Don't expect a rate hike in September. The markets simply aren't pricing one in, and the Fed seems slow to move this month. A rate hike in December is much more likely. Not only does it coincide with the month of the last rate hike, but the markets are pricing it in better.
Up Next: How Small Investors Can Take on Wall Street… and Win
Follow us on Twitter @moneymorning and like us on Facebook.